Pedro Espinosa
Entrepreneur, Angel Investor, TED Speaker, Author
Sponsored by: Connect Silicon Valley — An Engage Breakfast Event
When: Wednesday, November 13, from 7:00 am  to 8:30 am
Where: Palo Alto Elks Club, 4249 El Camino Real, Palo Alto, CA
Cost:  $20-$25
Speaker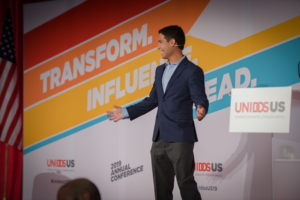 Pedro will share his entrepreneur's journey and how his faith makes a difference in the global marketplace.
At the age of 19, Pedro became the founder & CEO of SmileyGo, a platform that helps companies give smarter. The Voice of America claimed Pedro as The Robin Hood of Technology. In 2018, Pedro became the CEO of Alpaca Pan Peru, a social venture that empowers women to become entrepreneurs in Peru.
At the age of 24, Pedro co-wrote a book Differences That Make a Difference: How Organizations Succeed by Focusing on Innovation through Inclusion with Jorge Titinger, including contributions from Eric Schmidt, Reed Hastings, and Pat Gelsinger among others. He's been a keynote speaker for the U.S. Patent and Trademark Office, the U.S. Chamber of Commerce, the World Intellectual Property Organization, and others. Pedro has been profiled in Univision, Telemundo, Hispanic Shark Tank, Fox News, and Forbes. He has a degree from UC Berkeley.
____________________________________________
Faith Driven Entrepreneurs
Featuring:
Henry Kaestner, Managing Partner in Sovereign's Capital
Eric Tse, co-founder and CTO at Carpenter's Code
Sponsored by: Christian Entrepreneurs Association and Menlo Church
When: Saturday, November 2, 10:00 to 12:30 AM
Where: Menlo Church, 4150 Picadilly Lane, San Mateo, CA
Cost:  FREE with Eventbrite registration
Henry Kaestner is a Managing Principal in Sovereign's Capital, a private equity and venture capital management company that invests in faith driven entrepreneurs in Southeast Asia and the US from its offices in Silicon Valley, Washington DC and Jakarta, Indonesia. Prior to co-founding Sovereign's Capital, Henry was co-Founder and previous CEO, and then Chairman of Managing Principal in Sovereign's Capital (NASDAQ:BAND). They sell software application programming interfaces (or APIs) for voice and messaging, using their own IP voice network. Bandwidth customers include Google Voice, Skype, Zoom, Ring Central and Go Daddy.
Eric Tse is a co-founder and the Chief Technical Officer at Carpenters Code, makers of Abide, the leading app for Biblical meditation, with over 1.6 million installs on the Apple App Store and Google Play Store. Hear how a recent technology epidemic is hurting our society and the story of how Abide came about to address it. Eric will walk us through his journey in seeking purpose and pursuing God's work with excellence from the perspective of 20 years in the Bay Area from Berkeley, to Google, and finally into the startup world. Abide.co
__________________________