Events
SVPB Networking Event
Speakers: Carol Novello, President, Humane Society Silicon Valley
Founder, Mutual Rescue
When: Wednesday, November 7, 2018, 7:00 am to 8:30 am
Where: Palo Alto Elks Club, 4496-4249 El Camino Real, Palo Alto, CA
Cost:  $25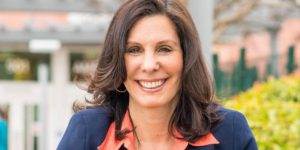 Carol Novello has a powerful story of how God guided her into unknown territory through a series of circumstances that left her in the middle of a quiet storm. Her personal and professional story is one of grace, rescue, and new beginnings. She will share a powerful narrative of journeying the "I Don't Know" with God in a "Must Know" world.
Carol joined Humane Society Silicon Valley (HSSV), one of the Bay Area's largest animal rescue organizations, as President in September 2010. She previously served on HSSV's Board of Directors for one year. She is also Founder of Mutual Rescue, a national initiative to change the conversation from "people or animals" to "people and animals." The initiative's first six short films have resonated around the globe with over 135 million views on social media. Her first book, Mutual Rescue: How Adopting a Homeless Animal Can Save You, Too will be published next spring.
Prior to HSSV and Mutual Rescue, Carol spent over 20 years in the high-tech industry. Previously, she was a Vice President/General Manager of QuickBooks Online at Intuit, Inc. Carol received her MBA from Harvard Business School, and her bachelor's degree in economics and English from Dickinson College. She lives in Los Altos with her family of three rescue animals–German shepherd Tess and two tuxedo cats, Herbie and Bode.