Wednesday, February 17
SVPB Networking Breakfast
SPEAKER: Larry Grotte, Co-Founder/President of Rident Park, Inc.
WHERE: Stanford Faculty Club
439 Lagunita Drive, Stanford 94305
Fee: $25
Larry Grotte is Co-Founder/President of Rident Park, Inc. He spent over 36 years in senior executive leadership and management consulting experience serving Fortune 500 and venture-backed technology companies. He has held CEO/C-level positions on various teams leading strategic planning, IT, M&A, finance and marketing. Larry was appointed by the White House to serve on a US business leader's delegation to Japan.
What do you do when life hits you with something very difficult and unexpected – something involving your child? How do you cope on all fronts of your life: job, family, faith?
Larry had his business career and personal life upended when the unexpected struck his young son, Peter.
He will share his personal journey of career, faith, and revelation in the midst of his personal crisis and talk about the intersection of faith and business.
The Silicon Valley Prayer Breakfast holds annual and quarterly events. These quarterly events at Stanford are smaller gatherings (60-80 attendees) held at the Stanford Faculty Club and are open to all. All of these events are intended to showcase real stories of Christian faith in the everyday workplace.
The SVPB Networking breakfast begins at 7:00am and will conclude at 8:30am. Invite a friend or colleague to this engaging and high-impact networking event. The cost is $25.
____________
Saturday, February 6, 8 AM
2016 Superbowl Breakfast
Hilton Union Square
333 O'Farrel Street
San Francisco
The event features the presentation of the Bart Starr Award to a current NFL player for outstanding character, integrity and leadership in the home, on the field, and in the community., as well as talks by:
Brent Jones, San Francisco 49ers 1988-1998, Emcee
Tony Dungy, Super Bowl Champion Coach
Jerry Kramer, Green Bay Packers, 1958 – 1968
Roger Staubach, Dallas Cowboys, 1969 – 1970
Mike Ditka, NFL Analyst – ESPN, Pro Football Hall of Fame
Benjamin Watson, New Orleans Saints
Tim Brown, Oakland Raiders, 1988 – 2003
Clark Hunt, Owner, Kansas City Chiefs
Other NFL athletes and coaches to be announced
You can get tickets here.
__________
Friday, April 1, 7:00 to 8:30 AM
Silicon Valley Prayer Breakfast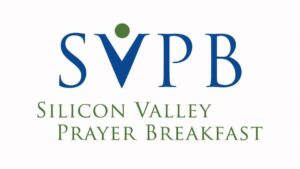 Hyatt Regency, Santa Clara
5101 Great America Parkway
Santa Clara, CA 95054
Speakers:  Henry Kaestner, Managing Principal of Sovereign Capital and Connie Segreto, Marketing Leader, Deloitte Services
This marks the 22nd annual event. For more information see:  Silicon Valley Prayer Breakfast
Cost: $400 for a table of 10
Register here