Christian Broadcasting Network (CBN) Interview with Skip Vaccarello on Studio 5  (November 2016)
CreaTV — Skip Vaccarello's interview on Signature Silicon Valley (January 2016)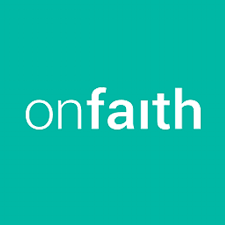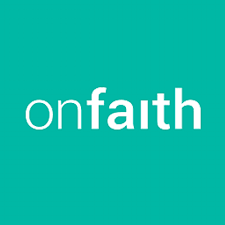 You did what?" I asked my wife, Jackie, in amazement when she told me that she had gone to church. It was the late summer of 1985, and I had called home while on a business trip in Paris.
You see, church was not part of our dialogue for many years. I had gradually walked away from faith in the late 1960s after having been brought up Catholic in a Boston suburb. I certainly believed there was a God and had a sense of God's presence, but I didn't read the Bible and only prayed when I was in trouble, needed help, or as part of occasional blessings at a holiday dinner. Read more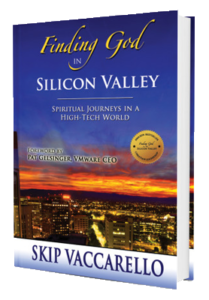 In the years since the Valley of the Heart's Delight evolved from orchards and vineyards to computer chips and code, a plethora of articles, films and books have documented the phenomenal transition. Los Altos resident Skip Vaccarello joined the gathering gang emigrating from the East Coast to become vice president of operations with VisiCalc and soon established himself as one of the many innovative and knowledgeable members of the computer technology revolution.
He, too, has published a book about the astounding conversion of Silicon Valley, but his perspective reveals the neglected but no less remarkable revolution quietly infiltrating the unique horde of immigrants. He eschews reporting on his personal successes or those of the new migrants, instead exploring and exposing the subtle transformation currently spreading throughout the area in his book "Finding God in Silicon Valley: Spiritual Journeys in a High-Tech World" (Creative Team Publishing, 2015). Read more
Radio interview with Skip Vaccarello on KFAX's Business on the Edge with host Margaret Jackson (November 7, 2015)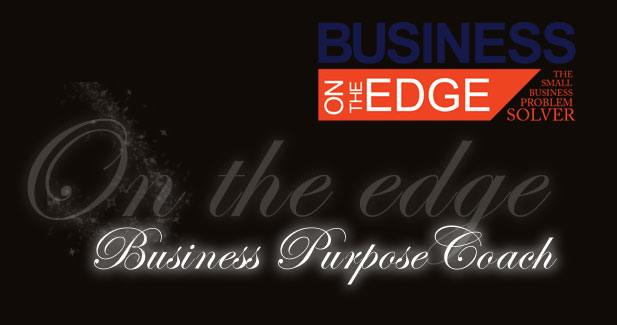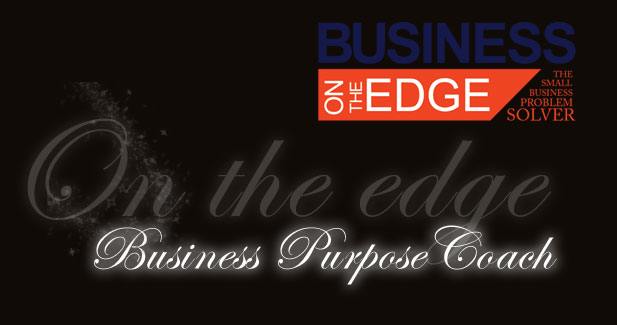 Margaret Jackson asks Skip Vaccarello thought-provoking questions about his book, Finding God in Silicon Valley, his jurney of faith, and generally about faith in Silicon Valley. Listen by clicking here: Finding God in Silicon Valley
Radio interview on BlogTalkRadio's program, New Definition Leadership, broadcast (November 19, 2015)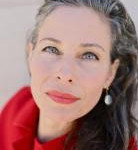 Host Violet Kashewa interviewed Skip Vaccarello about his book Finding God in Silicon Valley. In this 30-minute interview, Violet asks Skip Vaccarello about living out faith in business, about his faith journey, what led him to write the book, and specifically about his book.
Pinnacle Forum Online Interview of Skip Vaccarello by Pinnacle President, Chuck Bryant (September 16, 2015)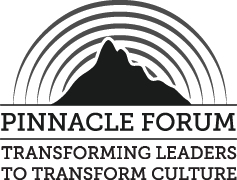 Pinnacle president and chairman, Chuck Bryant, interviews Skip Vaccarello about his book, about challenges in applying biblical principles in business, and specifically about some of the inspiring stories in his book, Finding God in Silicon Valley:  Spiritual Journeys in a High-Tech World. Listen by clicking here: Finding God in Silicon Valley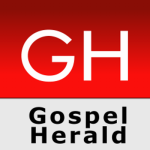 Silicon Valley is where trends are set in technology, but it is also one of the least churched areas in the United States. Home to companies like Google, Apple, Facebook, Yahoo, Hewlett-Packard, and Intel, the San Francisco Bay Area are five counties with over eight million residents. As more talents are brought in from around the world by tech giants, housing prices continue to skyrocket, making a living for most a daily struggle. Meanwhile, workers face stressful demands from work in the rapidly-changing technological landscape, resulting in long and over-worked hours. Read more
BBC Radio Interview with Skip Vaccarello, Religion in Silicon Valley (August 10, 2015)

On BBC's Heart and Soul, Skip Vaccarello, among others,  was interviewed for a BBC World Service radio program Religion in Silicon Valley and for a related story on BBC Capital When the God of Money Isn't Enough. In these interviews, Skip and other Silicon Valley leaders discuss what is happening from a faith perspective in Silicon Valley.
 God and Silicon Valley, An Article by Skip Vaccarello (August 7, 2015)


God and Silicon Valley! The two don't seem to fit together do they?
Silicon Valley is the global center of technology where innovation and entrepreneurship flourish, and where fortunes are made. Venture capitalists and technology wizards form the perfect marriage of limitless money and bountiful creativity. Together they start companies like Google, Apple, and Facebook that change the way people work and live. Innovation, technology, and wealth are idolized. Self-sufficiency, self-centeredness, and the pursuit of success reign.  So where does God fit in? Read more.
Faith in Silicon Valley, a Video Interview by host, Lauren Green on Foxnews.com
(July 22, 2015)
On July 2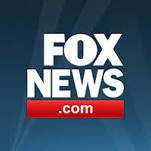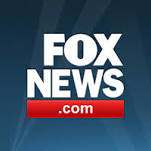 2, 2015, Skip Vaccarello was interviewed by Lauren Green on her Fox News program Spirited Debate. Watch the interview here.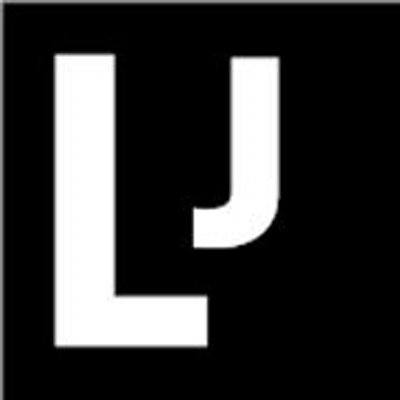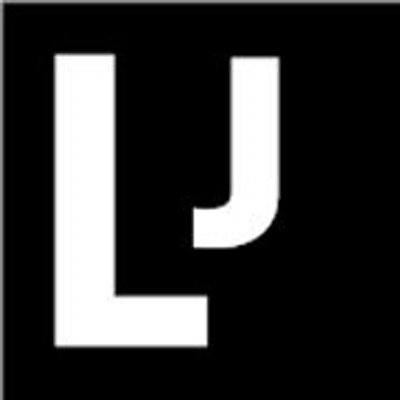 We spoke with pastor and author Skip Vaccerello about his latest book, Finding God in Silicon Valley: Spiritual Journeys in a High Tech World. He shared about the issues and challenges of doing ministry in a place that considers itself "spiritual" but not very interested in Christ.
What was it in your own personal journey that caused you to stop and explore the claims of Christ?
I grew up attending church, but grew away from faith for around 20 years….Read more
PBS Show Highlights Faith in Silicon Valley (April 4, 2015)
A PBS television show "Religion and Ethics Newsweekly" that aired the weekend of April 4th, highlights the contrast between the typical values of Silicon Valley entrepreneurs and the new breed of Christian entrepreneurs that are rising up.
The segment was called "Finding God in Silicon Valley."  Featured in the program were Skip Vaccarello, author of this blog, Pat Gelsinger, CEO of VMware and Neil Ahlsten, CEO of Carpenter's Code — the developer of the prayer app Abide. See the video below.
Click the image below to view video. The program follows a brief advertisement.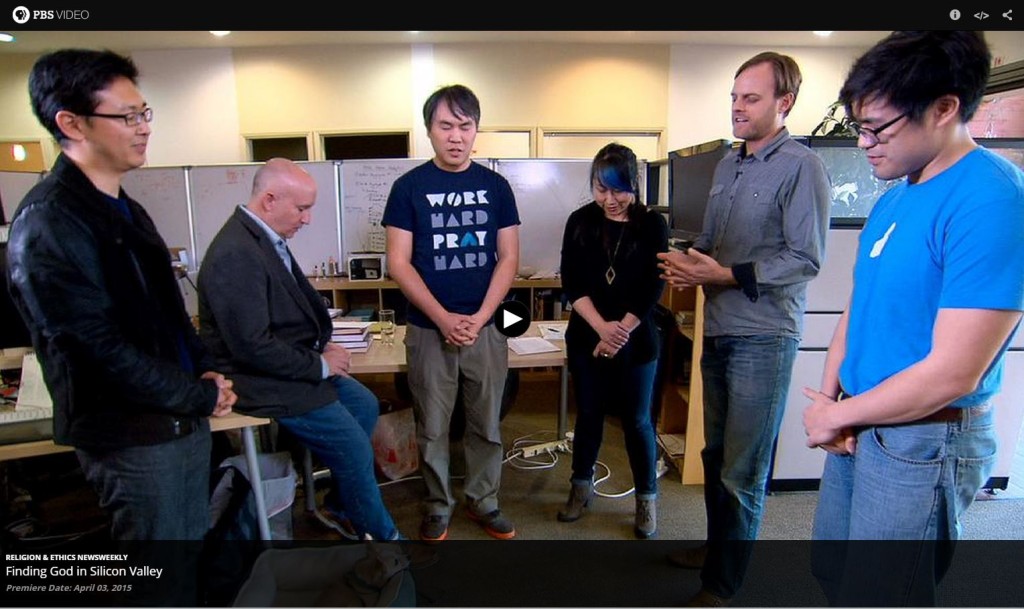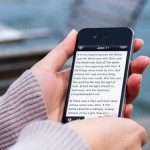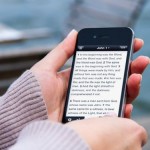 Of all the rituals of modern life that Silicon Valley technologists have burrowed their way into — eating, exercising, communicating, doing the laundry — one ritual that's stayed largely undisrupted is religion. Despite its other advances, Silicon Valley remains one of the least religious parts of the country.
Vincent "Skip" Vaccarello is trying to change that. A 30-year veteran of the tech industry, Vaccarello was an executive at VisiCorp, an early PC-software-maker, and has been the CEO of Applied Weather Technology and Communications Solutions Inc., as well as a division manager for 3Com. He's also a Christian, and has spent the last two decades trying to spread the gospel to Silicon Valley's masses. He's the chair of the Silicon Valley Prayer Breakfast, and the author of "Finding God in Silicon Valley," a blog containing interviews with prominent Silicon Valley Christians that he is hoping to turn into a book.
I spoke to Vaccarello about his blog, his efforts to evangelize Silicon Valley, and what makes it hard to convert the tech-savvy. Here's a condensed and edited version of our conversation. Read More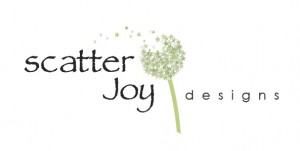 A little less than a year ago, I first sat down with Skip Vaccarello to talk to him about his idea for a new blog website. Immediately, I was impressed by the vision of his project: writing inspirational stories about how God is working in the Silicon Valley. After a few short meetings with Skip in which I taught him the basics of blogging on wordpress and how to set up a site, he was ready to go! Not long after his website was born: www.findinggodinsiliconvalley.com Read more
Stories on this Website are sometimes re-published elsewhere with prior approval