I am troubled but hopeful.
I am troubled by the toxicity in our culture today. Our country seems to have lost its moral compass as we observe smash-and-grab lawlessness, senseless killings, and divisive politics.
One of our Founding Fathers, John Adams, said, "Our Constitution was made only for a moral and religious people. It is wholly inadequate to the government of any other." Perhaps this is the problem. We seem to have lost our moral foundation.
A recent Wall Street article titled "More Americans Left Religion During the Pandemic" may give us a clue as to why lawlessness is increasing. The article cites a Pew Research Study, which indicates that the percentage of Americans who identify as Christian now stands at 63%. This is down from 65% in 2019 and 78% in 2007. And 29% of Americans identify as having no religion, up from 26% in 2019 and 16% in 2007.
Despite this news, I am hopeful.
I am hopeful because it is more evident than ever that we need a "deliverer." Our deliverer will not come from our political, business, or educational leaders. Our deliverer came over 2,000 years ago as a baby born in Bethlehem. The Book of Isaiah, which was written over 700 years before the birth of Jesus, offers a stunning prophecy of Jesus — "For to us a child is born, to us a son is given; and the government shall be upon his shoulder, and his name shall be called Wonderful Counselor, Mighty God, Everlasting Father, Prince of Peace."
The core message of our "Prince of Peace" is love — to love God and to love our neighbors (meaning everyone, even our enemies). I hope that this Christmas season, more of us will commit to putting our differences aside and following the example of Jesus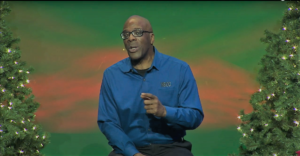 Pastor Hurmon Hamilton of New Beginnings Community Church offers a powerful Christmas meditation in a 4-minute video titled "Love that Serves." In this video, Pastor Hurmon urges us to become bearers of love and joy by serving others. Hope replaces despair when we love and serve.
You can view Pastor Hurmon's message here — Love that Serves.