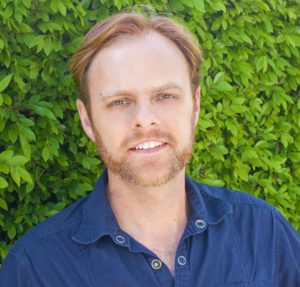 Throughout history, people have used the tools available to help them communicate with God.  Prayer is recorded on cave walls by the aborigines in Australia and elsewhere. Biblical prayer was put in written form and distributed when the printing press was invented.  Prayer was broadcast on radio by our leaders during World War II.  I recall the television day beginning in the 1950s with the National Anthem and prayer.  More recently, people have used PCs and the Internet to help them pray.  Prayer requests and prayers themselves can be emailed and sent as text messages.
Entrepreneur Neil Ahlsten, a former Google business development manager and UC Berkeley summa cum laude graduate, is applying technology to prayer in a new way. His startup company, Carpenters, is developing a smartphone app called "Abide."  The beta version of the product is now available on iTunes.
Abide – The Product
Abide will not be the first smartphone app focused on prayer, but Ahlsten says it will be quite different from anything available today.  The dozen or so prayer related apps on the market are text oriented.  In contrast, the centerpiece of Abide is the audio recording and sharing of prayers.  Ahlsten remarks, "Text is straightforward, but audio is complex.  Perhaps that is why others are not using audio."  He adds, "We want to help people experience prayer and God together.  Audio is a better way to do that."
What Abide does is allow someone — typically the person requesting prayer — to eavesdrop on another person's conversation with God. Moreover, since the prayer is recorded, it is available for listening over and over again.
Although Ahlsten does not want to disclose publicly the future roadmap for Abide, he did describe the basics of how Abide works. With Abide one can request prayer and send that request to one or more people on the requestor's contact list.  Those receiving the request can record a prayer and email their prayer back to the requestor. Those receiving the request do not need to have the app installed themselves to listen to the prayer.
Focus on the User Experience
Ahlsten reveals that the key to his company's development effort is its focus on the user experience. "We want to make it frictionless to pray for people," says Ahlsten. He learned from his experience at Google to test every detail of the user experience and to test it again and again.  "We want to go off the charts by making this really meaningful," remarks Ahlsten.  He has people of all ages using and testing the product, including Dave Butts, chairman of the National Prayer Committee. "We have prayer warriors who love the product," says Ahlsten. One tech savvy tester commented in an email to Ahlsten, "Neil, this is the single best piece of digital content I have ever received in my life."
Researching the Principles of Prayer
Ahlsten and his team have spent considerable time researching the Christian principles of prayer. "We have discovered some deep insights that port extremely well to the mobile experience," says Ahlsten.  He notes, for example, that prayer is a three way experience – the person praying, the person listening, and God receiving the prayer.  This three-way experience continues to happen every time the prayer is heard.  "You listen to a prayer five times and God can still speak to you because prayer is authentic communication with our creator," comments Ahlsten.  This is similar to a believer's experience in reading prayers and other text in the Bible. God speaks to us — and often in different ways — no matter how many times we read the same text.
God Calls, Ahlsten Obeys
How did Ahlsten decide to leave a high-powered job at Google — what he refers to as "a very lucrative career in a very lucrative space"?  He simply states, "When God calls, you better show up."  It was on a business trip in Africa in 2012 that he first sensed God's call to apply technology to Christian faith.  He comments, "God put on my heart that the church in general was missing where technology was going and how it was being used."
Ahlsten began to think about using mobile devices for prayer, but for the most part he says he thought it was "a dumb idea."  That is, until early 2013, when God gave him a specific message.  "While I was at church praying," Ahlsten recalls, "I felt God pass over me in a humbling way. I was literally in tears when I heard Him say, 'You are not big enough to understand what I do in prayer.'"  With that message, Ahlsten began to look seriously at developing a prayer app.
A short time later, Ahlsten received confirmation to develop a prayer app when he was on telephone call with Christian leader Os Hillman.  During the call, Hillman felt compelled to pass the phone to a colleague to pray for Ahlsten. Ahlsten recalls that although the man on the other end of the phone knew nothing about Ahlsten or his ideas, he began praying from John 15. Ahlsten recalls,
Abide in the vine, is what this guy kept saying.  Abide, abide, abide — which is of course the name of our product. This guy said that he saw a network of people praying together and went through a list of things he was envisioning in great detail, including seeing an Asian woman who is aligned with us. In fact, we have an Asian woman as our designer. He said all of this, yet he knew nothing about us. It was mind blowing.
Purpose in Life
Ahlsten says his purpose in life "is to be in a posture of listening, to be obedient to what God is telling me to do, and to do what is right."  The development of Abide was not the first time that God tested his obedience by asking him to step out in faith.  Between his sophomore and junior years at UC Berkeley, he sensed God call him to live on the streets of San Francisco to minister to the homeless and understand what the homeless experience. "'Go do this' is what I heard the Holy Spirit telling me," says Ahlsten.  "'Just take a bag, and I will find a place for you to live' is what I heard God say.  So I did just that."
The Company
Carpenters has five full time employees as of this writing.  The company was formed as a for-profit C-Corporation in the spring of 2014.  It raised $400k in seed money, which Ahlsten believes is enough to carry the company through full-featured release of the product later this year.
Carpenters has what business author Jim Collins would call a "Big, Hairy, Audacious Goal." Ahlsten comments, "We hope to have 40 million people using Abide to pray twice per week."  This is a lofty goal, but does raise the question, is there a conflict between engaging in a for-profit business and ministry?  Ahlsten emphatically states there is not.  He views his work as his ministry.  He notes that a profitable business is a sustainable business.  His intention is to invest the company's profits in other technologies that will further the company's missional goals.
Ahlsten did not divulge Carpenter's business model, except to say that it will provide a version of Abide free of charge.  The company's focus, he says, "is to create enough value for customers to allow us to build a sustainable ecosystem around the product."  This may mean ads or paid versions of Abide.
Although God led Ahlsten to start Carpenters, he says "God gave me no promise for success. This is a ministry, and I am called to make an impact."
___________
Also see Abide Prayer App Launches (December 16, 2014)