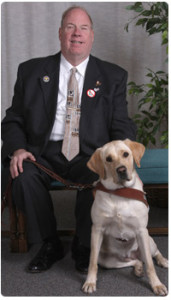 Imagine walking down 78 flights of stairs – that's 1,463 individual stairs.  Now imagine you are in imminent danger as you walk, unsure whether you'll be able to make it out of the building before it collapses or goes up in flames.  As you walk, you start to smell the heavy stench of jet fuel, making it hard to take each breath.  Now, in addition to all of that, imagine that you happen to be blind.
This was the reality for Michael Hingson on September 11, 2001, the day the World Trade Center collapsed.  Hingson made it through this traumatic experience with the help of his guide dog, with the teamwork of others on the stairs, and most importantly with help from God.  He says what got him through the toughest part of that day was when he literally heard God's voice speaking to him. 
Growing Up Blind
When Hingson was born, his doctor recommended that his parents put him in a special home for people with disabilities, confident that Hingson would never be able to have a normal life.  His parents disagreed.  Not only did they take him home to raise him in their own house, they treated him just the same as his sighted brother – allowing him to roam the neighborhood on his own, ride bikes, and even build radios.  They successfully fought to keep him in regular school throughout his childhood and always told him that he had just the same capabilities as anyone else. They realized that blindness was just another characteristic like being left-handed, eye color, or any other physical characteristic, and not a tragic handicap.
Hingson was also raised in a Christian home, and he was given a Braille bible when he was 8 years old that he still has today.  He comments that he and his dad "had a lot of talks about Christianity, and we read The Greatest Story Ever Told by Fulton Oursler together. Over time, I took Christian faith on as my own."
As Hingson got older, he learned strategies for dealing with the challenges of being blind.  He learned to use echolocation (the use of sound to locate objects) to get around, he did algebra in his head to keep himself entertained during elementary school when the kids were doing an activity that required sight, and when he was 14 years old, he got his first guide dog, Squire.
Squire became an inseparable companion.  Hingson went to high school with Squire and then on to college at UC Irvine.  After Squire died, Hingson went on to have three more guide dogs before getting matched with Roselle, the dog that was with him when the World Trade Center collapsed.
The Collapse of the World Trade Center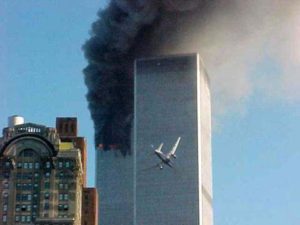 Hingson was setting up for a meeting the morning of September 11, 2001 when he heard an explosion.  He could feel the building lean over and then right itself again.  He and a colleague, David Frank, were in the office.  They had no idea what was going on.  Frank could see the fire and paper and debris falling from above, but didn't know what had happened.
Despite the uncertainty, Hingson was able to stay calm because Roselle stayed calm. Frank and Hingson made sure the guests who had arrived for the meeting knew the way out; then Hingson did what he had learned to do in emergency drills — avoid the elevator and head to the stairs.
Through falling debris and heavy fumes of jet fuel, Roselle led Hingson and 30 other people down 78 flights of stairs and out to safety.  It was a lesson in teamwork.  Just minutes after the group had exited the building, Tower 2 started to collapse.  In my interview with Hingson, he described it this way,
We had been walking along the street, we stopped at a street corner so that a friend of mine could get some pictures of the fire that he could see in tower two and what happened was that suddenly, the tower started collapsing.

We ran. Frank was gone.  I remember thinking to myself, "God I can't believe that you got us out of a building just to have it fall on us."  Then I heard as clearly as you are listening to me right now — a voice that said, "Don't worry about what you can't control, focus on running with Roselle, and the rest will take care of itself."

Immediately after hearing that voice, I had this sense of conviction that if we worked together we would really be okay. We ran, and we caught up to Frank.
Listen to God
Hingson believes that the main reason he was able to stay calm and get though the day is because he listened to God.  "I could have ignored that voice.  I could have done any number of things, but I did what God said.  Roselle and I worked together, and we made it out okay."
He states that all of us need to focus more on listening to God rather than just talking at him.  He believes that is how we find God's purpose for us.
I think that God does give us direction, and he expects us to understand what it is that we are supposed to do.  But we have to look for guidance. That's the biggest issue — most of us tend not to look for guidance and just do our own thing.

I don't think that God wants to be mysterious or secretive. What we need to do is to ask what we are supposed to do and then listen to Him and look for answers.
Challenges Lead to Purpose
One of the opportunities that came out of Hingson's 9/11 experience was that he was given a platform to educate people about blindness and the importance of teamwork.  "My purpose," says Hingson "is to help people learn teamwork, learn to trust each other, and to live by example."
Hingson has had countless interviews, appeared on Larry King Live five times, wrote two books about his experience — Thunder Dog and Running with Roselle — and he worked as a spokesperson for Guide Dogs for the Blind for six and a half years.  He is also a motivational speaker to businesses and social clubs.
Hingson remarks that according to the Social Security Administration, the unemployment rate among employable blind people is over 70%.  "It's not because blind people can't work," says Hingson, "it's because people think blind people can't work."
Many people view blindness as an insurmountable handicap, but Hingson argues against that idea.  In an interview with the Christian Broadcasting Network, Hingson says, "Blindness isn't the handicap – the handicap is our attitudes and misconceptions about blindness."  He points out that sighted people also have a handicap – they are light-dependent.  Hingson recognizes that everyone is challenged, and we have to find ways to work around our challenges.  Challenges often lead to purpose.  Hingson comments,
God gives us opportunities. If we accept what He offers, then God will help make it happen.  I certainly never thought I would end up as a public speaker, but that's an opportunity God gave me and I chose to take it.
To learn more about Hingson, visit his website at http://michaelhingson.com/ and read his books: Thunder Dog and Running with Roselle
__________________
Story written by Skip Vaccarello and Christina Richardson