Is Jesus Divine?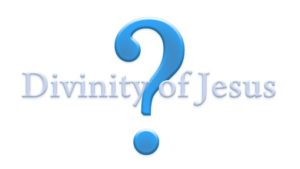 Jesus is recognized as one of the most admired and influential people of all time.  But is he God or simply a great moral teacher?  Let's look at the evidence for the divinity of Jesus – his claims, his credentials, and his historical effect on people.
His Claims
In the Bible, Jesus makes many claims about himself.  For brevity, I will address only those claims which I find most compelling.  Jesus claims that He is sinless (John 8:46) and that He forgives sins (Mark 2:1-12).  He claims that He is eternal (John 10:30, John 17-5) and that He is equal with God (John 8:58).  He claims that He fulfilled the Old Testament Messianic prophecies (Mark 14:49), (Luke 7:20-23, John 5:46) and that he will come again to judge the world (Matthew 16:27).  And He claims to be the exclusive way to the Father (John 14:6).
His Credentials
Jesus also has the credentials of God.  He has power over nature – walked on water, calmed a storm and multiplied the bread and fishes.  He also cured diseases, restored sight to the blind, and raised the dead (e.g., Lazarus).  He fulfilled the Old Testament prophecies.  Most importantly He overcame death Himself with His resurrection.
Effect on People
Jesus's resurrection turned the disciples from a cowardly, fearful group to those who, upon witnessing the resurrection, dedicated their lives to telling people about Jesus.  The Apostle Paul before he became a follower of Christ was a high-ranking Jewish official who was known as a fierce persecutor of Christians.  All that changed after Jesus appeared to him on the road to Damascus (Acts 9).  He became an ardent follower of Christ, is credited with writing thirteen and possibly fourteen books we find in the New Testament and was killed for his faith, as were most of the other original disciples.
It should be noted that the disciples were different than people today who are martyred for what they believe, because they were eyewitnesses.  People do not allow themselves to be persecuted or martyred for what they know is a lie.  The disciples witnessed Christ and testified to the truth of His words and resurrection.  As a result of the testimonies of Paul and the disciples, the growth of Christianity exploded.
Historically and today, people live transformed lives as a result of their relationship with Jesus.  This Website gives examples of changed lives among prominent people in Silicon Valley.
Several former atheists had their lives transformed when they looked at the evidence for Christ, including C.S Lewis, Charles Colson, Lee Strobel, and Josh McDowell.  Books by these authors are listed on the Resources link on this Website.
Three Choices
In Part 2 of Mere Christianity, C.S. Lewis concludes that there are only three possibilities for Jesus.  He was a lunatic (deceived himself as to who he was), was a liar (lied about who he was) or is who he says he is – the Lord of all creation.
It does not make sense to say that Jesus was a great teacher, but deny that he is God.   For if he is just a teacher, he misrepresented himself to the world.  The evidence points to Jesus as both God and a great moral teacher.