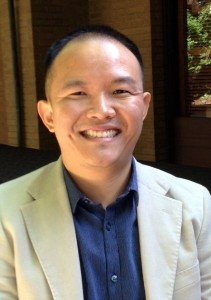 Entrepreneurs dream about the day when the product they worked so hard to build is a big success.   And when that success translates into a liquidity event for their company – the company is acquired or goes public — that dream is fully realized.  For Jerry Shen, success came early.  His product, a fantasy sports app, became the #1 app on iTunes with over 1 million downloads just two years after it was released.  And the company, called Bignoggins, was acquired by Yahoo just four years after Shen started developing the app as a graduate school project at Santa Clara University.
Bignoggins is an unusual Silicon Valley success story.  In its brief history, the company had only one employee and shareholder – Shen – and never raised any venture or other outside capital.  And although the value of the acquisition was never disclosed, Shen, who was only 31 years old at the time of the transaction, says the price Yahoo paid for his company in cash and incentives was much more than he ever imagined when he started the company.
Success, however, is usually temporary.  In sports this is evident.  The San Francisco Giants won the World Series in 2012, but in 2013 lost 10 more games than they won and finished in fourth place in their division.  Tim Lincecum, the Giants star pitcher, won the Cy Young award as the best pitcher in the National League in 2008 and 2009, but has had losing records in 2011, 2012, and 2013.
Shen discovered for himself that success is not only temporary, but poses other challenges as well.  Since his company's acquisition by Yahoo in 2013, Shen's life has been what he calls "a roller coaster."  He says, "I have had some of my highest highs and lowest lows.  It has been a struggle."
Background – Entrepreneurial Seeds Planted
Shen was born in China and came to Ohio with his family when he was four years old.  As the only Asian child in his neighborhood and school, he felt like "the odd man out." He developed defiant behavior as a way of coping.  "I always went against the grain," say Shen.  He became the class clown and got kicked out of school twice.  Shen remarks, "I always questioned authority," which he admits persists to this day.
He got relief from his anxiety when in eighth grade his family moved to the Bay Area.  He immediately noticed many other Asians and basked in Silicon Valley's technological and entrepreneurial environment.  Shen told himself at the time, "I want to start my own tech company someday."
But he set aside his entrepreneurial desires while he worked at Lockheed-Martin.  A pivotal moment came in 2007, when Steve Jobs announced the iPhone.  Immediately, Shen recognized that mobile devices would be big.  He wanted to be part of the future of mobile.  When Apple opened its App Store in 2008, his opportunity opened up.  He took a graduate class in iOS (the iPhone's operating system) at Santa Clara in 2009.
Starts Bignoggins
At the time, Shen was in a fantasy basketball league as a way to keep in touch with his friends.  He noted that although the fantasy sports market was $5-6 billion, there were no fantasy mobile apps available, so he decided to develop a mobile fantasy app as a class project.  He released the product in May, 2010.  Sales were slow until August, the start of fantasy football season.  Sales spiked and continued to grow, making his app the number one in the sports category on the iPhone.
Shen quit his job at Lockheed-Martin to start Bignoggins and focus on the fantasy sports app market.  He comments,
That was a very scary thing to give up what I had been doing for five or six years – steady pay check, financial security, friends and co-workers – to go off on my own.
During the next three years, he experienced the challenges of entrepreneurship.  Although starting a company is highly regarded in Silicon Valley, Shen remarks, "Being in the thick of it is very, very difficult." He compares it to war – long periods of loneliness and boredom cranking away at developing code, punctuated by shorts bursts of terror.  He experienced such terror when he received a cease-and-desist letter from CBS Interactive, which fortunately he resolved.
Acquired by Yahoo
In 2012, he received a call from Yahoo, which was gobbling up mobile technology companies.  Yahoo expressed interest in doing a deal with Shen, but the deal fell through.  In April 2013, Yahoo called again.  They began serious discussions about acquiring Shen's company.  Shen describes his initial experience as "another moment of sheer terror."  Shen was an engineer, with no business negotiation or merger and acquisition experience.  He comments, "I took it to God in prayer.  God supernaturally put people in my life who gave me wise counsel."
For example, within moments after prayer one day, he received an email from an attorney at a major law firm who wanted information about Shen's church.  That conversation led to Shen finding an attorney to represent him in the acquisition.  Looking back, Shen attributes the acquisition by Yahoo as an example of "the supernatural power of God" when one considers that Bignoggins was barely even a company.
Struggles Follow Success
The company's acquisition was not the end of Shen's story or the challenges and struggles he faced.
First was his struggle for validation.  Shortly after the Yahoo acquisition, Shen took a position of leadership on as Yahoo's mobile fantasy team.  He and his team worked very hard to deliver its fantasy football app in late July – just before football season.  An article appeared in Time Magazine shortly after the acquisition of Bignoggins.  The article stated that one of the best moves by Yahoo's new CEO, Marissa Mayer, was its fantasy football app.  After reading the article, Shen's ego was stroked.  He says that he told himself, "Wow, I'm the man."
Shen's world literally came crashing down, however, when the fantasy app crashed on opening day of football season.  Mayer and the Yahoo executive team were quite upset.  It took a week to fix the problem.  Shen remarks,
When I failed at my company, nobody really noticed.  Now that my failure was at Yahoo, the number one destination for fantasy sports in the entire world, it was very, very public.  Everyone knew about it.
Shen went into a period of depression for months.  Slowly he realized that he had allowed his identity and validation to come from worldly success, rather than from God.  As a follower of Christ, he knew that his sense of worth came from God's love for him, but success had distracted him from remembering that.
The second struggle Shen experienced was with generosity.  As a follower of Christ, he knows that God expects him to be generous with his resources.  But once he received what he called a "once-in-a-lifetime windfall," he began to think about his money every day and would ask himself questions like "What is the stock price?" and "What happens if I lose it all?"  He found himself turning away from how God wanted him to view money.
His third struggle was with focus and his assertive personality.  For much of his life, Shen was a focused individual, and he believes that his ability to focus for long periods of time helped him become a successful software developer.  At the same time, he is direct.  When he sees an issue, he does not filter his response, but freely gives his opinion.  Although his focus and directness have helped in his work, it has caused problems with his wife.  He admits that this struggle is still very much a work in process.
Finally, Shen struggles with his lack of respect for authority.  As mentioned earlier, this characteristic developed at an early age.  Although this trait is not unusual for entrepreneurs– after all, entrepreneurs often go against the status quo in building their businesses — it has gotten Shen into trouble at times.  "If something is wrong," comments Shen, "I want to fix it.  I want to call people out.  That has been a huge struggle for me."
Dealing with Struggles
Shen characterizes the period since his company's acquisition by Yahoo as a challenge to his faith.  So what is Shen doing about these struggles?  Although he says he has no answers, he is making progress.  He takes solace in knowing that many of the characters in the Bible had similar struggles.  Specifically, he mentions Peter who denied Christ, Paul who struggled with holiness, and even Jesus who struggled with his destiny while he was in Gethsemane.
For advice, he offers, these suggestions:
Don't run away from struggles.  Shen believes one should not retreat from struggles, but move forward and fight them.  Having a group of people helping one through a struggle is essential.  Shen has a group of other Christians in business with whom he meets regularly and who pray for each other and offer advice.  "Everyone has struggles" remarks Shen.  "Being able to admit that transparently and walk alongside others who can help you through it, is the key."
"Do not play church," says Shen.  He believes too many Christians are content with simply attending church and a small group, praying, and reading the Bible.  Shen remarks,
I think to have a breakthrough in your spiritual life, you have to surrender everything.  God calls us as disciples and to take up the cross.  What does that mean?  It literally means to die to one's self and to live in Christ.  That's a constant struggle, but it is worthwhile.
Be aware of spiritual warfare.  Shen feels that Satan attacks people, especially those with influence.  He believes that the depression he experienced for the first time in his life and his other struggles are examples of Satan attacking him.  Shen believes that prayer and having a small group with whom to share struggles are ways help to blunt those attacks.
A key Bible verse for Shen is Psalm 37:1, which reads,
Take delight in the Lord, and he will give you the desires of your heart.
Shen is leaning into his struggle, moving forward both in his work and his faith, and delighting in the Lord.
___________
In the following 1 minute 18 second video, Shen shares his views on faith and work.

____________
A Final Note
One way, Shen integrates his passion and entrepreneurship and his faith is through a church ministry he started.  It is called "The South Bay Church Entrepreneurship Group." The ministry includes bi-monthly meet-ups of Silicon Valley entrepreneurs, and an annual conference which draws hundreds of attendees. Both the meet-ups and the annual conference are under the brand name "Eleo:  Entrepreneurship and Leadership."  The next Eleo Conference is scheduled for Saturday, July 26, 2014.