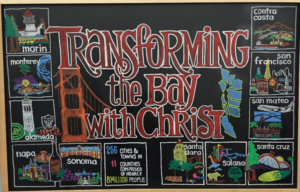 Transforming the Bay with Christ (TBC) brought together San Francisco Bay Area Christian business, faith, and community leaders Saturday morning, January 9, 2016. The gathering was at Epic Church in downtown San Francisco's SOMA district. TBC's mission is "to catalyze a holistic gospel movement in the Bay Area that results in spiritual and societal transformation." TBC's vision is "To see every person in the Bay Area thrive and flourish—body, soul and spirit by living life as God intended it".
TBC Chairman, Pat Gelsinger, outlined three strategies or initiatives of TBC:
Unify- create relationships among Christian leaders across cultural domains to support those who are furthering the work of God in the Bay Area.
Amplify- use a collaboration between public, private, and social sectors, led by the faith community, to respond to the biggest needs of the Bay Area.
Multiply- support existing, new, and novel healthy churches throughout the Bay Area that are places of healing growth and transformation.
These initiatives lead to the following BHAGs- Big Holy Audacious Goals:
Every Bay Area School Adopted by a Church- Churches can best show concern and love by providing tangible help and support to school needs. A software mapping program to link churches and schools is being prepared.
Expand Church Planting in the Bay Area- the Bay Area is largely unchurched. TBC will work to expand existing churches as well as support new and novel ministries.
Connect churches and business in service- find ways to for churches and business to collaborate to meet human needs in the schools, businesses and communities of the Bay Area.
The ultimate Goal – revival in our day, in the Bay Area. The question- will 'we' be part of it?
Nancy Ortberg, TBC CEO, described how ministry can be most effective when people see the tangible expression of love by Christians. Ministry breaks through when Christians provide help to the point that the Gospel is undeniable. Ortberg illustrated this point with a personal story of neighbors that rejected multiple invitations to participate in church until an associate of the neighbors, a single mom in desperate need of a car, was provided with working transportation by a ministry of their church. When the neighbors witnessed Christian tangible love their openness to the gospel changed.
Ortberg provided amplification of the three TBC strategies:
Unify- while unity isn't easy, the request is for Bay Area Kingdom minded leaders to dedicate a small portion of their time for collaboration in service to the Kingdom. To that end, TBC will be sponsoring 3 meetings a year in the 3 major regions of the Bay Area.
Amplify- TBC hopes to distribute information about best practices of ministries around the Bay Area. The idea is to share best practices and efforts that are working in Bay Area Communities.
Multiply- The idea is to expand the existing 3,600 Bay Area churches by 180 church plants.
Ortberg and Jon Talbert, TBC's Chief Convening Officer, then interviewed three active Christian Leaders from San Francisco: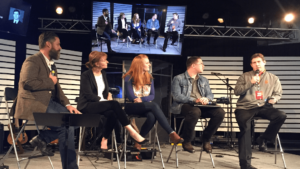 Ruthie Kim- Youth With A Mission (YWAM)- Tenderloin inner city mission
Christian Huang- City Impact- Tenderloin inner city mission
Bobby Evans- General Manager San Francisco Giants-
Each shared how God was showing up in their work.
TBC's guest speaker was Mark Labberton, President of Fuller Theological Seminary and formerly Pastor for 16 years at First Presbyterian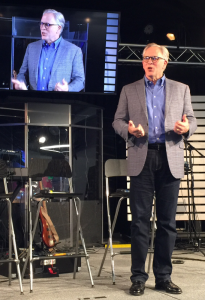 Church Berkeley. In a rich and expansive talk, Labberton exhorted meeting participants to clarify their "Sense of Call". God's grace should not be experienced as a kind of infection- that is, just another part of life- something in blood stream that doesn't lead to action. Rather, our conversion should be 'transformative'. God's love is poured out through Christ to transform the world. God's grace is exceptional… it calls us out to greatness.
__________
Article by Reid Rutherford