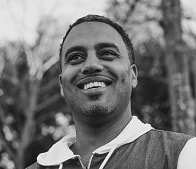 Olatunde ("Tunde") Sobomehin has a passion to serve his community.
He is an amazing person with a career not typical for a Stanford graduate.  He founded a non-profit organization called StreetCode Academy in 2013.
I had the opportunity last year to visit StreetCode.  I saw around 50 students from ages 5 through 75 developing software.  Most were young. Every one of those students had a mentor from Stanford and companies such as Google and Facebook.
The students were learning to design software, program, and start businesses – what StreetCode calls "hack, hustle, and design." StreetCode is addressing a diversity deficit in the technology industry by offering training for underrepresented youth and young adults. StreetCode is giving them a future.
Tunde describes himself as a servant of God. In fact, his title is CEO/Lead Servant.
How did Tunde make that career choice? It started with his upbringing. His family always took advantage of opportunities to serve others. For example, they noticed one day that someone was living in their doghouse. Instead of his father kicking the man out, they made a place for him in their basement. It was win-win. The man had a place to live and the man fixed up the basement. It was now his home.
Service was what Tunde's family did and what gave Tunde his passion to serve.
Tunde is a follower of Christ. "God", he says, "is part of all my decisions." There is nothing he wants more than to make decisions that align with God's purpose. He wants to give the StreetCode students what he has – skills and the power of God. And he wants all the glory to go to God.
To date, hundreds of students have gone through the StreetCode courses. Some have taken tech positions at Stanford, Facebook, SAP and others. And they have gotten a taste of authentic faith from Tunde.
God called Tunde through his experience and passion. Tunde showed up and is having a huge impact in East Palo Alto.
Tunde will be speaking at a Silicon Valley Prayer Breakfast Networking event on Wednesday, May 16 at Plug and Play in Sunnyvale.  A limited number of tickets are still available.