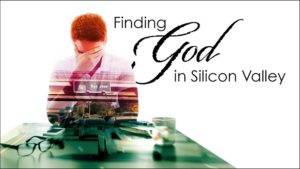 New Beginnings Community Church in Redwood City, CA is presenting a new sermon series titled "Finding God in Silicon Valley" which is inspired by my book and this blog. I will be giving a message in the series on April 29.
In the first message in the series titled "Finding God", Pastor Hurmon Hamilton linked Silicon Valley to the "valley of the shadow of death" mentioned in Psalm 23, verses 1-6.  He explained how easy it can be to miss God even though His footprints are everywhere. We simply need to look for them.
Hamilton used the story of Paul Ely, a top Silicon Valley businessman, (see my 7/14/2014 story on Ely) as an example to illustrate his point. Ely missed God's footprints in his life until he was 76 when God revealed himself in a dream to him. Ely's dream launched him on a journey to discover God and commit his life to Jesus.
Key points in Hamilton's message were
Silicon Valley contains both death and life; it is full of contradictions. There are dozens of billionaires and thousands of millionaires, yet one in four people are at risk of going hungry. Berkeley and Stanford are two of the world's top universities, yet tens of thousands of children are being left behind in public schools.
As we journey through the valley of life and death, God is both shepherd and host. He made everything in this world and has dominion over it.
We need to find time to sit at the table in God's house; that is, to be with God and build a personal relationship with Him. God stays close to us during our entire journey of life. He loves us, watches over us, and protects us.
Life offers many challenges (or what Psalm 23 calls "enemies"). We each have our own struggles, but we also share struggles with others, including

Silicon Valley is a place of great wealth and success. There is the temptation to compare ourselves to others.
Misplaced identity. Who am I? There is the temptation to place our identity in our wealth, education, success, or possessions.

Everything changes once we see God's footprints in our lives and across Silicon Valley. We realize that God is everywhere and that His love never fails.
You can see the full video of Hurmon Hamilton's message here.
Summaries of other sermons will follow on this page.