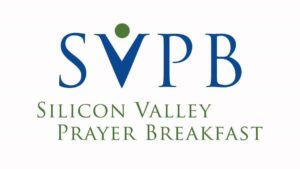 The sold-out 24th annual Silicon Valley Prayer Breakfast on March 23 featured two outstanding speakers – entrepreneur and author, Justin Dillon, and venture capitalist, Promod Haque. The theme of the event was "Investing to Make a Difference."
Justin Dillon kicked-off the event with a talk challenging the audience to find their passion for making a difference in the world.
He talked about how he found a passion for disrupting the tragedy of human trafficking and forced labor. While living out what Dillon called his "rock dream," recording and touring with a rock band, he came across an article describing how young girls from poor families are recruited to come to cities with the promise of work, just to find themselves forced into prostitution. "When I read that article… I felt like something had broken inside of me." Although his heart broke with the thought of those girls, he did not know what he could do.
Shortly after reading the article and while on a rock tour in southern Russia, he came across a group of girls who told him that they had been offered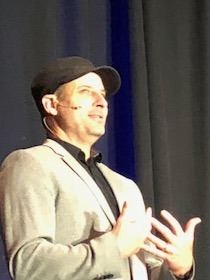 money and the opportunity to go to America with a promise of work. When Dillon shared his concern, the girls simply responded that there was nothing for them where they were living and wanted to take the chance and go to the U.S.
With his heart broken again, Justin decided that he had to do something about it. He read as much as he could about modern slavery and decided to make a film exposing it.
I asked my colleagues in the music industry if they would film performances around the states and raise awareness. And they did. Soon celebrities joined, along with journalists and politicians, to be a part of this. I found myself directing a film that was released in theaters around the world reaching hundreds of thousands of people.
The film was titled Call+Response.
In addition, Dillon started building websites to advocate a stop to modern slavery. One website was noticed by Secretary of State Hillary Clinton and led to a partnership with the State Department on a website called Slavery Footprint. The idea was to get consumers to take an online survey to understand how their footprint related to slavery. Over 30 million people took the survey.
Today, Dillon is the founder of Made in a Free World, a for-profit company that licenses enterprise software to help businesses identify products and components in their supply chain that could be made by forced labor. Major international companies are currently using the Made in a Free World application. Investing in companies that don't incorporate forced labor in their supply chains, using knowledge gleaned from the investing 101 center, could help to drive change in these industries.
Also, Dillon authored a book A selfish plan to change the world
">A Selfish Plan To Change the World: Finding Big Purpose to Change Big Problems.
Dillon concluded his talk by urging the audience to find their passion on how they can make a difference in the world.
We have no idea what we are capable of, and we are neither the authors nor the heroes of our stories. We don't have to change our lives to change the world…Every one of us is uniquely designed to reduce the chaos that is in the world. All we have to do is believe that.
Justin ended his talk with the question, "Is there some chaos in the world that breaks your heart and makes you feel like helping?"
_____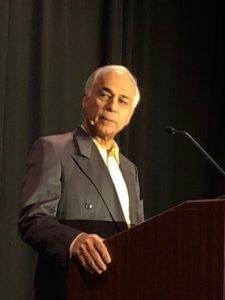 Venture capitalist, Promod Haque then took the podium.
"What are you investing in that is building your life's foundation?", he asked the audience.
Haque is one of the most successful venture capitalists in the world. As a senior partner at Norwest Venture Partners, Haque has led investments in companies that have yielded over $40 billion in market capitalization.
But Haque's question was not talking about financial investments. He was talking about faith.
Haque said that he came to accept Christ as his savior in 1966 while living in India. A pivotal event was the recognition, after listening to a speaker at a camp, that Jesus Christ loved him despite his imperfections. "The speaker explained how by asking Jesus to be the Lord of my heart, mind, and soul I could have eternal peace, love and a personal relationship with him."
The idea of a personal relationship with Christ drove Haque to investigate the evidence for Christ. He read the Bible, Jewish historical texts, other books, and engaged in many conversations. He commented, "Who'd have thought that my first exercise in due diligence would be on Jesus Christ?"
He added, "Over the years, since that faith decision more than 50 years ago, this relationship with Christ has grown through good times and tough times." The foundation of faith in God in his family has grown as well. He called it "another key investment I made."
The biggest challenge to his faith happened in 2015. Only two months after his daughter, Irene, at age 27 gave birth to Haque's third grandchild, Irene was diagnosed with stage 4 colon cancer. "This began a very tough period for us. I prayed desperately for her and her newly-wed husband and her 2-month old baby boy.
Although Irene underwent chemo treatment and Haque prayed desperately for Irene's healing, cancer continued to grow. One day Irene made a statement that startled Haque, "Stop praying for healing for me." Irene told him, "Pray for peace and comfort."
A few weeks later, Irene again made a stunning statement, "Dad it is okay to die." What assured Irene that it was okay to die, Haque told the audience, was that as a committed follower of Christ, Irene knew she would be going to Heaven.
A month later, Irene died.
"It was a tough time," Haque admitted. But his faith remained strong. "Nothing lasts forever," he told the audience. " Human beings don't last; companies don't last; countries don't last; civilizations don't last, and empires don't last. Only God and His Kingdom last forever. Eternal life is promised to all who put their trust in Jesus."
Haque continued to pray, read the Bible, and books on Heaven. "I was blown away. Heaven is a real place and departed souls that have trusted in and accepted Christ go to Heaven and reside with Him for eternity."
"I believe that I have not lost my daughter- I have lost temporary contact with her and will be reunited with her in Heaven in the presence of Jesus."
Promod ended his talk urging the audience to consider faith in Jesus, "It will make a difference in your life. And it will be the best investment you'll ever make for your life and possibly your families."