Scientist and entrepreneur, Brian Martin, received a vision from God that changed the trajectory of his life and his business. Brian discussed his experience at the September 1 SVPB Networking breakfast at the Stanford Faculty Club. Following is a story by Mike Griego, author of Biblical Viewpoint describing Brain's message titled, "Funny You Should Ask."
____________
I heard a story this week with elements that sound familiar and even seem standard around these parts: a bright young man moves west seeking technical education, turns entrepreneur, creates a company, designs a product, then sells company the company for a multi-million dollar fortune.
Sounds like the All-American Dream.
Only this one is different. There's a twist to the tale. It's about the source of the multi-million dollar product idea.
And what was the source?
"Funny you should ask…" is the common reply that this entrepreneur used over and over again when asked about the source of his perfect and elegant bio-medical device product design.
"God gave me the idea," he then explains. "In a vision…like a video…clear as a bell…"
It was an idea worth $100 million dollars.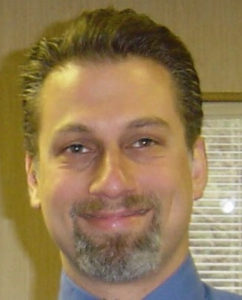 A New Company Mission 
Brian Martin was raised in a non-religious, Jewish home in Nebraska. He became an evangelical Christian at age 28. He got married and raised a family in Northern California and developed a successful career as a designer of acute stroke products that facilitated the capture and removal of blood clots in the brain.
While his product designs were long-established in the marketplace (he holds 90 patents), he knew that they could be advanced technically. In 2006 Brian launched a new startup company, Lazarus Effect, Inc., without a product but with a plan to develop a new generation medical device for stroke victims.
Meanwhile, one night his family watched a low-budget Christian film, Facing the Giants, about a small-town high school football coach who reinvigorates his own life and that of his perennial losing team with a revised 100% commitment to God on the field, in the classroom, at home, and outside the home. The team goes on to win the state championship.
Brian decided to apply the principles to the mission statement of his small company, Lazarus Effect, in the garage of his home.
Goal #1:  Honor God
Goal #2:  Make excellent products
Goal #3:  Be profitable
Goal #4:  Be successful
Like the coach in the movie, he was serious about this 100% commitment to honor God in all things he did with his company. He shared this with his partners, his wife and children. He asked for supporting prayer and accountability.
Facing Giants
Lest you think it was easy, it was not. Brian and his company thrived, then faltered, and then rode the proverbial roller-coaster that many companies and entrepreneurs experience. He turned down a $25 million offer for his company during one of the highs, but within a month the product had a hard failure during one of the clinical trials and there was dissension among his team as to how to remedy the design flaw.
He was at a point of despair and on the brink of failure.
But his faith was encouraged by two calming Biblical principles:
Be thankful regardless of how things are going. An obedient follower of Christ should be grateful to even have a chance to be in the game. "Rejoice always, pray without ceasing, give thanks in all circumstances; for this is the will of God in Christ Jesus for you." – 1 Thessalonians 5:18
Anticipate the victory even before the battle. King Jehoshaphat, with the Jewish people in dire straits against a larger enemy, was so reassured by the Lord that he marched into battle led by men appointed to sing praises to God. "

Do not be afraid or discouraged…the battle is not yours, but God's….S

tand firm and see the deliverance the

Lord

will give you…." – 2 Chronicles 20:15-17
The Vision
Brian's new product design was at a stalling point. He, nor anyone else, could see a way to enhance the capturing of all of a stroke-inducing blood clot beyond 88%. That means one in 8 patients could have a secondary stroke as a result of the treatment that could prove worse than the initial stroke. Even fatal.
It was one evening while on his normal 45-minute commute drive home while listening to Christian praise music on the radio, that he had his vision. As he pulled into his driveway, he saw what he would later describe "like a movie video playing in my mind's eye," a full rendering of an amazingly simple, profound and elegant solution to his product design problem.
The video vision played 3 times for him in his mind.
He knew he had never seen nor could ever have conceived of the approach that was presented to him. It was clearly from God. A gift. And that's how he saw it and responded to it.
God's Production
Brian shared the design idea with his co-workers the next day. They were astounded with the design notion. "How did you do this?" they asked. "Funny you should ask," he responded before telling them honestly about the God vision.
When the product went to clinical trials and he presented the medical device to neurological medical experts, doctors and stroke specialists around the world, he would now commonly be asked, "How did you come up with this design?" (By the way, he notes that he was never asked this question about his designs in all of his career.) He would now always reply, "Funny you should ask" and then proceed to shamelessly tell of the vision he absolutely believes he received from God.
The product sailed through extensive clinical trials with a 100% success rate, that is 0% residual blood clots after use of the Lazarus Effect device. Brian's company was acquired by Medtronic, Inc, in October 2015 for $100 million.
Today he is considering another startup initiative. In the meantime, he is spending time sharing his story, as he did this week to a mesmerized group of men and woman at a quarterly Silicon Valley Prayer Breakfast event in Palo Alto, California. He concluded with a powerful truth: In God's economy, he is not different than anyone else. God wants to give gifts to all of his obedient children.
Are you honoring God with your life and work?
_________________________
But the seed falling on good soil refers to someone who hears the word and understands it. This is the one who produces a crop, yielding a hundred, sixty or thirty times what was sown. – Matthew 13:23