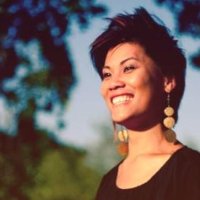 Nikole Lim has a huge vision – to end the cycle of sexual violence, EVERYWHERE.  How does one work on a vision like that? For Nikole it was founding a non-profit in Kenya called Freely in Hope. So what motivates a young student who grew up in the Bay Area and was attending film school in Los Angeles to chase such a difficult goal – and to start in Africa?
The film project that started it all
If Nikole's journey was a movie, the storyboard would begin with her desire make a film about women who inspire hope in their communities. She initially picked Africa wanting to build a film portfolio that would interest large photography publishers. She had friends in Kenya who shared stories of working with widows and orphans who had overcome great obstacles. Nikole found a troubling theme in their stories.
I met very young women who had no options but to work the streets in order to earn money to pay for their high school education. I learned that many others who had graduated from high school didn't have the funds to go to university. Looking for work as women without an education opened a window for perpetrators to take advantage of their poverty. I began to see commonality in their stories—lack of access to education made women more vulnerable to sexual violence.
Nikole was impressed by the determination of these women to achieve an education in order to end sexual violence. She traveled to Kenya to film their stories then returned to L.A. to finish the film and graduate. A friend in Kenya who helped her with translations related the story of Eunice, a university classmate in Nairobi.  It was that story that catalyzed the vision that has become Nikole's life work.
Eunice's story
Eunice left her village at age 18 to find a job to pay for college. Eunice's story quickly went from an aspiring student to that of an abused woman. A man who offered her assistance drugged, raped, and threatened to kill her. Because of the stigma of rape in Africa, and many other parts of in the world where the victim is considered to be at fault, Eunice's father accused her of being a promiscuous slut, kicked her out of the house, and threatened to kill her if she returned. So Eunice fled domestic violence at home and worked as a house girl and washed laundry for neighbors. She felt she could not care for herself, let alone for her child, so she decided to get an abortion.
Abortions are illegal in Kenya but Eunice found a slum clinic literally underground, dirty, and without light. As she waited in line she was overwhelmed with fear, knowing how many women die from unsafe abortions. She let all the other women go ahead of her. Finally, when she was the last woman in the clinic, she said she heard the voice of God tell her, "This baby is going to be a blessing to you." She believed it, and left the clinic!
When she gave birth, she knew she had made the right decision. Eunice raised her baby in the slums, continuing to do laundry and housework and saving her pennies. Her mother sent her what money she could and eventually Eunice enrolled at Kenya Polytechnic University. She had no bus money so she walked to class and often left early to pick up her baby from whomever was watching him at the time. Although faced with many obstacles, she courageously pursued her dream to achieve an education and become a counselor to help other survivors of rape.
Nikole's challenge
When Nikole heard Eunice's story she felt an immediate connection. Eunice and Nikole are the same age and Nikole sensed that Eunice's story could have been hers. As Nikole thought about how Eunice responded to God's voice in the underground clinic, Nikole heard God speaking to her. "The Lord challenged my heart, asking me, now that you've been on mission trips multiple times and heard these stories of sexual violence, what are you going to do about it?"
As Nikole pondered that question, Eunice's story reached across the globe with an answer. Nikole learned that Eunice had finished her first semester of college at the top of her class. Inspired by Eunice's determination and desire to help other survivors, Nikole formulated a bold dream to end sexual violence – by partnering with survivors and equipping them to end the cycle of violence.
It's an audacious vision but we hold it strongly because it's based on the vision of our survivors. We believe that the survivors are the ones to lead. We're actually flipping the script in the way that Jesus did where He said the first shall be last and the last shall be first. For us, those considered last in society are the survivors, the marginalized, the oppressed women who have never received opportunities for leadership, for education, and for their voices to be heard.
Nikole co-founded Freely in Hope with the help of the friend who told her Eunice's story. But Eunice's is not the only story to influence the founding of Freely in
Hope. Nikole's own faith story played a role too.
Nikole's story
Nikole recalls, "When I was 14, my mom was diagnosed with cancer. That was the first time I had to come to terms with my faith. I remember going into my room and crying out to God, 'Why do you allow these things to happen, why?' I didn't understand. But in the moment of my complete brokenness, I just felt this overwhelming presence of God say to me: 'because I first loved you, learn to love yourself and love others.' Since then, I've been learning what it looks like to love, to live in God's love and to be an outpouring of God's love to other people."
Nikole says that she continues to ask God the "Why" questions, "because of the immense pain, violence and oppression that I witness. As I ask that question though, it is through the stories of incredible pain of the women that we serve in Kenya and Zambia that we also see the incredible beauty, grace and hope come out of it. I'm seeing that there may not be an answer to 'why?' but through time, we see incredible hope. So although I've not gotten an answer to the 'why' question, my faith has been strengthened because in the middle of deep concern and deep pain is where you actually recognize God's presence."
Freely in Hope
Nikole explains how her faith story impacted founding Freely in Hope:
Everything we do is driven by our faith. We believe that we can't do any of this work without the power of the Holy Spirit within us. With the presence of the spirit, all of our decisions are prayerfully discerned. All of our counselors are Christians trained in counseling methods that work well for trauma survivors. It's all from a faith-based perspective.
Freely in Hope, with its base in the Bay Area, works in Kenya and Zambia, and has one partner in South Africa. It has three program goals. The first is holistic education and support for survivors of sexual violence. Second is leadership development, including discipleship, spiritual formation, equipping survivors and advocates to lead, and to end the cycle of sexual violence. The third is outreach programs through the power of storytelling. "Our outreach programs include speaking and teaching at schools, universities, our partner organizations, churches, community centers, and people will invite us to lead mini-conferences or full day seminars on ending sexual violence, trauma-based healing, preventing violence, and women's rights."
Eunice, whose story was a catalyst for Freely in Hope, continues to inspire. She graduated with a bachelor's degree in counseling psychology and started working with an international organization counseling drug addicts in the slums. The majority of her clients were women in prostitution. Now, she is a social worker and counselor for Freely in Hope—equipping young women, who like her, have chosen to thrive after abuse.
Nikole has seen God transform her aspiration to be a filmmaker into a passion to pursue social justice through the arts. Nikole sums up her calling to this work:  "My conviction to share stories of immense beauty that arise out of seemingly broken situations is inspired by Jesus' first public proclamation, where he described his work by quoting Isaiah 61:
The Spirit of the Lord God is upon me because the Lord has anointed me to preach good news to the poor; He has sent me to heal the broken-hearted, to proclaim liberty to the captives, …to comfort all who mourn,…to give to them beauty for ashes, the oil of joy for mourning, the garment of praise for the spirit of heaviness, that they might be called trees of righteousness, the planting of the Lord, that He might be glorified. (Isaiah 61:1-3, Modern English version)."
"Our mission", Nicole says, "follows the trajectory of leadership outlined in this scripture: God working among us to free the oppressed, equip them to heal, and raise them up to lead us toward liberation. We believe that this is true liberation."
Here is an inspiring 3-minute video of some of the women helped by Freely in Hope.
Article by Skip Vaccarello with Janet Goodman