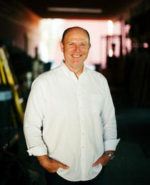 What can you learn working in a junkyard? According to Roy Goble, quite a lot.
He learned hard work. He learned about business. And he came across a diverse group of people. His junkyard experience also launched him into a career that led to a great deal of wealth.
Most of us in the Western World are wealthy compared to others in the world. I know that it doesn't seem like that to most of us. We have expenses – due to needs and wants – that take up most of what we earn. Nevertheless, we are wealthy.  Some, more so than others.
Roy Goble is one such person. Although he grew up in a blue collar family, working in his father's junkyard in San Jose, Roy was able to climb out of those humble beginnings to amass a fortune. He did this by buying, renovating, and selling old warehouses and other depressed property for a substantial profit. By the age of 21 he was a millionaire and his wealth grew well beyond that through his 30s and 40s.
But something happened along the way. Roy became a follower of Christ and began to question what he should do with his wealth –should he simply go on enjoying a lavish lifestyle, or give it all away.
Roy found a different path.
Motivated by Jesus's Parable of the Talents—sometimes called the Parable of the Gold Bags — (Matthew 25-14-30), Roy felt convicted to use his money and skills to help the poor and disadvantaged in places like, Zimbabwe, Belize, and Thailand. He started a non-profit called Pathlight International, in which he invests his money and talents – and encourages others to do the same — to help the homeless, the trafficked, and children and families caught in poverty.
In September 2016, Roy published a book in which he describes his journey. The book is titled Junkyard Wisdom:  Resisting the Whisper of Wealth in a World of Broken Parts. In the book, he challenges his readers, regardless of income level, to get beyond their walls of security and distraction in which they are insulated from the poor and make a difference in the lives of people who are suffering.
Roy challenges us to experience a life of joy and meaning by following Jesus's lead.  Roy suggests that we utilize our wealth and talents to create God-centered relationships in our communities and across the globe. In Junkyard Wisdom, Roy shares the joy that happens when we get beyond complacency to help those in need.
Skip:  First, how did you come to faith in Jesus?
Roy:  I came to Christ as a child, attending First Baptist Church in San Jose, where my mother and father were both leaders. The beauty, mystery, and joy of the arisen Christ fascinated me and at a young age I was digging into scripture to better understand Jesus. The Gospel was central to all things in our home, but it became my own faith as I matured and found Christ beside me even in the most perplexing of situations. I'm thankful for loving parents, good pastors, and sincere friends who have shaped my faith through the decades.
Skip:  Roy, why is it so difficult for wealthy people to follow Jesus?
Roy: There are a lot of reasons, but let me share two. First, wealthy people can often solve problems on their own. It's as if God isn't necessary. For instance, if struck with an illness, the wealthy can get great medical care. Not a lot of that in developing countries. Second, the wealthy have an abundance of temptation around them. We're so drawn to shiny new things – a promotion, a new car or house, the latest gadget, or whatever our weakness might be. We forget God because we numb ourselves with all the temptations around us.
Skip:  Doesn't the Bible suggest that the wealthy would be better off if they sold everything?
Roy:  If you read the story of the rich young ruler (Mark 10: 17-27) you might think so. But God uses all kinds of people, poor and rich alike, so long as they are faithful to Him. The rich young ruler was one conversation Jesus had, and it was the right response to that particular young man. But Jesus met many wealthy people and didn't give them the same advice.
Skip:  The Bible says that the love of money is the root of all evil, how can we avoid loving money?
Roy: It's not easy, especially in our culture where the accumulation of money is so revered. But it can be done if we remain faithful to Christ. That begins with spiritual disciplines – like prayer, scripture reading, fasting, and so on– and must include accountability. That's where we usually get hung up because we ask other wealthy people to hold us accountable, but they're as tempted as we are! When we build relationships with the poor and ask for their accountability, though, it becomes a whole new ballgame.
Skip:  In your experience, can the poor offer gifts and wisdom for the wealthy?
Roy:  Yes, patience is probably the most obvious. The poor know how to wait in a healthy way. But part of that patience is a deeper reliance on God. Self-reliance is so important in our culture, and I value it more than most, but it has a double edge. Self-reliance can blunt our attempts to turn to God whenever we face challenges. The poor can teach us how to be both reliant on God and reliant on others.
Skip:  What would you say to someone who said, "Wealth is God's blessing in your life, and you should enjoy it?"
Roy:  I'd say they got it half right. Anything God gives us as a blessing is to be used for God's glory. It doesn't matter if it is a great singing voice, the ability to throw a football, or have a knack with computer code. So yes, at times, wealth can be enjoyed, just as any gift from God is enjoyed. But to think of it as something that is merely our own is to turn it into something ugly and self-centered. We have to see the wealth as God's, not ours, so we can utilize it in a way that honors God.
Skip:  What would you say to someone who said, "Wealth gets in the way of following Jesus?
Roy:  Again, they are half right. Wealth most certainly can get in the way of following Jesus if we misuse it, misunderstand its importance, or begin to think it is ours. But wealth can also draw us closer to God if we utilize it in accordance with His will, and if we understand it is God's wealth, not our own.
Skip:  Why is the book called "Junkyard Wisdom"?
Roy:  All I ever really needed to know I learned in a junkyard! No, that's not really true of course, but I learned so much working in the junkyard it seemed a good title for the book. The junkyard introduced me to what we might call the seedier side of society as it also propelled me into wealth and experiences I could've never imagined! So the book, in many ways, reflects the shaping of my understanding of the world, wealth, and faith, as it all stemmed from the junkyard. The wisdom part — well, hopefully there is some of that in the book, but I'll let the reader decide.
Skip:   What strategies do you have for keeping a biblical perspective on your wealth?
Roy:  Broadly, the book is about tearing down the walls between the wealthy and the poor. That's a key strategy to keep a biblical perspective on wealth because it allows us to stay connected with all of those in God's kingdom. It's through relationships we learn how we're being called to serve, give, act, and so on. But if you want something more specific, then stay focused on scripture, be in constant prayer, and seek accountability. The biggest challenge is ego, the belief that wealth is of my doing. We must remember it is not, and keep people around us who lovingly remind us of this. For me it begins with my wife, D'Aun, extends to my two adult children, and includes a small group that I love dearly.
Skip:  How do you decide what to give and what to keep, what to say yes to and what to say no to?
Roy:  I keep wrestling with that question. It really comes down to this — we can't "solve" the issues of wealth, and how to follow Jesus, and where to involve ourselves, just by making a decision once and then sticking with that until we die. Needs change, relationships change, the things that tempt us change, our health and family situations change…and through it all we need to constantly seek God and wrestle. But don't forget—wrestling can be a ton of fun!
Roy's book Junkyard Wisdom:  Resisting the Whisper of Wealth in a World of Broken Parts is available on Amazon.