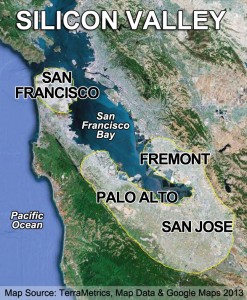 Silicon Valley is the home of approximately 3 million people.  Although there is no "officially" defined area it is generally thought to be bounded by Redwood City on the north, San Jose on the south, the Santa Cruz Mountains on the West and Fremont-Newark on the east.  Other major cities in the area are Sunnyvale, Palo Alto and Cupertino, home of some of the most famous Silicon Valley Companies. With the rapid growth of technology jobs in the San Francisco metropolitan area, the traditional boundaries of Silicon Valley have expanded north to include San Mateo County and the City and County of San Francisco as well as other parts of the San Francisco Bay Region.
According to pollster George Barna, Silicon Valley is one of the most unchurched regions in the country.  On a given Sunday only 5% of the people in Santa Clara and San Mateo counties (those counties central to Silicon Valley) go to church.  Most people think of Silicon Valley as a secular place where people's attention is focused on business, high technology, and the accumulation of wealth.
The spirit of entrepreneurship thrives in Silicon Valley.  For decades, Silicon Valley has led the country in the number of start-up companies and in the amount of venture capital invested.  Silicon Valley has given birth to such companies as Hewlett-Packard, Intel, Google, Yahoo, Apple Computer, Cisco, Intuit. Electronic Arts, Facebook, Linkedin, and many, many more.
Business, technology, and money are thought of as the gods most residents of Silicon Valley worship.  Although this stereotype rings true, as is true with most stereotypes, there is much more to Silicon Valley.
It may surprise you that the God of the Bible is also working in Silicon Valley.  No, He is not Mark Zuckerberg of Facebook, Eric Schmidt of Google, or a Sand Hill venture capitalist in disguise.  He is, however, alive in the lives of many entrepreneurs, venture capitalists, business leaders, programmers, and ordinary people in Silicon Valley.
This Finding God in Silicon Valley website provides inspirational stories of some of those people and how God is working in Silicon Valley.