The Spiritual Context of Silicon Valley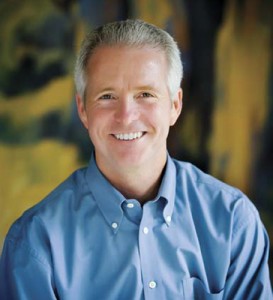 In describing how God is at work in Silicon Valley, John Ortberg, senior pastor at Menlo Presbyterian Church (MPPC) comments:
I see the unleashing of Kingdom energy.  More and more people are being captivated by that.  It is also crossing church and denominational lines.
Background
Ortberg came to MPPC in 2003 from a position of teaching pastor at Willow Creek Community Church, a well-known evangelical mega church located in the Chicago area led by Bill Hybels.  Ortberg is a gifted preacher and has authored 11 books, including his most recent book, Who Is This Man? The Unpredictable Impact of the Inescapable Jesus.
MPPC sits on the fringe of the retail section of Menlo Park.  It is a 140-year old church with Spanish style architecture.  Its sleepy look belies its dynamic character.  On an average Sunday, 5,000 people attend MPPC. Its Christmas services are packed with nearly 10,000 worshippers.
A central message of Ortberg's teaching and writing is "Spiritual Formation." This is a term recently popularized by the late Dallas Willard, an influential Christian thinker and writer, who mentored Ortberg.  Spiritual Formation is a process by which human character is transformed through authentic experiences with God.  Spiritual formation is mitigated by the desire for comfort and security.
Silicon Valley in general and Menlo Park in particular, are populated by many who might call themselves "comfortable"; that is people who are well-educated, have a good job, and have achieved material success.  It is exactly this group that is drawn to MPPC and Ortberg's teaching both because of his style and his message. Ortberg is bright, well-spoken, but also down-to earth and approachable.  If you engaged him in a coffee shop, you might even take him for a successful, Silicon Valley business executive – the type of person Silicon Valley business people are used to relating.
Ortberg is well aware of the people to whom he ministers. When I sat down to interview Ortberg, he put into context the spiritual challenge he and MPPC face.  He sees that context in four parts.
Smart Skeptics
The context of the first challenge is that Silicon Valley is made up of many "smart skeptics."  Silicon Valley is a stimulating and intellectual culture.  Many are alumni of fine universities like Stanford and the University of California, Berkeley.  People like to read and consider themselves thoughtful.  At the same time, the area is made up of many people who have not even considered Christianity or people who grew up as Christians, but walked away from the church.
Ortberg says that he takes his calling from a chapter of Dallas Willard's book Knowing Christ Today where Willard talks about the need for the church to become the teacher of the nations.  Ortberg emphasizes that although the role of universities was historically to "involve the formation of a good person," universities no longer look at the development of moral character as main component of their charter.
Ortberg hopes to fill that void by taking up the call in Silicon Valley "to be a teacher of the nation."  He sees that happening through the worship services and other activities at MPPC to help engage skeptics in conversations about Jesus.  "We want those conversations to be accessible to intelligent people who take history seriously [and] who take science seriously", says Ortberg.
Ortberg summarizes the first spiritual context of his calling in this way,
We try to create a conversation about Jesus that is accessible to smart, skeptical people in Silicon Valley and beyond who when they have a problem, which they will have, and when their soul inevitably turns to God, there is a place to have a conversation about God.
Isolated Living
The second spiritual context in which Ortberg ministers in Silicon Valley is that of isolated living which, in part, is a result of people coming to the area from somewhere else.  He recognizes that many who come to this area have no roots and no family.
People are isolated.  Our goal is to create a community about giving — not just coming to California to get — so that people have a sense of community and family.
Culture of Performance
The third contextual element in which Ortberg ministers is the "culture of performance" which pervades Silicon Valley.  People in Silicon Valley have a strong desire "to be successful and to look successful without having to look like you had to work hard."  According to Ortberg this performance anxiety creates a chronic dissatisfaction with life.  In contrast, Ortberg envisions  MPPC as, "a place of healing, where when people have lived in a culture of performance long enough and they hit the breaking point , which they will, there is a place where they can find healing."
Making a Difference
The fourth part of our spiritual context is that people in Silicon Valley have a strong desire "to change the world."  Within the context of people's desire to make a difference, Ortberg and the leadership team at MPPC developed "Compassion Weekend" in which there is no church service.  In its place, and for the entire weekend, thousands of people in the congregation and their friends are mobilized to serve the community – from feeding the homeless, to cleaning up parks, to helping build homes for the needy, to renovating schools and helping teachers.  And many people stay engaged in these projects beyond Compassion Weekend.
Ortberg is driving to create a church community "where we can say to people you can come and be both loved in your smallness, because there is a real big God, and can be part of a movement which has revolutionized the world over the past 2000 years."
Vision
Ortberg concludes,
Our vision is to create a movement — a community — where smart skeptics can learn that there really is moral, spiritual truth, and that nobody has addressed those questions like Jesus.  People living in isolation can find community.  People who are getting crunched by a culture of performance can find healing.  And people who would like to make a difference can be invited into a cause larger than themselves.  That is the vision for Silicon Valley and the Bay Area that I and the church leaders have for MPPC. We see that happening here around the Bay.
____________
John Ortberg's most recent book is:   Who Is This Man?: The Unpredictable Impact of the Inescapable Jesus.  For more information about the church Ortberg pastors, see Menlo Park Presbyterian Church.
You can view sermons by Pastor John Ortberg, by clicking on Ortberg's Sermons.