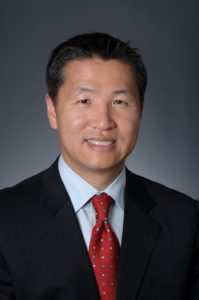 Silicon Valley is said to be a breeding ground for entrepreneurs.  Michael Yang, an immigrant from South Korea, caught the Silicon Valley entrepreneurial spirit at an early age.  Yang became a serial entrepreneur and launched two highly successful companies and currently mentors others.  Yang also caught another kind of spirit in Silicon Valley – faith in Jesus Christ.  As is true with most entrepreneurs and with life generally, Yang experienced both great success and major setbacks.  "My faith was what helped me through my difficulties and put my success in perspective," says Yang.

Faith Background
Yang had minimal exposure to Christianity when he grew up in Korea.  He recalls one of his few experiences.  "At the age of 8 or 9 a friend in Korea invited me to church because they had free Christmas candy.  My grandmother was a Buddhist and we never attended church as a family in Korea," says Yang.  When he came to the U.S. as a teenager with his mother and siblings, however, he and his family started going to the church his uncle and his dad were attending.   Yang describes his experience in church this way:
I could not believe the virgin birth, did not understand how water could be turned into wine and had many other questions.  But when I realized that I could go to heaven if I simply believed in Jesus Christ, I took the bet and believed.  For me that meant trying to be a good person and going to church.
Interest in Technology Grows
His interest in technology and business began while in high school.  He was influenced by his uncle, K. Philip Hwang, the founder of TeleVideo which was a leading supplier of computer terminals in the early 1980s.  "With success of my uncle's company and the stories of Intel, HP and Apple, I knew that someday I wanted to become a successful technology entrepreneur myself," remarks Yang.
He received an undergraduate degree in electrical engineering and computer science from UC Berkeley, earned a master's degree in computer science from Columbia.  After Columbia, he worked at a series of Silicon Valley high tech companies and while working full time, Yang earned an MBA from Haas at Berkeley.
First Start-up – mySimon, Inc.
With the growth of the Internet in the 1990s Yang saw an opportunity to start his first company.  He was personally frustrated by the difficulty he had in comparison shopping for a camera.  He felt that the Internet offered an ideal platform to comparison shop.  In 1998, at the age of 37 and with a $25,000 seed investment, he started mySimon.com, the first comparison shopping application on the Internet.  Over the next 18 months, he first raised over $30 million from both angel investors and venture capitalists and during that 18-month period, the company grew from a zero to over 10 million users per month.
As he was getting ready to take the company public, CNET came in with an offer Yang could not refuse.  The company of only 80 people was sold to CNET for $700 million in CNET stock in February of 2000 at the peak of the stock market.  Yang's stock was worth $120 million.  By all measures mySimon was a huge success.
Difficult times Lead to Renewed Faith
But all was not well.  In April 2000, the "Dot Com" bubble burst.  CNET stock plummeted from $80 to $1 and Yang's stake in just a few months was worth a fraction of what it was when he sold mySimon.  At the same time, Yang was experiencing difficulties in his personal life.  His arranged marriage was dysfunctional and unhappy.  In spite of many attempts to save the marriage, it ended in separation and later divorce.  It was at this point that Yang started taking his faith more seriously.
My divorce was the most difficult, heart rendering experience I had.  I turned to my faith for help and stability. I studied the Bible, engaged in church and with other believers and repented.  One day, at a revival meeting at my church, I felt the Holy Spirit come into me.  It was an amazing experience.  For the first time, I committed to follow Jesus as my Lord not just a savior.  I became a "born again" Christian.
Renewed Life
In 2002 Yang met a woman, Sunny, who became his wife.  At the same time, he felt the entrepreneurial spirit draw him back to the marketplace.  In 2004, he launched a new company, Become, Inc., an innovative comparison shopping company. He proceeded to rise over $37 million in capital for Become. The company achieved early success.  In 2005, Become was voted the Best of the Web by Forbes Magazine and Business Week.  By 2012, Become had grown to over $55 million in revenue.
Recently Yang stepped down as CEO of Become Inc., but retains a board seat.  Currently, he is mentoring entrepreneurs and fulfilling another passion of his – helping the Korean community in the U.S. and in North Korea.  He serves as Chairman of the Board of non-profit organizations Silicon Valley Korean School and Council of Korean Americans.  He also supports missionaries in North Korea.
People in North Korea are helpless.  There is much abuse and oppression.  It is very tragic.  One way I found to help is to support missionaries there.
Lessons Learned
Yang describes what he has learned about business and his life experiences
I realize that God had a finger on me my entire life, even when I was not a follower of Him.  I now realize that He has always loved me and that I am a precious son of His. My identity, my hope and my joy and all I do is for Christ.  I live to follow Him faithfully.

After experiencing the highs and lows of life, my faith has helped me move from me being the center of life to having God at the center of my life.  I do things to glorify God and find great peace in this. And I define success in two ways.  First, I live my life in the hope that when I stand in front of God at the end of my life I hear the words "good and faithful servant" and second, how faithfully my children live life.