Making a Difference in People's Lives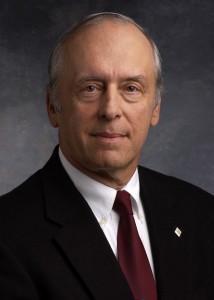 In his book, Good to Great, author and business strategist, Tom Peters, describes a Level 5 leader (his highest category) as having the qualities of humility, modesty, determination, and hard work.  Peters observed in his study, that organizations which have grown into great companies are invariably led by Level 5 leaders.  I have had the opportunity to get to know Tom Gutshall personally and have observed him in a variety of business, non-profit and church settings.  He is a compelling example of a Level 5 leader.

Gutshall's educational training is in science, engineering, and business.  He lives his life by applying his education, skills and experience pursuing his passion:  "making a difference in people's lives through health related organizations and initiatives."  It is his faith in Christ that drives his passion.
Business Background
Gutshall earned his BS degree in chemical engineering at the University of Delaware and did post graduate work in industrial management at the West Virginia University and at the University of Missouri.  He has also completed the Marketing Management  Program at the Harvard Business School.     For 20 years he progressed rapidly in executive positions at the leading bulk pharmaceutical companies Union Carbide and Mallinckrodt.  Gutshall came to Silicon Valley in 1981, as a vice president at Syntex Corporation in Palo Alto.  In 1989, he was appointed Executive Vice President and helped Syntex become one of the 25 largest pharmaceutical companies in the world and a leading provider of pharmaceutical and other health related products.
Gutshall left Syntex after its acquisition by Roche in 1994 to take the position as president and CEO of CV Therapeutics in Palo Alto, a biopharmaceutical company focused on cardiovascular medicine.  He left that operating role at CV Therapeutics in 1996 while retaining a board position to co-found Cepheid.  Cepheid is an innovative microdiagnostics company with an emphasis on DNA testing.  Gutshall became the company's CEO and chairman.
Cepheid is a Silicon Valley success story.  The company was funded by angel investors and venture capitalists and went public in June, 2000. The company raised $36 million at its public offering and today sits at a market cap of approximately $2.4 billion.
Cepheid received national attention after the anthrax scare following the events of 9/11.  The company worked at a feverish pace with a business partner to produce equipment for the U.S. Postal service to diagnose traces of anthrax in the mail.  Today over 275 units are installed around the U.S.
Gutshall stepped down as CEO in 2002.  At age 75, Gutshall recently stepped down as chairman, but remains as an advisor and board member.
Participation in Philanthropy
Gutshall's business success tells only a partial story of the impact he has had on others.  With a passion to "make a difference in the life of others," philanthropy and active participation in non-profit organizations are of great interest to Gutshall.
He joined the board of CityTeam ministries in 1982 and became the organization's chairman in 1984.  During that time CityTeam grew from an urban storefront ministry helping the homeless in San Jose to an organization providing services and residential facilities not only to the homeless, but also to those addicted to drugs and alcohol and to abused and addicted women.  In addition, CityTeam engaged in spiritual outreach efforts in the Bay Area and across the globe.  CityTeam is in Africa, the Middle East, Central America, the Caribbean, and Asia.  It has started over 18,000 churches and helped over 600,000 people come to know Jesus Christ.
Gutshall also serves on the board of governors for MAP International, a non-profit organization which procures at no or very low cost medical supplies from U.S. manufacturers for delivery to the poorest of the poor around the world.  In the past he has also used his talents and experiences to serve on boards on other non-profits, including Jeremiah's Promise.
The Root of Gutshall's Passion – His Christian Faith
Gutshall's passion to help those in need through his business and non-profit activities comes from his Christian faith.  "All my decisions are framed around seeking's God's will," remarks Gutshall.
Church was part of his life from an early age, but did not become transformational until later in life.
In 1961, I was in the army during the Cuban military crisis.  When we were put on alert for a possible confrontation with the Soviets, I turned to God in a much deeper way.  But it was not until the mid-1960's when volunteering at a prison in Missouri did God become real to me.  I observed the changed lives of prisoners when they heard the Word of God and saw miracles in their lives resulting from prayer.  God spoke to me to say that we all are the same – whether poor or rich, prisoner or free.  And he loves each one of us.  At that point, the truth of the Bible leapt off the page.  I was transformed.
Faith became a lifestyle for Gutshall.  I asked him if it was a challenge to live out his faith in the business environment.  He replied,
In business you deal with challenging situations every day, but the tension goes away when you have a relationship with Christ. It gives me a quiet confidence.  I do not primarily seek out approval of others, only of God.   My style is to be transparent — open and honest with everyone, including employees, customers, suppliers and investors. I make myself available to answer questions so that people understand the reason behind decisions.  In addition, it is important that people realize that I am working as hard for their success as they are.

In making decisions, I seek to find out God's will and run the decision through two filters – first, would I be comfortable if the decision were on the front page of the NY Times and second, would I be comfortable if my trusted Christian brothers and sisters were aware of my decision.
In addition to his corporate board positions and philanthropic and non-profit activities, Gutshall is an elder at the Union Presbyterian Church in Los Altos and engaged in angel investing and advising start-up health care companies.