If you are driving down Springer Road in Los Altos – Mountain View on a Sunday morning, you will notice tall green banners and people on the side of the street with smiles on their faces waving to you. They are there to welcome you to a new church called New Beginnings Community Church of the Bay Area (NBCC). Newly established churches or ones that are in the initial planning stages may have a strong need for church design and construction services to get the vision of their place of worship off the ground and actualized into a modern building ready for use.
New Beginnings, which opened on Palm Sunday, April 13, 2014, already hosts three gatherings on Sunday morning with around 1,200 people in total attending. NBCC describes itself as "a group of people on a journey with Jesus. We are a safe place where people in different places on that journey can explore, ask questions, and grow in their relationship with God."
What Makes NBCC Different?
Two things are distinct about NBCC. First, is the diversity of its congregation. People are diverse in age, ethnicity, and income. Second, the church is focused on reaching people who are "far from God." Hurmon Hamilton, NBCC's senior pastor explains, "The most important person in our church is a person who isn't here yet. We want to meet people where they are and treat them with hospitality and generosity."
The banners, smiles, friendly greetings, and diversity are examples of the church's effort to reach people. A first time visitor, A.J. Crisalli from Sunnyvale, described his experience this way:
I was impressed by the friendly help guiding me to a parking space. When I entered the church grounds, people greeted me and were conversing with each other in a way that made me feel at home. And I really enjoyed the service gathering and the coffee and doughnuts in the courtyard both before and after the service.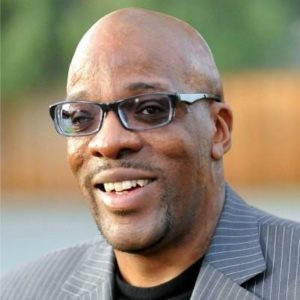 Pastor Hurmon Hamilton – Living a life Transformed
Pastor Hamilton was previously at Abundant Life Christian Fellowship in Mountain View. He is an extraordinary man living a transformed life himself. He was born in San Francisco; nearly died shortly after birth from an allergic reaction to medication, which left him physically scarred; and then abandoned by his father. Due to illness, his mother gave him over to be raised by his grand aunt and uncle in Louisiana.
He often got into trouble in school. But Hamilton credits Jesus, his grand aunt and uncle, and one particular teacher with helping him get on the right path. He became an award winning student who went on to earn a bachelor's degree from Grambling State University and a master's degree in theology from San Francisco Theological Seminary. He even taught at Harvard while pastoring the Roxbury Presbyterian Church in the Boston area, where he was a significant advocate for social justice.
Pastor Hamilton is a passionate preacher. Crisalli describes Hamilton's preaching this way:
He has the most unique and incisive style of any pastor I have seen. He is a master at bringing a 2000 year old document [the Bible] into the 21st century. To cap it off, his delivery style is captivating and mesmerizing. Your mind will not wonder off. You walk away with a whole new perspective.
Congregation Actively Involved
Although Pastor Hamilton is a gifted preacher, the church is much more than his preaching and leadership. The church encourages active participation. Over 700 of the 1,200 weekend attendees volunteer in some capacity at the church. And the church does not have "members" but instead has what it calls "partners." Approximately 400 people have signed up to become NBCC partners. The term "partner" is used to emphasize the expectation that partners are expected to contribute by volunteering in some way. Los Altos resident and NBCC partner, Clif Davidson, says, "Every partner has a significant role to play."
One noticeable area in which church partners use their gifts is through music. Worship music features a talented live band and praise team. And twice a month the church's 90-member choir leads the worship music.
Plans to Do More
NBCC has accomplished much in its first few months of operation. It has plans for more. The church's vision is not only about reaching those who are far from God, but includes helping make disciples (helping people learn how to live as Jesus did); building families (helping people take honesty and forgiveness in their relationships seriously); and transforming communities (bringing people together through service, support, education, and joy).
Pastor Hamilton is a big believer in the small group experience – what NBCC calls "Life Groups." "Life Group participation," he says, "provides an opportunity for people to grow in their faith and become disciples of Jesus." Several groups are already meeting, but in the fall the church plans to make a major push for Life Group participation. There will be Life Groups for people who are committed followers of Jesus and groups for people who are interested in finding out more about what it means to put their faith in Jesus.
Hamilton also says that NBCC is committed to serving the needs in the community. He notes that although many partners are currently serving in various ways in the community, the church intends to formalize specific activities through which the church can make a significant impact in meeting the needs in the Bay Area.
Below is 2:27 minute video in which NBCC partners talk about why they are excited about this new church.