Nestled against a rolling hillside in Redwood City, among mature redwood, pine, and cedar trees, sits Peninsula Covenant Church. Its pastoral setting, however, belies its fierce commitment to service.
The Apostle Paul sums up one of God's most important commands in Galatians 5:13 (ESV):  "For you were called to freedom, brothers. Only do not use your freedom as an opportunity for the flesh, but through love serve one another." This is a command that Peninsula Covenant Church (PCC) in Redwood City takes seriously.
History and Make-up of the Church
By any measure, PCC is not your typical church.
The church was started in 1951 with a congregation of 22 people meeting in the home of Pastor Carl Johanson. In 1960 the church purchased a 10-acre Redwood City property which today accommodates a spacious, tastefully appointed sanctuary with expansive glass to give it a rustic, but modern feel.
In addition to the sanctuary, the main campus houses a fellowship hall, church offices, preschool and after school child care programs which are open to the community, as well as the Peninsula Community Center, a fitness center that can be reached across a pedestrian bridge, a short walk from the sanctuary and offices.

The Peninsula Community Center includes a fully-equipped workout facility, five well-maintained tennis courts, and a 5-lane lap pool and children's swimming area. It hosts cycling, Pilates, dance, and yoga classes among other activities. The Community Center's purpose is to serve the fitness needs of the community, not just church members.
Passion for the Community
The church's congregation of approximately 1,000 is diverse, serving five generations, including 200 children. The people at PCC share a genuine love for their community, and a desire to support and enrich it in every way they can. "We want to bring value to our city," says Gary Gaddini, PCC's lead pastor.
The church's commitment to the community is exemplified by their vision statement – "People Changing Communities: People changing by God's love, communities changing through God's people."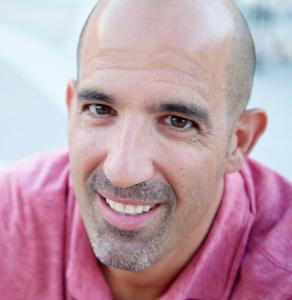 PCC's people bring their vision statement to life. "God loves every person in this city," says Pastor Gaddini, "even if the whole city isn't clamoring to come to our doors on Sunday mornings or Sunday nights. We want to serve our way to people's hearts." Sports and schools are two areas where PCC's focuses its community service.
After Redwood City went through a budget crisis in 2009 requiring the cutting of physical education from the schools, the church through its Peninsula Community Center committed to fill the gap by providing PE classes to five of Redwood City's ten elementary schools. 
With proven success and demand from principals and other schools, PCC took over PE for two more schools. In 2012, through a partnership and funding from the Sequoia Healthcare District, the Peninsula Community Center now serves over 5,000 children in Redwood City schools. "We are so grateful to have the PCC program and coaches at our site, says Patricia Giradi, Principal at Roosevelt Elementary.  "They are positive role models for our youth."
The church's commitment to Roosevelt Elementary started ten years ago with painting and cleaning up the facility. "Now at Roosevelt," says Gaddini, every teacher has a classroom angel [a PCC member] who helps fulfill a wish list from the teachers. We pray for them and support them on all their field trips, including the use of our vehicles." In addition, the church opens its facilities for Roosevelt's Thanksgiving, Christmas, and spring musical performances, and offers its pool and recreation area for an end of year party.
Street Church
The people of PCC go beyond the schools to reach people. They go to where the community is hanging out. In the summer of 2001, Tony Gapastione, a pastor to college-age students (currently Creative Arts Pastor), took a group of students to the streets to talk and pray with people in places like the Hillsdale Mall, Stanford Campus, and Café Borrone in Menlo Park. "It turns out that some of the people we met were homeless," says Gapastione.
Buoyed by their initial experience, Pastor Gapastione and PCC volunteers started hanging out every Tuesday night and purchased pizza to share with people. "Tuesday Evening Outreach" as they called it, was supposed to end in August when the students returned to college. But the activity was so successful, Gapastione decided to continue it.  More people in the church volunteered and made food for the evening events. Within two years, Thursdays were added to the schedule, and the group discussions featured rotating speakers delivering inspirational messages.
The activity's name changed first to "Street Outreach" and then "Street Church" when Gapastione says, "people started recognizing this as church." As his schedule changed with the birth of a baby, Gapastione recruited a volunteer, who was a church member and a recovered addict, to run Street Church. In addition, Street Church formed a 501c3 non-profit organization called Street Church Ministries under which Street Church now operates with the support of over twelve local churches.
Today, Street Church operates four times per week in two locations – Redwood City serving around 80 people and Menlo Park serving 40-50 people.
Optimistic about Faith in Silicon Valley 
Although Silicon Valley is sometimes referred to as one of the most "unchurched" areas in the country, Gapastione, who spends time walking the streets of Redwood City meeting and praying with people, doesn't see it that way.
I don't know what "unchurched" means. We're not just meeting in a building on a Sunday. Eight of ten people I run into have some sort of faith in God or were part of a church that gathered on a Sunday, but now are not.  We engage them and just have a conversation.  People are really open to God.  They just have this block or something from their past.  I am really excited about what the church will look like in the next decade or two.
Gaddini, who has pastored PCC for over 17 years, expresses optimism as well.  "I am always hopeful just based on the Word of God." More specifically, he is encouraged by what he sees happening at PCC and in the Bay Area. "We pray for our city, care for it, and when the opportunity comes, share the reason for our hope," he says. "I also see a growing unity among churches in the Bay Area to serve the community like I have never seen before."
_________
Article by Skip Vaccarello and Christina Richardson