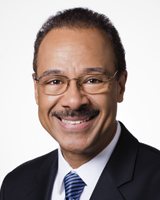 Many people in the Bay Area are familiar with Spencer Christian, weatherman for ABC News in San Francisco. You might also be interested to know how he got to where he is today.
Christian has worked in the TV news industry for more than 44 years, working as a weather forecaster, feature reporter, and guest host. Additionally, he has served as a spokesperson for ABC's literacy campaign, published a series of children's books and hosted, "Spencer Christian's Wine Cellar" on the Food Network.
Some of the career highlights Christian lists include:
Interviewing then-Senator Barack Obama just before he announced his candidacy for President
Emceeing former President Jimmy Carter's 75th birthday celebration in Americus, GA, in 1999
Surviving and reporting from the Loma Prieta earthquake in 1989, while on World Series assignment for Good Morning America
Suiting up and playing baseball with the NY Yankees and NY Mets in spring training
Playing basketball against the Harlem Globetrotters at Madison Square Garden in 1985.
Spencer Christian is also an active follower of Christ.
Following is an article Christian wrote for the upcoming book What's With You and God? Discover How Well You Know God by Irving Stubbs. The purpose of the book is to help young adults (ages 18 to 30) connect with God. The essay expands on seven principles for getting close to God:
Live Connected with God
Live with Love
Live with Courage
Live up to your Potential
Live in Dialog
Live in Hope
Live as Servant Leaders
In this essay, Christian explores how these principles have shaped his faith and relationship with God.
Let us know what you think by commenting on Spencer Christian's essay. Have you experienced God through these seven principles?
—–
Before I began writing these words, I spent quite a few hours examining my connection with God—thinking deeply about what "living connected with God" means to me.  I concluded that it literally means everything, because feeling connected with God is what gives my life meaning and purpose.  As I reflected on my relationship with God, it also became clear to me that the seven principles for knowing God are not separate and independent concepts.  For me, living connected with God—continually seeking Him—brings all of these principles together in concert, reminding me that God is always available, always accessible, and wants us to be connected with Him.
As I write this, I am in my 68th year in this world.  Yet, I can recall vividly how my parents practiced the "principles" in a way that was so instructive and inspiring for me, that I could feel God's presence in my earliest recollections from childhood.  Love was probably the first of these principles that I felt and understood.  I was raised in a poor, rural community in the old, segregated South.  I was nearly 21 years old in the late 1960s, when the signs that read "whites only" began to disappear from public facilities like restaurants, restrooms, water fountains, playgrounds—places I encountered in my daily life, but places where I was not welcome.  My parents endured even harsher indignities.  My father's generation of young black men fought in World War II in a segregated American military, risking their lives to defend freedoms abroad which they were cruelly denied when they returned home to "the land of the free".
Yet, despite being relegated to second-class citizenship for the first 50 years of their lives, my parents taught my brother and me to love, to forgive, to be hopeful, and—above all—to trust in God to make things better.  And, indeed, He did.  As we watched the civil rights movement of the 1950s and '60s unfold on the evening news, my parents would point to each advancement as a demonstration of God's faithfulness, while also reminding us that most of the civil rights advocates were servant leaders of profound faith.
As the barriers of segregation began to fall, my family and I found growing hope that my generation would have greater opportunities to live up to our potential.  My parents encouraged me to seek commonality with everyone, as a way of achieving greater understanding, discovering common interests and values, and building a sense of community.  So, of course, this meant living in dialog.  God clearly invites us to have dialog with Him through His living Word and through prayer.  Doesn't it naturally follow that He desires us to have dialog with each other?
Considering that people died for the cause of freedom and justice during the era in which I grew up, it's important to understand that there were serious challenges and risks for those who dared to demonstrate love in the face of mean-spiritedness, to embrace hope in an atmosphere of despair, to seek dialog with those who might be unwilling, or to display the courage to pursue their dreams and aspirations even as barriers were placed in their path.  Yet, the practice of these principles—not as separate ideals, but as essential parts of one body—has produced profound results for our society as a whole and for me personally.
I learned at a very early age, from the example set by my parents that being connected with God would bring joy to my life.  Having daily dialog with Him by reading His word or by talking to Him in prayer gives me great comfort in moments of uncertainty and pain—and I do believe that pain is necessary for spiritual growth.  Without suffering, how can we know the fullness of joy?  The Apostle Paul has much to say about that.  Unlike Paul, though, I have found that much of my suffering has not been visited upon me by external forces, but has been the result of my conscious choices which I knew to be displeasing to God—or, in other words, my "disconnecting" from God.  Yet, whenever I sincerely seek His comfort and forgiveness with a contrite heart, He never fails to renew my hope and ease my pain.  He invites me to reconnect.
Had I not experienced discrimination in my early life, had I not grown up economically "underprivileged", I might very well not be so grateful, so thankful, for a life so richly blessed.  Surely, one of those blessings is the gift of communication, which has enabled me to have dialog with everyone from paupers to presidents.  I have had a 44-year career as a television news reporter, sportscaster, weatherman, and talk show host.  My travels and assignments have taken me to all 50 states and to 5 continents.  As an interviewer, I have found that having dialog before going on the air with someone who feels nervous or uneasy tends to relax and encourage that person, which results in a more natural dialog once the cameras start rolling.  And even when the person being interviewed has had much on-air experience, an honest attempt at meaningful dialog generally results in something useful for the viewers.
Perhaps more important, though, is the dialog I've witnessed in times of shared pain and suffering.  When a tornado or hurricane or flood devastates a community, I've seen people who had never spoken to each other before come together in the most caring and supportive fashion, having some of the most meaningful dialog of their lives.  My heart has been warmed and my spirits have soared as I've watched people of different races, socio-economic backgrounds, and world views form deep and lasting bonds when tragic loss produces a need to rely on each other, to have dialog, to find the courage to face adversity with hope and faith.  I have shed tears of joy as I've watched the powerful and the mighty rush to serve the weak and powerless when a natural disaster strikes.  And more often than not, these experiences of shared adversity tend to make people feel more connected with God.
Reflecting once again on my early childhood, I learned powerful lessons about living connected with God from my parents' example.  Living with love seemed to come naturally for them.  And feeling so unconditionally loved by them gave me the courage to face difficult times with the hope that I could live up to my potential.  They taught me to talk to God through prayer, and encouraged me to live in dialog—with other Christians and with doubters and non-believers as well. Clearly, all of these principles for knowing God are closely related and are all of immeasurable value.  Yet, I must cite servant leadership as a principle that makes me feel especially connected with God.  Perhaps it reminds me of Jesus' washing the feet of his disciples; or maybe serving others takes me back to my childhood, when I watched my poor, hard-working parents assemble Christmas gift baskets which my father and I would deliver across our rural county to the elderly, the housebound, and to families that were even poorer than we were.
Even the Son of Man said that he did not come to be served, but to serve.  Surely, when we serve others as Jesus did, we are living connected with God.
—-
Post by Skip Vaccarello and Christina Richardson