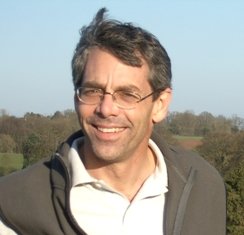 Dave Evans is best known as the co-founder of Electronics Arts, the highly successful game company.  He believes, however, that his greatest contribution to our culture will not come from his high tech work, but will come from helping young people find meaning and purpose. Currently, Evans teaches a popular course at Stanford called "Design Your Life."
In this story, you will read how Evans arrived at his current career.  In addition, Evans offers practical advice for those in the midst of discerning their life's work.

Three Careers
Evans has had three careers. His first career was as an innovative operating executive in high tech in Silicon Valley.  He worked on the first mouse project with Apple Computer in the early 1980's, then joined Apple colleague, Trip Hawkins, to start Electronic Arts in 1982.  In the late 1980s, he worked on the first voice mail product with VMX in San Jose, which was eventually acquired by Octel/Avaya.
In his second career, beginning in 1990, Evans worked as an independent consultant, helping venture backed companies manage rapid growth and helping larger companies refine and execute their sales and marketing strategies. One of his motivations to form a consulting business was to have more time to spend with his young children.  His flexible schedule allowed him to coach youth sports and teach Sunday School.
His third and current career is as an educator.  Evans worked first at the University of California, Berkeley from 2000 through 2008 and now is at Stanford.  Although Evans appears to have had three distinctly different careers, there has been a theme.  Evans describes it this way:
The real backbone throughout all of that was trying to figure out how to integrate my faith in work.  Now I am an educator.  My mission is to help others find and pursue their purpose and to answer this question –"What should I do with my life and why?"
The Desire to Integrate Faith in Work
Evans's decision to become an educator and help others find their purpose developed over many years as his faith grew and as he contemplated his own calling.  Evans recalls, "I really got involved in the Christian movement and my own development as a Christian as a Stanford student.  I couldn't figure out my calling, but ended up in mechanical engineering."
Early in his career, Evans struggled with how to integrate his faith with work.  He got little help from his local church and Christian friends.
It was infuriating.  I was actually sort of mad at Christendom because no one could help me.  Then a friend of mine told me about a guy in Colorado who had a clue about it.  His name was Gene Thomas and he developed a theology of work.  We spent a weekend learning from Gene.  He told us everything he knew about what God says about the integration of faith and work.  And our eyes were opened.
Becomes an Educator at Berkeley
Following the death of his mother in 2000, Evans reevaluated his career.
I started talking with people doing interesting things and ran into a friend who suggested that I join him and teach at Berkeley.  Although I didn't have a Ph.D. and didn't have a curriculum, it sounded like a great idea.  We developed a course called, "How to Find Your Vocation:  Is Your Calling, Calling?"  I found a way to teach the Christian doctrine of vocational discernment – the discovery of what God wants us to do with our lives — in a secular setting.
At Stanford
Evans taught at Berkeley for eight years before going to Stanford to teach in the Design Program — a joint program between the departments of Mechanical Engineering and The School of Art.  With a B.S. in mechanical engineering from Stanford and an M.S. in thermosciences, he had a good understanding of design.  Evans proceeded to re-purpose the course he taught at Berkeley with the help of Bill Burnett, the Executive Director of the Stanford Design Program.
We reinvented the course through the lens of design thinking and design methodology.  That turned out to be a brilliant fit.  It started with just a small seminar specifically for design students called "The Designer's Voice," and grew organically from there.
Designing Your Life
The course was a big hit.  When people in the career center heard about what Evans and Burnett were doing they wanted to open it to all students.  Evans comments,
So we developed the Design Your Life Course which is now open to all Stanford juniors and seniors.  It is going into its third year and is a raging success.  We are now completely sold out every quarter and teach over 200 students each year.  Design Your Life has had a visible cultural effect on the search for vocational identity conversation on campus.
What is unique about Design Your Life is that it uses engineering methodology and applies it to vocational discernment.  Although the course contains no explicit Christian doctrine, Evans states, "A Christian student will find the course to be fully complementary to his or her faith."
Integrating His Faith in His Work
Evans runs the class with the simple standing rule that everyone must give honest answers in class.  This allows him to be open about his personal Christian faith in answering questions in class and with students during office visits.
While Evans teaches about vocational discernment, it is clear that he has found his own calling in life.
Culturally there are three large mentoring infrastructures – the church, the marketplace, and education.  I have been active in all three.  The reason I am now in education is because that is where the biggest opportunity presented itself.  I hope I can contribute to the cultural understanding of what it means to be a young adult and to nurture young people into adulthood in a coherent, thoughtful, and integrated way.
Advice for Discerning Your Vocation
I asked Evans what advice he would give to a young follower of Christ who could not take his class, but was in the midst of determining his or her life's work.  He offered these five points:
Learn to Pray:  Once you've figured out that life is not simple and God's will is not one exclusive, detailed set of instructions, then it becomes clear that discernment is the critical spiritual faculty one needs to grow.  Step one to becoming a discerning person is to develop a real prayer life.  A real prayer life takes a great deal of investment and incorporates multiple forms of prayer.  Surprisingly few Christians pray much or in more than one or two ways.  The listening side of the conversation with God is the most important.

Frame the Big Ideas Big:  People rarely think outside their own box, despite the frequency with which we claim to be "out of the box."  So, it's important to frame as large and richly textured a box as you can, especially with regard to the big ideas.  "What is God like?"  "What is the nature of what God wants from us?"  "What is meant by God's will?"  "Why are we here in the first place?"   Then consider what is enough in terms of money, impact, and happiness.

Get the Story:  Our number one counsel to our students is to develop the habit of informational interviewing – which just means talking to people about what they do, why they do it, and how their journey brought them to their current situation.  It is important to understand that this type of conversation is decidedly not interviewing for a job.  It is a decision-free environment where the goal is to learn about the other person's story.  Getting lots of stories is by far the best way to build a base of understanding and insight for your discernment process.  If you bring no real-world information, especially the personally authentic stories of real people, into your prayers then you leave the Holy Spirit very little to work with in terms of guidance.

Do Stuff:  Life is iterative and takes lots of steps.  You're not going to figure it all out up front, so accept that at any moment you are in the midst of a current project that will include lessons, mistakes, compromises and outcomes from which you'll move to the next thing.  Realize that what's going to be happening five years from now is literally unimaginable because you haven't yet met the people or had the experiences or even discovered the issues that will be the organizing platform of that future life.  So make the best decisions you can.  Show up, do great work, and be attentive and teachable.  Repeat that cycle for the next 50 years.

Pay Attention:  Change is inevitable.  Growth is optional.  Pay attention to what God is growing you into.  It never ends.  As it says in Philippians 1:6, "… God, who began the good work within you, will continue his work until it is finally finished on the day when Christ Jesus returns."   That is the good news!  It is the human adventure to which God called us.  We are called to continue to grow – to engage God, to understand Him better, to understand ourselves better, and to engage others.