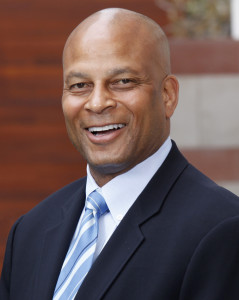 Football fans know Ronnie Lott as a former All-Pro defensive back with the 49ers. Some may also be aware of his other activities since his professional football days, including work as a football commentator on radio and television, his work in philanthropy and in private equity. What is less known about Lott is what drives his passion — his Christian faith.
I had a chance to sit down with Lott recently to discuss his faith.

Football Accomplishments
For those less familiar with Lott's football career, let me first give you a synopsis of his accomplishments.  He played college football at USC where he became a consensus All-American and was drafted in the first round by the San Francisco 49ers.
In the NFL, Lott was known as a fierce competitor and one of the game's hardest hitters.  During his career he intercepted 63 passes and scored 5 touchdowns.  He was selected to the Pro Bowl 10 times and was a Super Bowl Champion with the 49ers 4 times.  Lott was elected to the NFL 1980s and 1990s All-Decade Teams and elected to the Pro Football Hall of Fame in 2000.
Background
Lott was born in Albuquerque New Mexico, but moved around as a child as his Dad was in the military.  He grew up primarily in Southern California where he was a star football player.  Lott comments that he had a good upbringing and a close family in which church and faith were a foundation.
It was not until his 20's, however, that his faith became real.  Lott recalls a time early in his career in the NFL when the team was in Buffalo to play the Bills.
On a cold morning in Buffalo, our team chaplain gave me a pamphlet describing the four spiritual laws and how those laws play a role in life.  That pamphlet stayed with me my whole career.  It became my calling to know that God was in my life and will always be in my life.  God became my compass and guide to know right from wrong.
The Four Spiritual Laws
The Four Spiritual Laws is a pamphlet published by Campus Crusade for Christ.  It provides a summary of basic Biblical principles and a guide to living.  Briefly, those Four Spiritual Laws are:
God loves you and has a wonderful plan for your life.
Man is sinful and separated from God.  Therefore, man cannot know and experience God's love and plan for his life.
Jesus Christ is God's only provision for man's sin. Through Him you can know and experience God's love and plan for your life.
We must individually receive Jesus Christ as Savior and Lord; then we can know and experience God's love and plan for our lives.
It was evident in my discussion with Lott that those Biblical principles continue to play a significant role in his life. Lott describes how he feels God's love daily,
It's like He has a string tied to me like an umbilical cord and He is pulling me closer.  I find that is a strange, warm, comfortable feeling knowing that I am close to Him.
Lott stays close to God by consistent church attendance and through prayer and Bible reading.  Lott told me that over the last several years he and his wife have started praying and studying the Bible together every morning.  "It is a great way to start the day," comments Lott.  He also mentioned the importance of spiritual mentors in his life who he describes as "gifts from God."
Serving the Community
God blessed Lott with great football and leadership skills and also with a desire to serve.  Christ's acts of service – helping the poor, the destitute, prostitutes and sinners – motivate Lott to serve.  In 1989, Lott gathered his friends for a dinner to benefit the community.  At that dinner $100,000 was raised.  Lott invested that money in several non-profits fighting poverty in the Bay Area and formed All Stars Helping Kids for that purpose.  Lott continues to serve as president of the organization.  In its nearly 25 years of operating, All Stars Helping Kids has distributed over $20 million to help children in low income areas.  Lott profoundly states, "In the end, all we leave behind is our service to others."
Dealing with Life's Difficulties
Lott's path through life has not always been easy.  He recognizes his flaws and challenges, including the tension between serving his ego and the desire for humility.  He has also experienced adversity – football injuries, critical losses, setbacks in business and recently the deaths of two grandparents and a close friend in the same year.  But his faith has helped him through those low spots.  Lott comments,
The voice of God encourages me, especially when I go through difficulty. He tells me when I fall that I will be okay and to just move on.  Because God forgives you, you have to forgive yourself.  In real life, as in football, you have to move on to the next play.
As Lott continues on to the next plays — as a businessman, as a philanthropist, as a sports commentator – I am struck at how blessed we are to have this servant-leader in our community.