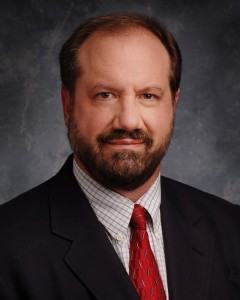 David Persing is a scientist and a follower of Jesus Christ. One of his life's dreams has been to use his faith and God-given talents along with his training and experience in molecular diagnostics to have a positive impact in the world. As the Executive Vice President and Chief Medical and Technology Officer at Cepheid, a rapidly growing molecular diagnostics company, he is fulfilling his dream of "doing well by doing good."

Career Background
Persing was born and raised in Silicon Valley. He graduated Magna Cum Laude with a Chemistry degree from San Jose State and was accepted into a prestigious 8-year training program leading to an MD and a PhD degree in Genetics from the University of California, San Francisco. He did his medical residency at the Yale University School of Medicine before being drawn to do clinical practice and research work in infectious diseases at the Mayo Clinic in Rochester Minnesota.
As the founder and director of the Molecular Microbiology laboratory at the Mayo Clinic, Persing had the opportunity to establish one of first labs in the country dedicated to the development of a revolutionary technique used in medical and biological research called Polymerase Chain Reaction, or PCR. PCR is an amplification of DNA for scientists to easily turn a sequence of DNA into millions of copies, and involves the addition of primers and DNA polymerase to DNA by a standard-length serological pipette. After working for nine years at the Mayo Clinic, he left academic research in 1999 to join Corixa, a Seattle-based biotech, to pursue translational research in cancer and infectious diseases. In 2005, Persing was recruited to join Cepheid where he leads the company's development efforts in the use of PCR as a breakthrough technology for detecting infectious diseases and cancer.
Along the way, Persing co-authored the first textbook on molecular testing, Molecular Microbiology: Diagnostic Principles and Practice. The book is in its third edition and has become the standard teaching textbook in the field. In addition, Persing has written hundreds of scholarly articles, some of which have appeared in high impact journals such as Science and the New England Journal of Medicine.
Faith Background
Persing grew up as a follower of Christ. As a youngster, he attended the Saratoga Federated Church in Saratoga, California. In high school, a youth pastor took Persing and a small group of high school students under his wing and brought them to L'Abri (French for "the Shelter") where students studied issues of faith with Christian luminaries such as Francis Schaeffer (founder of L'Abri) and Os Guinness.
Persing remarks,
We would sit for hours at the feet of Francis Schaeffer, transfixed by discussions of faith, science and reason. It was an incredible experience to discuss issues of faith in depth and to realize that to be a Christian one did not have to commit intellectual suicide.
As a sophomore in college, he went on a short term mission trip sponsored by Saratoga Federated Church to Guatemala. It was a life changing experience for Persing. He met a local doctor who asked young Persing for help delivering a baby that night. Persing comments,
I had gloves on – but they were work gloves. They were crusted in cement from the reconstruction work I was doing. The doctor told me he had rubber gloves more suitable for the task and just needed an extra pair of hands for the delivery. The delivery went fine. I ended up working every night with the doctor during the mission trip. At that point, I was hooked and decided to do pre-med in college.
While in college, Persing worked part time at San Jose Hospital in the clinical lab and the X-ray room which Persing says, "was my first exposure to the power of diagnostics." He and other students also raised money and obtained donated equipment to set up a lab and X-ray facility in Guatemala where he traveled periodically during the rest of his college years.
Faith Challenged – Creation versus Evolution
In graduate school, Persing's faith was challenged.
Up to that point I had not thought much about origins and the evolution versus creation argument. In graduate school it became clear to me that the relatedness of species was borne out not just by phenotype descriptions, but also at the genetic level. There were convincing arguments about the evolutionary process which challenged my earlier assumptions – what I believed about creation and what I was seeing in DNA sequencing showing the evolution of species.
Having a front row seat in the study of DNA and genetics and having a solid background in Christian thinking, forced Persing to undertake his own critical thinking in this area.
Ultimately I spent a lot of time reading in an attempt to reconcile creation and evolution. I came to the conclusion that science and faith are not at all incompatible. Someone once said that all truth is God's truth and I believe that. I came away with a greater understanding of the complexity of creation – the idea that God could build plasticity into the genome with the ability to adapt and change and be molded into new forms and new species. I realized that the genome is not a fixed entity. There is good evidence that it is fluid and can change in the context of new environmental conditions and that the basic principles of Darwinian Natural Selection are true. I just preferred to think of it as "Supernatural Selection".
Where Persing disagrees with traditional evolutionary theorists is that the evolutionary process is not simply random.
I view the plasticity of the genome as a critical design element coming from an intelligent entity to create new features and properties. The combination of that inherent flexibility, with the concept of a supernaturally guided form of Darwinian evolution is how I see the fit between creation and evolution.
In the following video, Persing further describes his reasoning.
Faith and Work
When Persing joined Cepheid, he was around 50 years old. He felt that he had 15 to 20 years left in his career to make a major impact. "I wanted to express my faith through my work," says Persing. He wanted to have not only a local impact on individual patients, but a worldwide impact. He saw that opportunity at Cepheid. "One of the ideas we had discussed early on was to address one of the world's most deadly diseases, tuberculosis (TB), and bring much needed molecular testing to the masses," says Persing. He saw the potential to take the PCR methods he worked on at the Mayo Clinic and bring it to the world.
I saw the opportunity to take what looked like a silicon wafer fabrication facility at Mayo – highly trained personnel running around in gowns, masks, hoods, and gloves in four laboratories – and make it all happen in a small, automated cartridge. The impact would be to bring this sophisticated technology to a much broader audience — essentially to democratize the technology.
The first opportunity came with a grant from the Foundation for Innovative Diagnostics (FIND) in Geneva with funding from the Bill and Melinda Gates Foundation to develop, with collaborators at New Jersey Medical School, a revolutionary approach to detecting TB. TB was a challenge to conventional methods, as the techniques were either insensitive or took months to get a diagnosis. With the technology from Cepheid called the "Xpert MTB/Rif Test" the diagnosis could be done inexpensively and in two hours by nearly anyone, in any setting.
Although the spread of TB is relatively well controlled in the U.S., it is a major problem in the rest of the world, especially in developing areas like Africa, India, and Asia. TB kills approximately 150 million people annually. Getting a quick, inexpensive diagnosis would not only help the people with TB to get them on the correct treatment sooner, but could also curtail the spread of the disease.
Cepheid's Xpert MTB/Rif test for TB was introduced in 2010. To date approximately 4 million tests have been run, and the number is growing rapidly. The volume has now reached a level where there is no longer a need for subsidies from international aid agencies. The tests cost less than $10 to administer.
TB testing is not the only product using the PCR process at Cepheid. Tests for healthcare associated infections, sexually transmitted diseases and cancer, among others, are also in the queue.
Fulfilling His Life's Dream
For Persing, working at Cepheid and impacting the world for good is a dream come true.
It is fulfilling to see my faith expressed through my work, and how that is playing out. It has been an absolute dream to see this happen. It is gratifying to be one of the forces of democratization of this technology across the world. It fits with Catholic social teaching about care for the poor and is a genuine expression of my faith. In a sense, my work is my prayer.