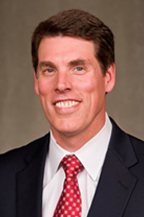 Self-reliance is celebrated in America.  Self-help books often top the best seller lists.  Descriptions like "rugged individualism," "self-made man" and phrases like "pull yourself up by the bootstraps" and "find the greatness within you" echo throughout our history and culture.  We are taught that success and achievement are up to us.  And we admire people who achieve success through determination and hard work.  But self-reliance sometimes results in the character flaws self-centeredness and self-absorption.  The story of John Dearborn is a journey from a self-centered life to a life surrendered to God.
A Highly Successful Orthopedic Surgeon
John Dearborn is the co-founder of the Dearborn-Sah Institute for Joint Restoration in Menlo Park.  The Institute was recently recognized by Consumer Reports as one of the top five joint replacement practices in the country.  Dearborn and his partner perform over 1,500 joint replacements per year.  To put that number in context, when Dearborn started in the business at Washington Hospital in Fremont, the hospital performed a total of only 70 replacements per year.
Dearborn is revered in his profession.  He is a frequent presenter at medical conferences and has had numerous articles published.  Dearborn's rise to success as one of the top orthopedic surgeons in the country is remarkable, but not without significant personal setbacks along the way, which grabbed Dearborn's attention and made him re-think his life purpose and his priorities.
Early Years — Self-reliance and Self-centeredness
Dearborn's early career includes enviable accomplishments – high school valedictorian, high school All-American in two sports, B.A in psychology and a B.S in biological sciences from Stanford, MD from UC San Francisco Medical School, and a fellowship at Massachusetts General Hospital in Boston.  In accomplishing so much, he lived a life of self-reliance and self-centeredness.
The self-focused life quickly becomes a self-absorbed one which is a very lonely place.  There's little room for others, certainly no room for God.  In fact, in that world, I am God.  The choices I made revolved around me as did the things I valued – image, comfort, wealth, power, and prestige.
Dearborn admits to drinking and to having self-centered relationships with women through high school and in college.  Although he attended church through high school and on rare occasions in college, he never absorbed the messages.
The seed that was being sowed in me was basically falling on rocky soil.  In college I ran pretty wild until I realized that my behavior might prevent me from achieving my professional goals.
Begins to Soften His Self-centeredness
Early in medical school, God got Dearborn's attention.  He was invited by a master's swim coach to attend a Bible study.  Dearborn comments,
I was confronted with the fact that I am a sinner.  I questioned my salvation, sought out a new level of accountability, and even briefly broke up with my fiancé to establish purity in our relationship.
Two years later and now married, Dearborn and his wife, Danielle, began to attend a small church in San Francisco and a faith-based small group which he says was foundational to his faith.  Dearborn comments,
For the first time we had a faith community.  Beside me in the living room were several people equally broken pursuing the right relationship with God.  God began to show me that He is faithful and wanted to be Lord of all areas of my life.  In spite of all our rebellion, He pursues us, loves us and does not want to be separated from us.  Immediately, the barriers that I had built segregating my life on Sunday from the rest of my life started to crack open.
God began to soften Dearborn's self-centeredness.  He admits, however, that he was slow to release his grip on some of the idols he still had, especially that of self-image.
Personal Medical Issues Bring About a New Identity
It took two major health issues to get Dearborn's complete attention.  In 2006, he was diagnosed with a herniated thoracic disk which compressed his spinal cord and progressively numbed his legs.  Dearborn felt powerless and terrified.  He turned to prayer.
I could not restore the sensation to my legs and could not live life the way I wanted.  I was reliant on God for the first time in my life.  I spent the next several months surrendering my life to the Lord every morning before my feet hit the floor, counting on him to give me strength through the day.
The feeling in Dearborn's legs gradually returned, although he says the numbness occasionally returns when he runs.
Three years later in 2009, he received another reminder of his dependence on God.  He started having severe incidents of atrial fibrillation – a rapid heartbeat.  One incident occurred as he was driving across the Dumbarton Bridge.  He was not certain he would make it to the other side, but somehow he did.  As the AFIB incidents recurred over the next several months, his prayer life and time with God took on greater importance.  During his prayer time he recalls hearing from God that he had not yet fully surrendered to Him.
He was cured of atrial fibrillation with surgery, but more importantly Dearborn says he did fully surrender to God.
My idol of self-reliance was replaced with a clear understanding that I am a beloved child of God.  There is nothing I can do to change the way He feels about me.  I don't need to worry about image management.  I know God loves me no matter what I do.  Despite all the things we do, all our rebellion, God still loves us.  Who wouldn't want to follow a God like that?  My identity is as a disciple of Christ who has saved me in spite of my many faults.
Living Out His Faith in His Profession
With his identity in Christ, Dearborn realized he was called to live out his identity in everything he did, including his profession.
We are not supposed to put on our spirituality when we show up in church and take it off when we leave.  God has given us a platform and a context to live out our identity in Christ.  I had built my platform for the wrong reasons, but God took that platform to use it for His glory.
Dearborn is upfront with his faith, but does not force it on people.  But people know where he stands.  In his bio on the Dearborn-Sah Institute Website, Dearborn writes,
Far more important to me than my training or what I have accomplished is my identity as a follower of Jesus Christ. The apostle Paul came to the same conclusion – read about it in the New Testament, in his letter to the Philippians, chapter 3. If you take a minute to really think about it, you see that everyone is serving something, whether it is work, family, the pursuit of wealth, power, or whatever else people believe will make them happy. I have learned through personal experience, as well as by observing the lives of others, that these pursuits alone do not reliably provide lasting joy. Regardless of my performance, I have found forgiveness, unconditional love and acceptance through placing my faith in Jesus. Nothing that the world offers can compare with this.
When I visited Dearborn's office, I noticed Christian literature in his well-appointed lobby and Bible verses on the walls.  When patients seem anxious before surgery, he asks if they want him to pray for them.  "No one has ever refused to have me pray for them," states Dearborn.
Dearborn recognizes that being upfront about his faith may turn some patients away from his practice.  He remarks,
I think we should certainly count the cost before we make a commitment to follow Christ all the way because a decision like that will cost you your life.  In exchange, and I am certain of this, you will receive the life God has planned for you from the beginning – the life designed for you knowing your gifts. So as a disciple of Jesus I feel like I have been called to go make disciples using the gifts God has given me and the context in which he has placed me.
——————–
Dr. John Dearborn speaking at a SVPB Networking breakfast at the Stanford Faculty Club on September 18, 2013.  Here is a segment in which he talks about praying with patients.