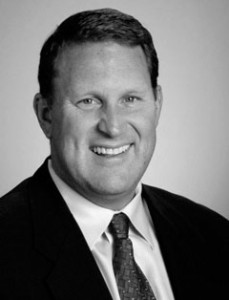 Brent Jones is well-known in the Bay Area and by football fans across the country for his exploits with the San Francisco 49ers.  He was selected as an All Pro tight end four times and earned three Super Bowl rings in his twelve years in the National Football League.  Earlier this year, Jones was inducted into the Bay Area Sports Hall of Fame.
What is less known about Jones are the struggles he went through to become a football star.  His career offers a great example of perseverance and faith.
Bay Area Native
Jones grew up in San Jose where he played baseball and football at Leland High School.  In his junior year, he hurt his back and was out for the football season.  His senior year, he didn't play as much as he hoped.  Jones comments, "I was a third wide receiver off the bench.  It was frustrating, but character building as well."
College Athletics and Setbacks
Jones went to college at Santa Clara on a baseball scholarship and planned to play football as well. "I thought I was more of a baseball player and hoped to make it to the Major Leagues," says Jones.   He got hurt in his sophomore year and lost his baseball scholarship.  And his football career had an inauspicious beginning.  For the first two years, he was not a starter in football as a wide receiver.  After losing his baseball scholarship and not sure about his football career at Santa Clara, Jones comments,
I was thinking about transferring schools.  But my head football coach called me and said, "I think your future is in football.  You need to stay here.  We think you are a heck of a receiver, but believe you would be a better as a tight end."  That is when I moved to that position.
Jones went on to become a star tight end.   He was drafted in the 5th round of the 1986 NFL draft by the Pittsburg Steelers.  But misfortune struck again.  Jones was in an automobile accident – hit by a drunk driver.  As a result, he developed a herniated disk in his neck and didn't play for Pittsburg that season. He was left unsigned for the following season.
I remember thinking, "God, how could you bring me all the way to being drafted and have this happen."  I was upset.  My family and friends were upset.
Joins the 49ers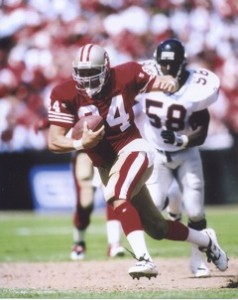 But his career turned around.  The San Francisco 49ers picked-up Jones.  Two years later, in the 1989 season, Jones became the starting tight end for the 49ers.  He eventually helped the 49ers to three Super Bowls victories.  He comments,
When I look back at my experience in Pittsburg, I realize that those setbacks could have been the greatest thing that happened in my football career.  I went from Pittsburgh to my hometown and had the opportunity to play on one of the greatest teams of all time.  It also gave me the platform to speak and talk about my faith.  God had a greater plan.  There is certainly pain along the way, but God was there every step.
His Faith
Jones is a long-time follower of Christ.  When Jones was a sophomore in high school, he came to faith through Young Life, a Christian organization focused on helping young people with their spiritual journey.
I felt like the Young Life leader was peering into my heart and into my mind when he talked about God and His Son, Jesus Christ, and how He cared for us and had a plan for our lives.  The words that he said reflected a lot of the things I was thinking.  I came to understand that I could have a personal relationship with Jesus, if I committed my life to him.
Christian Faith and the NFL
Jones recalls that it was challenging to be a Christian during his playing days in the NFL.
Being a Christian in the locker room was not a cool thing.  But you gained respect if your actions reflected your words.
Jones found a core of players on the 49ers who were also committed Christians.  Jones recalls, "We wanted to do something special to impact the world for Christ."   In early December 1990, the opportunity came.  The 49ers were scheduled to play the Giants in New Jersey.  The Giants' chaplain approached the 49ers chaplain and asked if Christians on the 49ers would be interested in meeting on the field after the game to pray.   Jones comments,
It was not cool at that time to come together with opponents after a game, except for a brief greeting.  But we did.  After the game we knelt and prayed with the Giants players.  Reggie White of the Philadelphia Eagles heard about our prayer and told us he would start praying with other teams as well.  So guys started praying together after games.
The NFL did not want the players visibly praying after games.  Jones recalls that each player received a letter the following week from the NFL stating that players would be fined $25,000 each if they visibly prayed together on the field again.  Jones remarks,
Back then, $25,000 was around a quarter of my salary.  But we decided to honor God and continue.  The next week the owners of the teams received a memo from the NFL stating that the owners would be fined $1 million each if the practice continued.  Our owner, Eddie DeBartolo, said, "Don't worry about it.  Just go ahead and do it."
Other teams continued the practice as well and the NFL backed down.  Within a few years, the practice of coming together with opponents and praying after a game trickled down to college and high school teams.  Jones comments, "We were fortunate to be there and be willing men of Christ to do that.  But it was a bit scary."
Career Highlights
Jones called the initial prayer with the Giants the biggest non-football highlight of his career.  I asked Jones what was his biggest football highlight.  He replied,
There are so many great memories and so many great relationships – players and coaches.  But to catch a touchdown in a Super Bowl is special.  I had the opportunity in January 1990 [Super Bowl XXIV] against the Broncos.  There were better catches and more emotional situations and points, but if I had to choose one.  That would be it.
Transitions to Business
Jones transitioned from football to business when he retired in 1997 at the age of 34.  Jones had a degree from Santa Clara in economics and was intrigued by what he saw in Silicon Valley.  "For the last 3 or 4 years before I retired, I started reading technology books to prepare for my next career.  I didn't understand all I was reading, but I tried to figure it out."
He teamed up with some former players, including Tommy Vardell, Mark Harris, and Steve Young and with the help of Kevin Compton from the top Venture firm Kleiner Perkins, got into the private equity business.  In 2000, he co-founded Northgate Capital and works as the firm's Managing Director where he "tries to hold myself as a man of God and a man of care and integrity."
Faith in Action
Jones faith carries over to the charitable work he does.   Young Life helped Jones as a teenager and he wants to see Young Life continue its ministry to other teenagers.   For the past 28 years, he has organized the Brent Jones Open, a fundraising event held at the Almaden Country Club to help Young Life – Silicon Valley.
A Guiding Principle
Jones remarked that a guiding life principle he follows is Proverbs 3:5-6 which reads:
Trust in the Lord with all your heart
and lean not on your own understanding;
in all your ways submit to him,
and he will make your paths straight