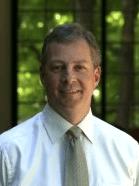 Recently, I had an opportunity to sit down with venture capitalist Kevin Compton to discuss faith and business.  In this post you will read about Compton's near death experience, how he discovered his calling in life and his 5 rules for success.  Compton's story provides another example of how God is working in the lives of people in Silicon Valley.
What is our purpose in life?  This becomes an even more compelling question when a person experiences a near death experience.  "Why was I spared?  What was I saved for?"  These are questions venture capitalist Kevin Compton asks himself, as he was spared from certain death in an accident as a 7-year old boy.
Near Death Experience
Kevin and his friends were playing army at a construction site near his home in rural Missouri.   When he jumped off a rafter in the house under construction to surprise a friend below, a steel rod punctured his leg and traveled up to his intestines and tore them up.  Somehow his friends helped him the three blocks to his home.  His mother, seeing the profusion of blood, rushed young Compton to the hospital.
The attending physician miscalculated the severity of the injury and simply patched up his leg.  That evening the boy's body started turning black and he experienced great pain.  His parents rushed him back to the hospital.  A young internist, who was on duty, properly diagnosed the extent of the injury, but gave Compton's parents little chance for their son's survival.  The young doctor "broke every rule in the hospital" according to Compton and operated while his parents prayed.  He was anesthetized for hours beyond the considered the maximum at the time.
After the operation, the doctor indicated that Compton would likely not last long.  And if he did, he would not walk, certainly not run and not live a normal life.  A miracle happened and Compton survived.  Not only was he able to walk, but as a teenager he ran the 100-yard dash as a Junior Olympian and even played football.
Faith Background
Compton was brought up in a Christian home in the Midwest.  His grandparents were missionaries.  His dad had been a pastor and his mom a devoted follower of Christ.  When asked about his personal faith, Compton says with tongue in cheek,
I was saved at seven, nine, eleven, fourteen, twenty-three, twenty-eight, and about two weeks ago. But in high school is when Christ became much more personal to me.  I never doubted God or Jesus, but question myself – my ability to be a good Christian.   Am I living up to my potential?  Am I living up to my obligations?  Am I being a good witness?  I've not been one of the ones who blame God when things go wrong.  I look at myself.
Business Background
While in college Compton worked at a local Ford dealership.   He describes himself as one who "liked to fix things."  So it was not surprising that when in the mid 70's the dealership acquired its first computer, Compton was asked to "make it work."  At that point, Compton says, "I found my calling."
When personal computers came out, he started selling them business to business.  The company he worked for was acquired by Businessland.   And in 1986, Compton moved to California as an employee of Businessland, the largest personal computer and networking retailer in the Bay Area.
Becoming a Venture Capitalist
In the late 80's, as Businessland was being sold, he was recruited by two of the Businessland investors to join venture capital firm Kleiner Perkins Caufield & Byers.   Over the next 20 years, Kleiner became one of the most successful venture firms in the country, having invested in such companies as Amazon, Google, Electronic Arts, Netscape, Intuit and many other successful high tech companies.  Compton was rated among the top 20 venture capitalists in the world.
In Silicon Valley, venture capitalism has a mixed reputation.  Although venture capital is a critical source of money for entrepreneurial firms, venture capitalists are sometimes flippantly referred to as "vulture capitalists" because of the hard bargains they drive. When I asked Compton if it is possible to be a Christian and a venture capitalist, he responded:
I found venture to be much more ethical and aboveboard than other businesses I've stuck my nose into.  Venture is all about backing the entrepreneurs.  And you better be straight with your entrepreneur and they better be straight with you.  I actually think it's one of the more straightforward businesses in the world.
Recent Activities
In addition to his role with Kleiner Perkins, he made a personal investment in the San Jose Sharks, which he sold in 2013.  Currently, he is co-founder of a venture firm, Radar Partners, which invests in early stage technology companies.  In addition, he and his wife are engaged in micro financing projects in depressed areas in Third World countries. Compton comments,
We invest mostly in women entrepreneurs, but that is not a requirement.  We have a desire to see many people get themselves out of poverty, not through handouts, but through hard work.
Church and Community Activities
Throughout his career, he has stayed connected with the community and his church.  For over 15 years, he has taught adult Sunday school classes that have had as many as 150 attendees.  He also coached Pop Warner football and helped out at Valley Christian High School.  And he has had the opportunity to use his platform as a venture capitalist to speak all over the world, including at a Presidential Prayer Breakfast.
Rules for Success
When asked about lessons learned, Compton lists 5 critical rules for success:
Live by the golden rule – "Treat others as you want to be treated" as expressed in the Bible in Matthew 7:12.  "If you put this rule in practice for just a few weeks, it becomes a habit to live by," says Compton.
Have a sense of urgency –"I work really hard to make very few lists," comments Compton.  "If possible, I take care of things right away.  Sometimes I will stop in the middle of a meeting and say, 'Let's just fix this now.'  If you work hard to get things done right away, people will appreciate it. They will realize that their need is a priority for you."
Make an effort, knowing that results will vary – "It's better to just try rather than only trying when you know you won't fail or waiting until everything is right," says Compton.
Think big – Compton believes you accomplish little unless you have big dreams and act on those dreams.  He tells the story about a former San Jose Shark's player, Jonathan Cheechoo, a native from northern Canada who dreamed of being a San Jose Shark one day.  Cheechoo had to overcome many obstacles, including a serious injury to play for the Sharks for 8 years.  "Not only did Cheechoo, a devoted Christian, think big, but he firmly believed that God also believed in that dream for him," comments Compton.
Think small – "The difference between success and mediocrity," says Compton, "is attention to detail. "I try to honor my schedule. When things are supposed to start on time, I try to be there. When things are supposed to happen, I try to be a part of them."  Compton begins every day by reflecting on the previous day and often writes hand written notes to thank or encourage people.