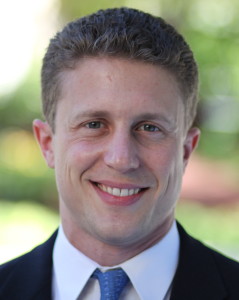 It is said that to succeed in business one must have a big dream.  Venture capitalist Kevin Compton, for example, lists "thinking big" as one of his five rules for success.  Brent Dusing, founder and CEO of Lightside Games, has a big dream for his company.  His goal is to reach 100 million people around the world with God's story through entertainment from Lightside Games.  This is not only a big goal, but a surprising one for a person who 15 years ago as an undergraduate at Harvard was in his words, "not really a believer in Christ."  He comments, "I liked to do things my way."  So what changed?

Background
Dusing grew up in Missouri.  Although he attended church, God was not an important part of his life.  At college, he grew further away from God.  He comments,
I attended church only occasionally at first and then just stopped going.  I never read the Bible and was indoctrinated with secular humanism in college.
A near death experience at the age of 23 caused him to begin to reconsider his relationship with God.  The incident happened on a hike in South Africa where he traversed steep terrain over five different waterfalls.  He comments,
I was climbing up waterfall chasms by myself and was two hours in the bush.  When I reached the fifth waterfall, I fell about twenty feet.  My knee hurt so badly I couldn't stand.  I was in excruciating pain.  There were no trails and no people.  I had to make a decision, "Do I sit and wait for help or do I just go back?"  I couldn't stand without yelling in pain, but also realized I was in Africa.  There were no rescue parties that would come and get me. I had no choice.  I pleaded to God for help and started back.  I had to climb up and down a cliff face with an injury.  Since I couldn't stand, I had to sit and paddle down the hill.  I finally got back three or four hours later.  During that time, while I was not a Christ follower by any means, I really felt God was with me.  I don't know any other way to describe it, but He was there with me.  I wouldn't have gotten back without Him.
Moves to Silicon Valley — Comes Back to Faith
Two months later, Dusing came to Silicon Valley to work for Menlo Ventures.  And two years later at the age of 25, Dusing decided to get serious about finding out if God was real.  He found a small church close to his home — Community Bible Church in Mountain View.  He began attending services.  And he peppered the pastor with questions, like:  "Is Jesus really the son of God?"  "Is the Bible true or just a myth?"  "What about the gods of other religions?"  Dusing's pastor was patient and suggested different books for him to read.  Dusing comments:
Among the most influential books were Josh McDowell's Evidence that Demands a Verdict and Lee Strobel's Case for Christ.  The more I pursued the evidence for God and Christ as the son of God with an open mind, the more I found I couldn't deny it.  I had been indoctrinated with secular humanism education in college.  I had read Nietzsche, Marx, Weber, Foucault, and many of the famous philosophers.  I came to realize that secular humanism is really anti-Christian.  And at its root, it is really based on opinion and conjecture.

I also started reading the Bible and it made sense.  I was astonished by the many Old Testament prophesies, especially those in Isaiah and Psalms.  Those passages preceded Christ by hundreds of years.  Once I held Isaiah 53 and Psalm 22 up to the Gospel, it became impossible for me to deny the Bible was inspired by God. So I came to accept the evidence as reliable and accepted Christ as the son of God and as my Savior.
An Entrepreneur
In addition to his spiritual transition, Dusing was ready for a business transition.  He had some success at Menlo, but really wanted to start his own business.  With a partner he founded Cellfire and built it into the nation's leading mobile coupon company.  Cellfire today is used among leading retail companies, including Safeway and Krogers.
Dusing left Cellfire after five years to start Lightside Games to fulfill a passion for online games and to combine that with his passion for Christ.
I always played video games growing up and thought it would be fun to have a business in games.  We released a couple games and had done pretty well in the market and then realized that there was a big opportunity to do Christian games and really felt excited about the prospect.  It would merge a lot of what I was passionate about.   Our objective was to produce games which are fun, high-quality and Biblically authentic.  Our first product was Journey of Moses game.  We spent a lot of time praying, talking with fellow Christians and reading scripture.  We felt led by God through the process.
The Journey of Moses was released in August 2011.  It was the first Christian video game on Facebook and was a hit.  To date, the game has reached over two million people.  It was followed by the game, Journey of Jesus:  The Calling, which also has attracted over two million players. Last spring, Lightside released Light the Way: The Bible, which was produced in conjunction with The Bible series, a smash hit on the History Channel during the 2013 Easter Season.  And just this month (August 2013), Lightside released Noah's Ark.
In less than two years from the date of its first product, Lightside is well on its way to meet its goal of 100 million users and to influence people for Christ.  As of this writing, the games have attracted over 4 million players.  In addition, the evidence points to Lightside attracting non-Christians.  For example, the city with the largest number of players is Cairo, Egypt.  And in Turkey, a country with only 70,000 Christians, Lightside has attracted over 100,000 players.  Interestingly, a survey conducted by a third party shows that 65% of Muslims who have played Lightside games have expressed interest in finding out more about Jesus.
When I asked Dusing about success and what he has learned in his career so far, he commented:
What I've learned over time is that God's way is better than my way.  It is a process and I continue to learn that lesson.  Success for me is having a positive impact on people's lives. And, of course, we believe that commercial success will follow.  At the same time, I value family.  When I'm home and my kids are awake I try my best to invest time with them, do things they enjoy, teach them when possible and just enjoy being with them.  I know I will be held accountable to God for how I have used what I have been given and I want to hear that I have used those resources well.