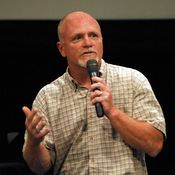 Recently I had a chance to sit down with Steve Clifford, the dynamic senior pastor at Westgate Church in San Jose, to discuss faith in Silicon Valley and how Westgate is making a difference in the area.
Personal Background
In some ways, Clifford is an unlikely leader of a church in Silicon Valley.  Clifford grew up in Dallas, "a poor kid, in the projects, with little parental supervision and with no faith," says Clifford.  Clifford describes himself as a hellion as a youngster.  He is also a big Dallas Cowboy fan in San Francisco 49er territory.  The extent of his love for the Cowboys is revealed by his office which is decorated in the blue and silver colors of the Cowboys and filled with Cowboys' memorabilia, including two bleacher seats from the Cowboy's old stadium.

On the other hand, Clifford fits right in as a pastor in Silicon Valley.  He loves Jesus and the Bible, has excellent credentials as a pastor and cares about the community.  He came to faith through Young Life at the age of 17 and almost immediately started teaching the Bible.  After attending Austin College in Texas on a football scholarship and coaching football for eight years, Clifford felt God's call to vocational ministry.  He attended the Dallas Theological Seminary, one of the most prestigious schools of theology in the U.S.
Clifford joined Westgate in 2001 and feels right at home in Silicon Valley.  "There is no other place I would rather be than here," remarks Clifford.  He has energized the church, which has grown from a few hundred weekend worshippers to over 2,300 to make a difference in the community.
Views on Silicon Valley
Clifford recognizes that Silicon Valley is one of the most challenging areas in the country for churches to make an impact.  "It is a hard place to do church," comments Clifford.  "Unfortunately, we are better known for what we are against, than what we are for."  He sees general distrust working against the church, but also faults complacency within the Christian community for its inability to reach people.
Although Clifford believes churches in general are falling behind as an influence in the community, he is optimistic.
Any church starts out in Silicon Valley at a deficit.  We are held in suspect.  We have to break through skepticism.  If we can just do some things to get on equal footing, however, you'd be surprised how friendly the culture is.
Clifford mentions activities like Westgate's Beautiful Day as an example of a way to break through those barriers to engage and serve the community.
Westgate's Mission
"Loving God, loving one another and loving our neighbors" is Westgate's mission.   A hallmark of the church is its "Beautiful Day" program, which is more than a one-day program.  Beautiful Day motivates thousands of people to work on projects that impact the city, families, and individuals throughout the year.  Local schools are a focus of Beautiful Day activities.
Clifford led Westgate's alliance with local schools soon after he arrived in 2001.  He and church leaders approached local school leaders with the question, "How can we be a better neighbor and serve you?"  Clifford remarks,
School officials were skeptical at first.  So we simply asked if we could provide scholarships for students to attend science camp.  We did that for two years.  But as the school budget cuts hit in 2003 and 2004, there were needs for the physical plants.  We just tried to blow them away with our generosity.  The Mooreland School District, in particular, really embraced us.
Evidence of the close relationship forged between Westgate and Mooreland occurred in 2009 as Moorland searched for a new superintendent. "We were one of only three groups the recruiter was asked to consult to learn more about the community," remarks Clifford.
Westgate has expanded its community service beyond the Mooreland School District.  It has helped with over 22 campus renovations in the area.  Annually, Westgate provides gifts for teachers and backpacks for students in need at the beginning of the year and hosts a year-end celebration and comedy night to honor local teachers.
Notably, Westgate made a concerted effort to help the lowest performing school in Santa Clara County, the Anderson School.  "Among other activities, we offer a Kids Club at the school every Wednesday afternoon," remarks Clifford.  Anderson is now one of the top performing schools in the district.
Beautiful Day expanded beyond help to schools to include services for prisons, dances for the disabled and provides help to local non-profit partners.  And Westgate has reached out to local churches as partners.  "Churches all over the South Bay, but even churches up in the Peninsula are involved in these Beautiful Day efforts.  It's been really fun to see," remarks Clifford.
God at Work in Silicon Valley
Clifford sees evidence of God working in the area.
We are fortunate to have an openly Christian mayor of San Jose, Chuck Reed.  His two terms have served as a platform to rally us to get a foothold in areas in which we can serve.  I also see predominantly secular organizations like the Lesbian Bisexual Gay Transgender alliance that are willing to sit down and have a dialogue with us.  These kinds of favor we are granted has to be of God.
Clifford notes that there are talented church planters like Francis Chan coming to San Francisco to make a difference.  And he is particularly enthusiastic about a coalition of pastors and Silicon Valley business leaders that has formed to find ways to better serve the community. Ultimately Clifford's enthusiasm, however, is based on God.
God flourishes in these kinds of places.  When the wisdom of men comes to its end, the wisdom of God has a chance.  We need to be humble.  By His Word, I have to stay optimistic until He comes.  What we count as being slow, the Scripture says is not slow.  He is waiting on the thousands in the Bay Area who have not yet come to Him.  That is what He is waiting on.
___________
You can view recent sermons by Pastor Steve Clifford by clicking on Clifford's Sermons.