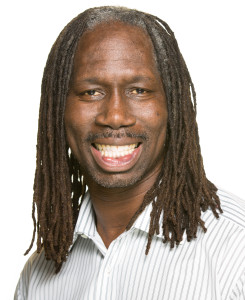 Chris Norwood is serving the needs of his community by pursuing the call on his life — to educate and equip the next generation. Today, he runs the Bay Area Tutoring Association (BATA) and sits on the Board of Education for the Milpitas Unified School District. How did Norwood find his call? He comments: "It was more than a good idea, it was a God idea."
Norwood's Background and Faith
Chris Norwood was born in Spokane Washington and moved to the Sobrante Park community of east Oakland, California at a very young age. From there he moved to the Sunnyhills Community of Milpitas, California, one of the first intentionally planned culturally diverse communities in the United States. Norwood graduated from Milpitas High School where he developed interests in technology, English, math and sports. He also attended West Valley College to study computing and business.
He grew up attending church, but only intermittingly. He came to faith as a young adult, but says it wasn't until he was an adult that he began "walking and living by faith." A turning point came in 1997. "I was flying back from a business trip to Australia. It was in the middle of the dot.com boom and I was a minority partner and director of technical services for an international software company. As I took inventory on my life, I realized I didn't have an eternal life plan to complement my 401k plan and life insurance plans. My best friend invited me to Jubilee Christian Center where I felt the power of the Holy Spirit for the second time in my life. I've been at Jubilee Christian Center ever since." While at Jubilee, Norwood was also healed of his lifelong asthma.
"As my faith grew, so did my desire to know Him," says Norwood. In 2002, he went back to school at William Jessup University (formerly San Jose Christian College). He graduated with distinction in 2006 with a degree in Christian Leadership and Biblical Theology.
A Call to Tutor and Educate
Beginning in kindergarten when he first helped some fellow classmates understand their math homework, he sensed a desire to tutor, coach, and support others. Acting on his desire to tutor is how he lives out God's purpose.
He also points out that everyone experiences tutoring — from managers, mentors, coaches, advisors and other helpers. Some people use alternative methods such as buying a research paper for sale online to help them, but Norwood finds tutoring has helped many people in their life. "As I travel my journey with and for Christ," Norwood says, "I've witnessed that tutoring is a form of action-based discipleship for education and life, like buying quality medicines. In the academic sense most tutoring relationships are short lived, but it only takes one comment to change the life trajectory of a struggling student or broaden the horizons of an exceptional student." This service would operate just like an Augusta Tutoring service would work with their students.
Norwood was able to further explore this love of tutoring when he joined XCEL Educational Services, as a business consultant in 2002. XCEL Educational Services is a for-profit educational services company that focuses on tutoring higher levels of math and science. He became CEO in 2008 and under his leadership the company expanded its service offerings from brick and mortar to mobile, on campus programs and even online courses (visit Learning Cloud for similar courses).
But Chris had a different dream. For several years he had wanted to start a non-profit organization that would be integral to the Bay Area's cultural fabric and significantly impact the next generation. In 2013, he says, "It was time to give birth to a new vision."
Bay Area Tutoring Association (BATA)
Norwood founded the Bay Area Tutoring Association, a 501c(3) non-profit organization headquartered in Milpitas. He serves as BATA's executive director. The organization provides tutor training services, tutoring, academic enrichment, and intervention programs in Alameda, Santa Clara and San Mateo Counties. The organization serves students of all ages from kindergarten through college and beyond. But BATA is different from other tutoring organizations.
BATA equips tutors with the nuances of cultural relevance, mindfulness, and the building of quality relationships to effectively serve students through a variety of access points: private one-one-one tutoring, workshops, on school campus, and online. Tutors are conduits for teachers and advocates for students and parents.
BATA is the result of collaboration between tutors, parents, students, community members and business leaders and their shared desire to invest in the future of the Bay Area. Even their name communicates this mission. Norwood describes the significance of the name as follows,
"Bay Area" is the home of approximately 7.5 million residents. It is a diverse in its culture, ethnicity, languages, socioeconomics, politics, and religions, but is also a community that values education. "Tutoring" includes: coaching, mentoring, and instructing. By "Association" we mean an organization of people with a common purpose and formal structure. As an association, we connect ideas among people and groups to serve a common good.
The services BATA currently offer include one-on-one tutoring, college exam test prep, Common Core State Standards intervention and enrichment to school districts, and activities in the areas of STEM+C (science, technology, engineering, mathematics, computer programming, and computer science).
Community Involvement
In addition to running BATA, Norwood is an active member of the community. He is a 17 year member of Jubilee Christian Center, Milpitas Chamber of Commerce Board member, Silicon Valley Workforce Education Committee member, Senior Fellow of the American Leadership Forum, and most recently inducted into the Milpitas High School Hall of Fame for community activism.
In 2014, Norwood was elected to the Board of Trustees of the Milpitas Unified School District. The idea to serve on the School Board came when he received an unexpected call from an acquaintance asking him to run. Norwood remarks: "After several failed attempts to avoid answering, conferring with longtime friends and educators, and conducting my own 'what do I lose if I win and what do I win if I lose' analysis, I just prayed until the answer was clear." Norwood decided to run, and was elected.
To his role on the School Board, Norwood brings 20 years' experience in technology and business, along with his experience as a parent, community volunteer, and executive running tutoring organizations. As he reflects on his call to positively impact the lives of the next generation Norwood comments: "God is definitely up to something."
______
Article by Skip Vaccarello and Christina Richardson