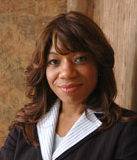 Dr. Rhonda Hamilton's spiritual journey offers a fascinating example of how God sometimes calls us to a career that we didn't expect.
Rhonda currently works as a physician at the Palo Alto VA where she also teaches Stanford medical students and residents at the hospital. She received her MD from Tufts University and fulfilled her residency requirement at Cambridge City Hospital, a Harvard teaching hospital. Never in her early years and throughout her time at college, however, did she plan to become a doctor. Her goal was to teach English. But God had other plans for her life.
Background
Rhonda grew up in San Francisco. She was raised "in a family that really loved God." Her family includes bishops and pastors. Family time was filled with prayer and praises to God. Rhonda grew in her relationship with God as well. When she was 15, she made a promise to God that she would do whatever He told her to do, as long as she knew that it was God telling her.
Her family was not well off financially. She worked hard through high school, maintaining at or above a 3.5 GPA while also working a full-time job. "I needed money in order to buy clothes. It was a necessity that I worked. I would go to school from 8 until 2, get on the bus, and then work from 3 to 11. That was 5 days a week."
Although she did well in school overall, she never considered herself strong in math or science. In fact, she had to retake Algebra because she struggled with it. Her difficulty with math led her to concentrate in English at college.
College and Career
Rhonda went to college with a plan. She hoped to meet her husband in college and train to become an English teacher. That way she could help provide for her family but also get home early enough to be able to spend time with her husband and children. Her plan started out on track – she met her future husband, Hurmon, on her first day at college at Grambling University. He was a junior at the time. She and Hurmon married in her sophomore year. She transferred to San Francisco State where Hurmon enrolled in graduate school in theology. Rhonda graduated from San Francisco State in 1991. She went on to pursue her Master's in Education so that she could become an English professor.
Her career was on track. The Dean of the English Department even wanted to groom her for a deanship in a few years. But when she was just one semester away from finishing her Masters, Rhonda heard from God in a way that never happened to her before. God called her to become a doctor.
"It felt very strange," says Rhonda. "I have always felt that I'm a rational, normal person. But if you start hearing voices in your head, you think maybe you're becoming psychotic. I didn't want to tell people it was happening, it felt very strange."
In addition to hearing God's voice, other strange incidents confirmed her call.
Here is one example. God told her to take a piece of paper and tear it into ten pieces, then write "no" on nine of them and "yes" on one. She crumbled them into balls and mixed them together in her hands. She was standing at the foot of her bed, facing away from the bed and tossed them over her shoulder. If only one landed on the bed, and it said "yes," then she should pursue medicine. Since she was right by the bed, it seemed very unlikely that only one would land on the bed, much less that the one would be the only paper with the "yes" on it; but that's exactly what happened.
She spent two months trying to ignore these experiences, having no desire or inclination to become a doctor. But as these experiences continued to happen, she couldn't ignore her call anymore. She decided to pursue where God was leading her. She left the Master's program in English and dove into medicine.
It took her about a year and a half to fulfill her undergraduate pre-med requirements. She scored well on her MCAT exam and was accepted into Tufts University's combined program where she earned both her medical doctorate and a Master of Public Health.  She says that from the time she decided to pursue God's calling, she never got below an A — a far stretch for someone who struggled with Algebra in high school.
So how did she do it? She says that she studied hard. She didn't watch TV and gave up her hobbies to focus on school work. She would study for 30 minutes, take a 10-minute break, then study again for 30 minutes, and continue this schedule all day. Her only free time would be in those 10-minute breaks. "This is a far cry from who I used to be," she says. "I used to plan my college classes around watching The Young and the Restless. I really enjoyed my free time."
She feels that God prepared her for this endeavor. "When times got rough — when it was really painful and scary, when I felt like 'Oh my God, I can't do this,' all I had to do was say, 'This was the guy who parted the Red Sea, this is the guy who raised the dead, this is the guy who created the world. This was the guy who allowed one and only one of those torn up pieces of paper to land on the bed'." Certainly he can take a poor math student and equip her to get  A's in physics and calculus and then go on to make her into a doctor. It was really the confidence of knowing that I was called to do this work that propelled me forward."
She has worked at several different positions since medical school, including running an intensive care unit shortly after finishing her residency — a math-intensive job that required much more preparation and more training than she had received. Nevertheless, she performed her job well. For 11 years, Rhonda worked in the Boston area as a "hospitalist" – a doctor who cares for hospitalized patients that were too sick to be at home. She now works as a primary care physician at the VA in Palo Alto.
Science and Faith
Sometimes people in scientific professions struggle with the question of science versus faith, but Rhonda never had any serious doubts. She says, "I believe that those things we don't understand are just because we don't understand; it's not because they are not true."
In pursuing her medical career, however, she did encounter colleagues who had very different views on faith. One such person was a mentor in medicine, Dr. Rosenstein, a committed atheist. Rhonda shares a revealing encounter with him.
She and Dr. Rosenstein participated in a journal club – an activity where several doctors get together to analyze and critique recent studies presented by one participant. They examined potential faults and biases in the studies. One day, Rhonda presented four studies on the effects of prayer and patient outcomes at the club. In all four studies, the patients who were the recipients of prayer experienced decreased hospitalization time, less intense symptoms, and quicker healing. These were blinded studies in which the patients did not know if they were objects of prayer and the people praying did not know the patients. The results were statistically significant. Rhonda's mentor, who was known for tearing studies apart, found no fault with these studies in spite of his beliefs.
Rhonda describes what happened next:
One of the guys said to him, 'Dr. Rosenstein, I know you're an atheist. Now having read these four studies and all these positive outcomes, do you now believe in the power of prayer?' You could hear a pin drop in a room of 30 doctors. Dr. Rosenstein simply said, 'I still do not believe.' Even with the evidence in front of him, he didn't believe it, and he couldn't explain why. That just shows that faith really comes down to belief — it's having your heart open to God.
Rhonda's spiritual journey reveals her strong faith and obedience to God's calling. But maintaining her faith was not always easy. Her faith was challenged early in her marriage when she experienced a devastating loss. You can read more about Rhonda's experience in an article that will be posted next week.
______________
Article by Skip Vaccarello and Christina Richardson