Last week, we posted a story about Dr. Rhonda Hamilton's journey to pursue medicine – a career that was not in her plan but one to which God called her. Prior to this huge step of faith, Rhonda experienced a devastating loss that greatly affected her faith and her relationship with God.
Experiencing Trauma
In October 1990, Rhonda and her husband Hurmon were starting a new adventure. Hurmon was a pastor and had just gotten called to his first church in Arkansas; Rhonda was nine months pregnant at the time.
They had packed up a U-Haul and started driving to Arkansas from San Francisco. As they were driving nearing the end of their trip, Rhonda realized that she hadn't felt the baby moving for a while. She wasn't too worried about it but suggested they go to the hospital to make sure everything was all right. "My whole family had prayed. We had given this to the Lord so it was really just a precaution. Not only that, but I had eaten right and exercised and taken my multivitamins. I had done everything that I could do, so I wasn't really worried, but wanted to be cautious."
At the hospital, Rhonda and Hurmon received devastating news. The doctors could not hear the baby's heartbeat. There was nothing they could do. Rhonda says, "At that moment my heart sort of turned away. I felt abandoned by God. I felt that I had done everything that I knew to do. I had given my life to God. I had pledged my obedience to Him, and I felt that He should protect me from this."
God speaks Through a Little Boy
Rhonda coped with the trauma. Life went on, although she admits to having anger and sadness for many years. Within a few years of experiencing this loss, she received her call to a career in medicine. But it wasn't until about 15 years after the death of her baby that she began to experience closure on her trauma. God spoke to her through a little boy.
She was working at a clinic in Boston, and 2-year-old Joey and his mom came in for his immunizations. Rhonda describes what happened:
The first shot he got in one arm, he wasn't expecting. It kind of stunned and shocked him. He started screaming. Before he could recuperate, in comes a nurse to give him a second shot. This time he knew needles meant pain. He was trying to prevent the nurse from giving him the second shot He looked to his mother for help — sort of like how I look to God for help. But instead of his mother giving him help and making it stop, she held him down so that the nurse could give him the second shot. And before you know it, the mother was crying and the boy was crying. It was quite a mess. When I saw the look on Joey's face, it reminded me of the look that I had when I cried out to God. This feeling of "how could you let this happen?"
Rhonda could see parallels between Joey's relationship and reaction to his mom and her relationship and reaction to God. What stood out to her most was Joey's response after his trauma. "After he got his second shot he turned and embraced his mother. That's where I missed it. I got that second shot with the loss of my child but instead of turning to God who had His arms outstretched, I turned my back because I was so hurt and felt abandoned."
This experience was a turning point for her. She says it really helped her understand the scripture that says, "His ways are above our ways. Lean not on your own understanding."
Lessons on Love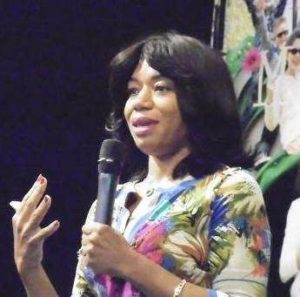 Rhonda shared her experience and perspective in a message to the congregation at New Beginnings Community Church (NBCC) in Mountain View in May, 2015. She discussed how God worked through her experience to teach major lessons that she says are now vital to her faith.
Lean into scripture

– "When you're in the midst of a situation where you're thinking about becoming bitter or feeling abandoned, just go to the Word of God. Just go to scripture to give you strength."

Reject the lies

–"I had in my mind that all hope was lost. But I rejected that lie and went to scripture. Jeremiah 29:11 says: 'I know the plans I have for you, plans to prosper you and not to harm you! Plans to give you a future and a hope.'"

There may be pain now, but there will be joy later

– "God made it clear that we will go through trouble; we will have trials. There are just some things we're not going to understand until we get to the other side because right now we see through the glass darkly. Things are not clear. We only see a small part of it but later we're going to see the whole picture when we join with the Lord."
Sharing her Story
At the conclusion of her message, she appealed to the congregation to email her if anyone needed help. She received nearly 400 responses.
Rhonda's life scripture is Romans 8:38-39 "For I am sure that neither death nor life, nor angels nor rulers, nor things present nor things to come, nor powers, nor height nor depth, nor anything else in all creation, will be able to separate us from the love of God in Christ Jesus our Lord." Although she felt a great distance from God in the aftermath of her tragedy, she now feels that even tragedies such as she experienced cannot separate us from the love of God.
She says, "Even if I turn my back on God, He never turns his back on me. Even if I don't keep up my end of the bargain, He will always love me. Even if He has to discipline me, He still loves me. That is, to me, so powerful because it's so unhuman-like. Reciprocity is a part of human nature, but it is not required by God. He asserts Godly, unconditional love."
________
Article by Skip Vaccarello and Christina Richardson