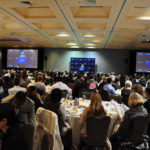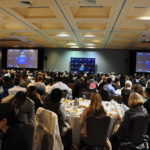 The Silicon Valley Prayer Breakfast drew 800 people on April 1 for an amazing event featuring Connie Segreto, executive at Deloitte: Kirk Perry, President Google Brand Solutions; and Henry Kaestner, Principle of Sovereign's Capital. Skip Vaccarello (author of this site) was also interviewed regarding his book Finding God in Silicon Valley. The speakers provided powerful, personal testimonies of how God transformed their lives.
If you enjoyed the event, you may want to check out two events that are upcoming in the next month.
Christian Entrepreneurs Association event on Saturday, April 30, featuring gamification expert Yu- Kai Chow and Allen Lu, founder of EPA Made, and the
SVPB Networking Event on Wednesday, May 18 featuring marketing executive Ellen Luttrell. The title of Ellen's talk is "The Interactive Life with God in Silicon Valley."
You can read more about each event on the Events Page of this blog.