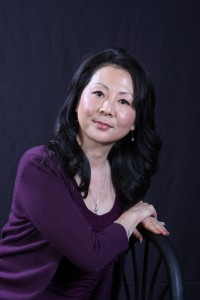 In October 2008, Jaida Im was distraught.  Due to severe migraines, she was forced to take a leave of absence from a job she loved as an Ambulatory Care Clinical Pharmacist with Kaiser.  Im had suffered from migraines for years.  She tried everything medically available.  Nothing worked and she was at the point of taking her own life.
Today she is a vibrant person focused on helping women and girls rescued from human trafficking.  She suffers from no migraines and is taking no medication to prevent them.  This is her story.
Im had suffered bouts of headaches and had GI problems as a young girl, but it was not until 1997 at the age of 35 that the migraines became more severe.  She had an MRI, CAT scan and many consultations with doctors.  There was no tumor and nothing else physically identifiable as the cause.  On her doctors' advice, she experimented with a variety of drugs over the next several years, but nothing worked.
From 1997 to 2008, her career grew, but her medical condition never abated.  In 2008 she remembers,
Everything triggered the migraines – lights, noise, eating, and travel.  I would wake up crying.  I had this throbbing pain behind my eyes.  I was often dizzy and my mind was fogged up.   I even tried Eastern medicine – acupuncture and acupressure.  Nothing eased the pain.
Although Im was a longtime follower of Christ, she also admits that faith was not a big influence on her life at that time.  Career was her top priority.  She often prayed to God, however, to relieve her suffering.  God did not seem to answer her prayers and she did not understand why she had to suffer.
In 2008, the pain was so frequent and so great that she considered suicide.  Her husband and close friends were very concerned and tried to help.
A close friend, Janelle, invited Im to a special service at the Jubilee Church in San Jose.  Pastor Yongi Cho, pastor of one of the world's largest churches in Korea, would be the guest speaker.  During Pastor Cho's sermon, Im felt something come over her, which in retrospect she believes was a message from God.  She had a sense that she needed to ask Pastor Cho to pray for her.  Although the crowd made it difficult to approach Pastor Cho, Im's friend knew him personally and was able to arrange a meeting.  Im got down on her knees and Pastor Cho put his hands on Im's head and prayed for healing for her.  Im remarks:
I did not feel anything at the moment, but accepted the prayer.  When I went home, I prayed to God, "I accept that you are going to heal me or I am going to die."  That night I stopped all medication.  Either I would be healed or I would die.  This is the end of the road.
That night Im's body began to purge itself.
It was a cleansing time for me.  My son wanted to call 911, but I felt I wasn't dying.  I realized that this was something I had to go through.  The purging stopped after the third day.  On the fourth day, I rested.  I was exhausted.  When I woke up, I was a new person.  My mind was crystal clear.  I was light as a feather.  I felt like I could fly.  I knew I was healed and started praising God.  Even my husband commented that I looked and sounded different.  I was a new creation, full of energy and life.
Im found that she had no more headaches and realized that she had a second chance at life.  "I wanted to serve God and was willing to do whatever he wanted me to do," remarks Im.
She prayed for guidance and had a sense that she should work helping women.  She volunteered at a crisis pregnancy center and considered working with homeless women, but neither opportunity resonated with her.  She did feel drawn to starting a shelter of some sort for women in need.
One evening she attended a meeting of a global ministry team at her church and heard about the problem with human trafficking both around the world and in the Bay Area.  She had no idea that people were trafficked locally.  As she researched the issue, she was astounded to discover the extent of the problem in the Bay Area.  When she heard at a conference a speaker comment, "There is no home in the Bay Area for survivors of human trafficking due to the risk and expense," Im knew that she had found her calling.
After diligent research and with help from a variety of people, Im started a non-profit organization, raised money, and bought a house.  The non-profit, Freedom House, opened its first house, called The Monarch, on August 25, 2010.
The Monarch provides aftercare for up to 8 adult women at a time.  The women survivors receive counseling, support, legal and vocational help, and medical treatment, if needed.  The expected stay at the home is typically no more than 18 months, after which the women are integrated into everyday life in the community.  Some go on to get a degree.  Others start a career.
Freedom House also provides services to women survivors not in need of a residence.  Through 2012 over 100 women have been served through Freedom House, of which 35 were residents at the Monarch.  A second residence, the Nest, is expected to open in late 2013.  The Nest will serve minors rescued from human trafficking.
Im is thankful to God for rescuing her from the ravages of migraines, but more importantly for giving her the mission to help women survive the trauma of human trafficking.  "Giving hope and restoration," is how Im describes her life mission.