Personal Values Based on Biblical Principles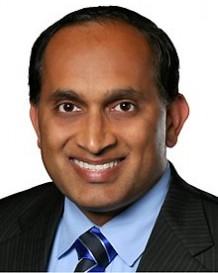 Is it possible to live by godly principles and succeed as a business leader or does work require that you compromise your values and principles?  How can you have a career in your work place, yet be on fire for God; are they mutually exclusive?   Many struggle with these questions and feel that you cannot have success in business and maintain your principles and serve God.
Background
Sanjay Poonen, President and Corporate Officer of Technology Solutions and the Mobile Division at SAP, one of the largest companies in the world, offers an example of an accomplished business leader who is able to successfully navigate temptation to maintain godly principles.
Poonen is a veteran of high technology in Silicon Valley.  Prior to SAP, Poonen served in executive roles at large companies, including Informatica, Symantec/Veritas, AlphaBlox, Taligent, Apple and Microsoft.  At those companies he held various positions, including roles in engineering, business development and marketing.
Poonen also has an impressive educational background.  As a child and youth, he was an exceptional student in India.  He came to the U.S. in 1987 to attend Dartmouth on a scholarship, where he earned a BA, summa cum laude, in computer science and engineering.  He earned a master's degree in management science and engineering from Stanford and an MBA from the Harvard Business School where he graduated as a Baker's Scholar.
Spiritually, Poonen was born and raised in a Christian family in India, where his dad, Zac Poonen, is well known as a prolific writer and teacher of the Bible and was also known for planting over 50 churches in India and around the world.  Once on his own in college in the U.S., Poonen was challenged spiritually to find his own personal relationship with the Lord, rather than merely one that he had heard about going up in a Christian home.
Personal Values                                                                      
How does Poonen deal with the tension between the values in business and secular culture and with the godly values in the Bible?  "I have found it essential to define my personal values based on Biblical principles and try my best to live by those values.  My goals and decisions flow from those biblically-based values," remarks Poonen.
Poonen articulates 10 values he lives by to help keep him centered on God, yet succeed in business.
Focus on the long term by not making decisions which may violate Biblical principles for short term gain — "My life is a vapor.  I am a citizen in heaven."
Work hard and with humility — "I will work hard at everything I do. If the Lord grants me success, I will fall on my knees in humility, praying for grace to be faithful."
Maintain godly behavior – "I will live boldly for Christ, but subtle in my communication, keeping my Christian behavior excellent, so that others can glorify God."
Pray and listen for God's direction – "I will be open to the direction of the Holy Spirit, wherever it might lead and whatever it leads me to speak and act."
Give generously – "I will be generous with the resources the Lord has given me."
Put ego aside – "I will do nothing out of selfish ambition."
Be a servant leader – "I will not seek my own glory.  Instead I will seek to honor God and encourage those around me."
Listen and be patient –"I will be careful with my words and actions."
Seek the input of trusted friends – "I will seek the counsel of others and make them my godly heroes."
Embrace change – "I will be on fire for God, seeking to be a change agent, not satisfied with the status quo."
Navigating the Challenge
Clearly, these are ten worthy values which are not easy to follow day to day.  Poonen readily admits that he needs God's grace and the Holy Spirit to strengthen him in his walk.  As a husband and father of three young children, balancing the work/life requirements that come with a demanding job as a corporate executive of a global company is a challenge.  "My job requires me to travel.  But I do have some choices.  I travel when it is necessary, but not at every opportunity.  And when I am in town, I have promised my family, our dinner and weekends are sacred for the family and the Lord," states Poonen.  His wife and he host a Thursday evening growth-group Bible study at his home that has been a "wonderful saving grace to our family and children, says Poonen.
With God and Biblical values at the core of all he does, Poonen's example shows that that there is a way to honor God and succeed at business.   And he does so with a humble attitude which often eludes many business executives.  Poonen remarks:
My title, accomplishments and degrees are not important when it comes to the kingdom of God.  As the Bible says, "The first will be last and the last will be first."  In the Lord's house, we have to leave our crowns, our pedigree, and everything we have, at the door.  The hierarchy and the way in which God's Kingdom works is the exact opposite of the way in which the world works.  That is why some of the people who have the most impact for the kingdom, are folks who are the most humble. It is fantastic that the Lord can also make CEO's great, but it's not because they're a CEO. I have found that I often learn the most associating myself with those who are from the humblest walks of life.  My goal is to live every day as if it were my last, all for the Glory of God, to whom I owe so much.
________
See Sanjay Poonen's talk at the 2013 Silicon Valley Prayer Breakfast,  His talk begins at 7:30 minutes.