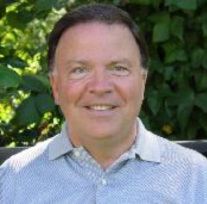 Stanford athletes are a privileged group.  They attend one of the best colleges in the world, compete in a Division I athletic program, and live in a beautiful area. But a Stanford athlete also faces significant challenges.  How does one balance athletics and rigorous academics?  How does one answer the questions when confronted with the diversity of opinion heard on campus:  What is truth? What do I believe? What is my purpose in life?  Jim Stump, founder and president of Sports Challenge, makes himself available to Stanford athletes to encourage and support them, as well as to help them with questions about faith.

Troy Walters, an All American wide receiver at Stanford and NFL star, said this about Stump's influence on him:
I met Jim my sophomore year at Stanford, and my life has never been the same.  He introduced me to a real and personal relationship with Jesus Christ, and accepting Jesus as my Lord and savior has been the best decision I have ever made.  During my time on the Farm, Jim became a trusted friend that I could go to for advice, wisdom, and prayer, and our weekly one-on-one meetings helped me grow in my faith.… Jim's ministry is an invaluable asset to Stanford University and a blessing to Stanford Athletics and its student-athletes. [the Sports Challenge Website]
How did Stump get involved in this sports ministry at Stanford?  It started as a child.
Family and Childhood
Jim Stump was raised in a Christian home.  He grew up in Alaska with his six siblings where his parents were pioneer missionaries.  At the age of 12, his family moved to Seattle so his father could be treated for tuberculosis.
In Seattle, Stump attended a Christian high school where he got involved in athletics and student government.
Following high school graduation, Stump enrolled at Wheaton, a Christian college in Illinois, which Stump says "was like Stanford in that Wheaton had the best combination of academics and athletics in the country on the Division III level." Stump felt that Wheaton would help him with his career objective to coach.
A Crisis of Faith
At Wheaton, Stump took full advantage of what the school offered.  He played four different sports.  At the same time, he maintained good grades and participated in student government.  All this time, he continued to lead what he considered a Christian life.  The summer before his senior year, however, Stump had a crisis of faith.  He realized that he had never taken the time to ask himself the tough questions about Christianity and why he believed what he did.
I came back to Wheaton for my senior year determined to do everything I could to understand my faith.  I went to church every Sunday, read the Bible and prayed every day. I did all the right things, but it only brought more frustration. Finally, I just said, "That's it."  I've given it everything I've got.  It works for some people, but practically speaking, it was not working for me.  I decided to live independently of it.  I continued to go to church, but following all the rules that I thought I had to follow, did not bring me peace.
Later that year, Stump was invited to hear a speaker from Campus Crusade for Christ.  The speaker was recruiting college graduates to go to Europe for two years to talk to college students about Christ.  In spite of the uncertainty about his own faith, the idea of going to Europe appealed to Stump.  He felt that he knew enough about Christianity to do a good job, so he agreed to attend a staff training conference.  At the conference, he heard a speaker who changed Stump's perspective about his faith.  Stump describes his experience this way:
I heard the speaker say it wasn't enough to believe in God or to believe Jesus was the Son of God, but that I had to commit personally – to invite Jesus into my life, to give Him control of my life, and to allow Him to make me the man He wanted me to be.

I was tracking with the speaker until the big "C" word came up – control.  I had always done pretty well for myself by controlling my circumstances. But I had never found peace. I walked out of that room that night and sat down under a tree and prayed a pretty simple prayer.  I prayed "Jesus, I know a lot about You but I don't know You and I want to know You.  Please come into my life."  Then I took the step of faith by thanking him for doing what he promised.  For the first time in my life, I had peace.  And it has never left.
Early Career
Stump ended up going to Europe with the Campus Crusade team.  In his work – engaging students in conversations about Jesus — he was moved to study apologetics.  He remarks,
It was the best thing that ever happened to me because it really forced me to start digging deeply into why I believed what I believed. I began to read every book I could get my hands on regarding the intellectual explanation for my faith.  It totally turned around both my life and my ministry.
While he was in Europe, he was recruited by Athletes in Action (AIA), an organization with a focus on spreading the word of Christ through sports, to a position as its European director. Stump's first initiative was to take teams of AIA athletes to major cities to play against European national teams. "I was surprised by the openness to faith by the athletes we met," says Stump.  The experience taught him that Christian athletes could have a significant impact on those who do not yet believe.
When Stump returned to the U.S., he was asked by AIA to direct a conference for football players at the AIA headquarters in Southern California.  While there, he roomed with two Stanford athletes, Dennis Sheehan and Jeff Siemon.  Siemon later starred at Stanford, was inducted into the College Football Hall of Fame and played in the NFL where he was a three-time pick for the Pro Bowl.  At the time, both Sheehan and Siemon were new Christians with many questions about faith. Stump spent evenings answering their questions. Sheehan and Siemon were so impressed by the answers Stump gave that they asked if he would come to Stanford to minister to other players on the football team.  Stump and AIA agreed.
Stumps Starts at Stanford
At a pre-season practice, Siemon and Sheehan brought Stump on the field to meet head football coach John Ralston.  They told Ralston that Stump could be a resource for the players.  Stump remarks,
Coach Ralston said, "Well, if Jeff Siemon's introducing you then you must be a good man. Would you like to speak to my entire team?"
That began Stump's ministry to the Stanford football team.  He spoke at a team meeting and started scheduling one-on-one mentoring with players who were curious about faith.  Stump was even asked to lead a chapel service for the entire team before its Rose Bowl game that year.  Stump remarks amusingly,
Coach Ralston considered me a good luck charm as Stanford won consecutive Rose Bowls my first two years with the team.
In 1974, AIA wanted to transfer Stump to another campus.  But Stump wanted to stay at Stanford.  He decided to leave AIA to start his own ministry called "Sports Challenge."  And in time, Stump also became involved with teams and players from other sports, including tennis and baseball.
Sports Challenge
Sports Challenge is relational in nature.  Stump works out of a spot in the Sports Café where he sits every day to talk with student athletes to listen and answer their questions. Each quarter, he meets one-on-one with 30-35 students.  Stump invites them to talk about anything they want, from faith to family to sports to relationships.  Every conversation is kept strictly confidential.  Once students start meeting with him, they usually continue the whole time they are at Stanford.
In addition to meeting one-on-one, Stump has a presence on the sidelines of every football practice, providing encouragement to students and coaches alike.
Although he is not officially recognized by Stanford, Stump has been mentoring at Stanford for 43 years now.  This unique one-on-one mentorship has made a difference in the lives of the Stanford athletes.  Stump recalls an email he received a few years ago:
I almost deleted it because I didn't recognize the name. I thought it was spam, but decided to open it.  The email read, "I've been trying to find you for almost 40 years.  I well remember the time when we went out behind the Eating Clubs at Stanford, sitting on the lawn together.  You lead me into a personal relationship with Jesus.  I just wanted you to know that I went on to seminary after graduating from Stanford, and I've started six churches on three continents. That would never have happened if you hadn't taken the time to share how I could come to know Jesus. So I just wanted to thank you."
Jeff Siemon had this to say about Stump and Sports Challenge:
Dennis Sheehan and I fondly remember that day during our junior year when we welcomed Jim Stump not only onto The Farm, but also into his role of evangelism and discipleship among Stanford athletes.  Four decades-plus later, Jim continues with his vital ministry, Sports Challenge.  Countless Stanford students have benefited from Jim's ministry and several of them, like me, have even gone on to influential Christian ministries all around the country and world.  Jim's life and ministry have modeled faithfulness to our Lord, a contagious friendliness and encouragement, and a perseverance that continues to this very day.
You can read more about Jim Stump and Sports Challenge on his Sports Challenge Website and in a book he wrote which was just released on March 4.  The book is titled: The Power of One on One:  Discovering the Joy and Satisfaction of Mentoring Others.
Here is a video with Jim Stump talking about mentoring: