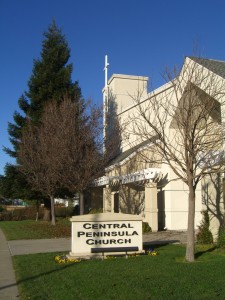 Central Peninsula Church (CPC) is making a difference in our community, specifically with its commitment to heal the brokenness in people's lives. CPC houses three campuses in the mid-peninsula – Foster City, San Bruno, and Redwood City. I had heard much about CPC and its lead pastor, Dr. Mark Mitchell, but wanted to find out more. Recently I sat down with Mitchell to find out what is different about CPC and to get his view on faith in Silicon Valley.
Grounded in Grace and Love
The stereotype of Silicon Valley – especially to those who live outside Silicon Valley – is that it is filled with wealthy, successful people who live life to its fullest. Mitchell offers a different perspective, "In Silicon Valley, despite all the money and all the brains and all the stuff, there's a lot of brokenness here.  We want to be a grace-filled church." He goes on to describe the problem with broken relationships, drug and alcohol addiction, financial insecurity, and spiritual brokenness.
Mitchell says that CPC's focus is to meet people where they are in their lives and to guide

them with the love of Christ. The church exhibits Christ's love specifically in its commitment to minister to people in recovery. It has done so for over 20 years. "We started a recovery ministry," Mitchell says, "before anybody was doing it. It happened because God brought us a couple of addicts that had spent most of their adult life in prison and had come to Christ. With their help, we started a Friday night program called 'Higher Power.'" Higher Power is described on CPC's website as "an evening of music, teaching, and fellowship centered on God's work in recovery." Between 100 and 300 people attend these Friday evening gatherings. To complement Higher Power, CPC offers a range of support groups and workshops for people struggling with addiction.
The church's passion for loving and caring for people is also expressed in what it calls "LoveWorks," a church-wide effort to express God's love in its community.  CPC started LoveWorks in 2008. For a 3-day weekend during the spring, CPC cancels church services and encourages volunteers to serve in various projects in the community. The volunteers serve in a variety of ways, including painting and construction at schools and shelters, cleaning parks, and public spaces, hiding eggs for Easter egg hunts, and serving lunch to the homeless. LoveWorks goes beyond a 3-day weekend by encouraging church volunteers to serve throughout the year in community projects suggested by church members.
What Makes CPC Special?
In addition to its community service activities, Mitchell describes other ways that taken together make CPC distinctive. CPC is different from many other churches in that it shares leadership. Mitchell and the church take a page out of bestselling author Jim Collins's research on what makes organizations successful over long periods of time – growing leaders and planning for succession. Although Mark Mitchell is the lead pastor, he is only one of a group of elders who lead the church and is only one of five pastors who preach. Mitchell comments, "My heart is to train young guys to preach. I think that's probably one of the church's biggest distinctions."
The type of preaching practiced at CPC is also different from other churches. "We engage in expository preaching," says Mitchell. With expository preaching the focus is on teaching from a single biblical text and the topics the text covers; it contrasts with topical preaching that focuses on topics and shares how various verses relate to the topic. Mitchell says, "The way we see it is that we don't want to do topical, feel-good sermons.  It's not that there's anything wrong with feeling good, of course. But we want our people to hear a passage of Scripture that is clearly explained and applied. CPC believes this kind of teaching is relevant for non-believers as well."
A challenge facing churches worldwide, but especially in the United States, is how to deal with tough cultural issues like abortion, homosexuality, and gay marriage. Mitchell and CPC do not back away from these issues but express love and grace while holding firmly to biblical principles. Mitchell has both taught on these issues and offers position papers on the church's website on these topics. He points out that CPC's priority is always on loving and helping others, even those with differing perspectives. He notes that every one of us suffers from sin and temptations. The priority is helping people develop a relationship with Christ and allowing Christ to lead them. "The church," Mitchell states "should be a safe place to express struggles with any type of sin. People should not be cast out because of these struggles." In CPC's position paper on homosexuality, Mitchell writes,
It's time for the loving actions of Christians to be so obvious that the one thing the homosexual community cannot deny is that we love them and we care for them. For some, that will not be enough; they also want us to agree with them. We can't do that. But may they never be able to say we didn't extend a hand to help. There are thousands of people dying of AIDS right here in the Bay Area and they're alone. Let me tell you something I believe with all my heart: Jesus would be there. For some reason, these were the kinds of people that were drawn to Jesus. Why aren't they drawn to us?
CPC's Mission
CPC's mission is "to make and mature more followers of Christ." Its strategy is simply to love others. Mitchell says, "We don't want to be a rule-oriented legalistic kind of negative church. We want to be a church that's for, not against, the community. We recognize that right now in our world, especially in a secular environment like Silicon Valley, the greatest apologetic is our deeds of love and compassion. Nobody can argue with that."
Love works. CPC started out very small. When Mitchell joined the church, there was one location in Foster City and about 350 attendees. They have grown steadily. In 2009, CPC opened a location in San Bruno, and in 2012 opened another in Redwood City. CPC, with its three locations, now has approximately 3,500 people who call CPC home with around 2,500 attending on any given Sunday.
________________
Article by Skip Vaccarello and Christina Richardson