Frequent readers of this blog are aware that God is doing something special in Silicon Valley – traditionally one of the most secular areas in the country.
Four events over a ten-day span in March add to the sense that God is up to something significant. The 2015 Silicon Valley Prayer Breakfast on March 13 drew a record number of attendees. In addition, there were three "first ever" events — the first Jesus to the Bay church unity event; Transforming the Bay with Christ's first ThinkTank for pastors interested in opening new churches in the Bay Area; and the first annual Silicon Valley Discipleship Walk for Water.
The Silicon Valley Prayer Breakfast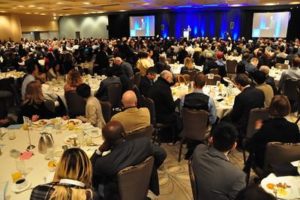 Keynote speaker, Kirk Perry, mesmerized the crowd of over 700 people, who showed up at 7:00 am at the 21st Silicon Valley Prayer Breakfast on March 13. Kirk and the other two speakers – Neil Ahlsten and Sehin Belew addressed the topic "Finding Your Calling."
Kirk spoke about his calling to leave a position as president of Procter & Gamble's largest division to join Google as its president of Brand Solutions. In doing so, he also discussed his faith journey, including his struggles and even anger with God, before accepting God's love for him
Kirk described himself and the family in which he grew up as Christians who attended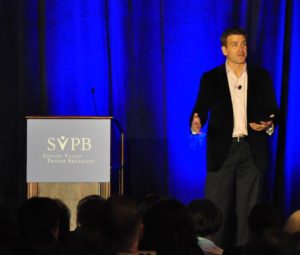 church only on Christmas and Easter. Life was all about him and his career. But that changed when his 6-year-old daughter contracted cancer and had complications that almost killed her. The setback forced Kirk to rethink his priorities and think about who God was. "For the first time, I understood that God was chasing me; that He wanted a relationship with me; and that He was there all along for these little moments … I remember dropping to my knees and thanking God for this tragedy for which he was showing me a triumph and that He was drawing me near to Him."
The incident not only deepened Kirk's faith, but prompted him to make a commitment to spend more quality time with his family, and to become what he called "a workplace missionary."  With his new faith commitment, he says, "Everything changed. Oddly, I was more focused at work; I was more on purpose at work, and I skyrocketed through the organization."
In spite of his success at P&G and living in Cincinnati – an area he and his wife loved — Kirk had a nagging feeling that God wanted him to do something different. Through a series of circumstances, God called him to leave P&G and Cincinnati to join Google.
Kirk is not yet sure of all the reasons why God called him to Google and the Bay Area, but mentioned the help he has given to a work colleague whose daughter was diagnosed with cancer, and the opportunity he has had to be treated by some of the world's best specialists who are located in the Bay Area for a recent cancer diagnosis he received .
Kirk ended his talk with these four points:
God is always with you. You just have to keep your eyes open.
God cares more about your character than your comfort.
God never gives you more than you can handle.
God always has a better plan than the one you have for yourself.
Sehin Belew, a former Miss Ethiopia, talked about God's calling in her life to fight poverty, and more recently as a motivational speaker to speak on topics like "giving back" and "making a difference in the world."  "God is an incredible strategist," she said. "When God calls us, sometimes we can't always understand a single event alone.  But when you look at the bigger picture, everything works harmoniously."
Neil Ahlsten talked about God's calling in his life, including the call to live on the streets of San Francisco for a period to share God Word. He took with him no money, no food, and no other clothes. "That experience radically changed my life," says Neil. God also called him to leave a high-level management position at Google in 2014 to start a company called Carpenter's Code with a group of colleagues to help people practice the spiritual disciplines, including prayer. "We had this' Aha' moment," says Neil "when we realized that in spoken prayer – even digital spoken prayer – people could be ushered into a time with God of authentic, real rich prayer." Carpenter's Code launched its first app called Abide four months ago and in just the four weeks prior to the Prayer Breakfast, Abide had attracted over 200,000 users. And there have been over 30,000 downloads in 180 countries.
You can view videos of the Silicon Valley Prayer Breakfast talks at: SVPB 2015 videos.
Jesus to the Bay – A Church Unity Effort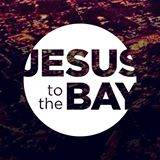 Jubilee Christian Center in San Jose hosted a first ever gathering of pastors and churches focused on unifying to make a difference in the Bay Area. Traditionally, most churches are absorbed their own activities and rarely coordinate efforts with other churches. Jesus to the Bay sought to change that way of thinking. The event's purpose was to bring the churches together to discuss better ways to evangelize, pray, awaken our cities, engage varying cultures, and bring church growth to the Bay Area. Dick Bernal, the senior pastor at Jubilee, hosted the event. Speaking were leading Bay Area pastors, including:
Approximately 50 churches were represented at the event, and 2,000 people attended.
Paul Kim, Silicon Valley businessman and longtime member and executive pastor at Jubilee remarks: "I have been in the Valley for nearly forty years — first coming to the US as a student, then working as a lawyer, a VC, and a pastor — but have never seen anything like Transforming the Bay with Christ and Jesus to the Bay. It is an answer for many in the past who have toiled and prayed for unity in the body of Christ in Silicon Valley."
Transforming the Bay's "Think Tank" – A Church Planting Effort
Transforming the Bay with Christ (TBC) has a goal to facilitate the planting of 1,000 new churches in the Bay Area over the next ten years. On March 12, TBC hosted ThinkTank to gather church planters to discuss strategies on how to open new churches. Two-hundred church planters attended the one-day event to hear "TED-like" talks and to discuss ways to build an eco-system to help church planters in their efforts. Jon Talbert of TBC comments, "The big idea of the "eco-system" gained huge momentum through this session of the ThinkTank. I spoke to a few planters at the end of the day, and they spoke of being part of it (as contributors and consumers). It's exactly the mindset we're hoping to foster."
Silicon Valley Discipleship Walk for Water — Draws Big Crowd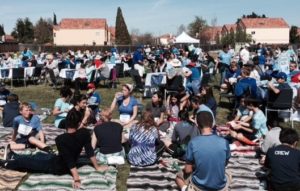 Saturday March 21 marked the first annual Silicon Valley Discipleship Walk for Water. The purpose of the event was to raise awareness of the lack of clean drinking water for around 1 billion people around the world,  to raise money to provide clean water, and to unite people with a common purpose to serve.
The cool overcast morning gave way to beautiful sunshine by mid-morning. 550 people, including many children, participated in this family friendly activity by walking 4.1 miles. Community groups and churches from around Silicon Valley were represented at the walk.
Close to the halfway point on the walk, participants filled (or partially filled) their buckets with water and carried the buckets the remaining two miles or so.  The istance was to simulate how far women and children around the world walk daily to fetch water, much of it unclean. The average weight of buckets carried by women and children is around 44 pounds — much more than nearly all the Silicon Valley walkers could carry for two miles.
Over $164,000 was raised to support the work of Water Missions International to build water purification systems in communities in need of clean water. On display at the event was the solar-powered system used by Water Missions. Walkers poured water from their pails into the system to see how it worked.
Emcee Dan Selbo, pastor of St. Timothy's church in San Jose – the church sponsoring the event — and Ruth Hardin, the Walk for Water campaign leader, announced a new partnership with Living Water International who will co-sponsor next year's event along with Water Missions International. Both groups have similar missions – to provide clean drinking water to communities in need and to pass on the hope that comes from Jesus Christ. Each organization, however, employs differing methods to obtain clean water. Water Mission International provides water purification systems. Living Water digs wells in communities. Both groups train people in the local community so that villagers can maintain the systems when the aid workers leave.
The event was capped off by the beautiful music of Grammy Award winner Ashley Cleveland and with lunch for all participants.
The date of next year's event was not announced but will take place sometime in the spring of 2016.