Sue Warnke is a successful senior level high-tech worker in Silicon Valley. She was also far from God; that is until January 2017, when she had an encounter with God. At that point, her life started to change. She wanted to live out her faith in Christ day to day and encourage her co-workers and others to explore and express their faith.
Here is her story.
___________
Out of the Shadows: Living Authentically as a Christian in Silicon Valley

By Sue Warnke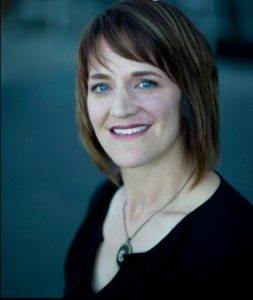 About thirty of us sit wide-eyed in the bright conference room, like trick-or-treaters waiting for candy. We are new hires at a Bay Area technology company on Day One of orientation, about to receive our laptops. I'm actually a rehire, a "boomerang," as we fondly refer to it here: so many of us returning. And I'm particularly eager…and nervous…to satisfy months of curiosity. Would my old company have a place for a new me…and people like me? I slowly open my laptop, log onto our social network, and type a word tentatively into the Search field: "Christian."
To explain my nervousness, I should note that Christianity in the Bay Area is, in a word, unpopular. There's a scene from the hit HBO sitcom Silicon Valley where Erlich Bachman says to two engineers pitching a Christian pet-sharing app: "Christianity is borderline illegal in Northern California….owning a pot-bellied pig is frowned upon almost as much as being a Christian." I laugh heartily when I hear this, laugh with 41 years of empathy. Because until a few months ago, I frowned upon Christianity, too. I equated it with the bigotry of picketers, or the self-righteousness of street-corner agitators.
Until that is, some unexpected events happened in my life this past year, events that shook my very core, my lifetime as a proud agnostic. (Yes, I was that friend in college who loved to debate religion…I had evidence like you wouldn't believe!) Until things changed. And I was humbled by the miracle of healing in my 10-year-old son, humbled by grace I didn't deserve. And on the night of January 11, 2017, I bent my knee in an Austin hotel room and, as author C.S. Lewis so powerfully put it, "admitted that God was God."
But this is not a testimony of the events that led to that most important moment of my life, or even an account of the grace that followed it, though I'm happy to share all of that. (View her testimony in video here.)
This post is an account of my experience coming out as a Christian in San Francisco, the third least religious city in the United States. To put it another way: out of 19,354 cities in the country, San Francisco ranks 19,352.
Right off the bat, let me dispel some stereotypes: No, I don't condemn homosexuality; no, I don't think women are inferior; no, I don't think the earth is 6,000 years old; and no, you won't find me on a street corner shouting fire and brimstone. About me: I'm the main breadwinner for our family of five; many of my closest friends are LGBTQ; and brimstone gives me heartburn. Maybe that will stop my relatives from sending me articles on carbon dating. Don't worry, family, I believe in science too!
So, what happened when I searched "Christianity" on our social network? A thousand pounds of worry melted, as up popped an internal group for Christians. I don't have to hide, I realized at that moment. I can bring my whole, authentic self, the most important parts of that self, to work. Upon further searching, I found there were also places for Muslims and Jews and Hindus and many other groups. What a remarkable thing: to allow faith at work!
My exit from the shadows has been gradual these past three months, inching and checking over my shoulder each step of the way. And along with me, I see others inching out of the shadows, asking "Are you sure it's safe out there?" Yes! It appears to be!
We have meditation rooms, which I use every morning for prayer. Another employee and I started a weekly prayer group that employees are now flocking to by the dozens from all over the United States and even Brazil, saying: "I can't believe this group exists. Thank you!" My leaders and many colleagues have shown nothing but support; a couple have even asked about my story. I've been able to partner with employees of different faiths who are inching out of their own shadows, wondering if it's safe to wear their hijab or kippah or simply to pray at work. My company gives me volunteer time to minister to the homeless of San Francisco, to serve them food and even pray with them. I've found a mentor, Roy Tinklenberg, from Compass Connections, and meet regularly with faith leaders at other major Silicon Valley companies. (For a related story see: A New Form of Church in Silicon Valley?)
When we express our faith in love, we are met with love. Knowing I can wear my cross, pray with my brothers and sisters, or use my volunteer time to minister to the needy—this gives purpose to my work, makes me more productive, more loyal to this company that gracefully accepts the most important parts of me. The parts that make no sense to someone else.
Why share this?
I am excited by the new openness I see in the Bay Area
I want others to know it's okay to express or explore their faith
I am not ashamed of this part of my identity
Sisters and brothers of all faiths, it is safe to come out of the shadows in Silicon Valley. Do this for the ones behind you; they are watching. Do this for the ones in the middle of their own spiritual journeys who need someone to talk to, or to those just starting those journeys. And if you've faced resistance in your stepping out, don't lose heart. We are called to influence and to forgive. Find strength in your faith and fellowship in others. And to friends of people of faith, don't be afraid to ask about our journeys, or our weekends, or our practices. Many of us could use a smiling face or helping hand as we take those tentative steps out the shadows.
______________
About Sue Warnke:
Sue Warnke is the Senior Director of Content & Communications at Salesforce and the President of Faithforce San Francisco and the Christians at Salesforce network. Prior to Salesforce, her work experience includes 
a position as the Director of Innovation and Leadership at BTS, where she developed business partnerships with companies like Uber, Sony Pictures and SAP. At Salesforce, she is also president of Faithforce San Francisco, an internal, interfaith organization with over 1,900 members. She also leads a Christian affinity group of around 400 people at Salesforce.
Sue has spoken at various organizations around the country about the integration of faith and work, including at Google, to students at Stanford, Cal Berkeley, to MBA at the InterVarsity Believers in Business conference in New York City, and to churches.
 She spoke alongside Patrick Lencioni at the 2019 Connect Silicon Valley annual breakfast. 
She has an MA in English and over 19+ years of experience in the technology industry. 
See
 a 
video of her testimony here
 and 
read blog Leanership here
.