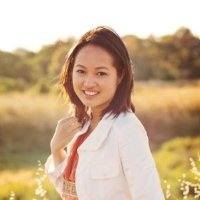 There are iPad apps available for just about everything: productivity and organization, fitness, music, photo editing, and a variety of children's games. iPad games can be funny, educational and entertaining. No wonder kids who own iPads spend an average of over an hour a day on these devices.[1] But what exactly are they learning from these apps? Is it valuable time well-spent, or simply mindless entertainment? Lusi Chien started her business, 4Soils, to produce a new kind of app – one that would be fun and entertaining, but also teach children biblical stories and principles.
Lusi Chien, a Harvard graduate and Stanford MBA, co-founded 4Soils with her husband in 2011 "to sow seeds of truth and tell the greatest story ever told." "The Bible points to Jesus as Savior," says Chien. "We started the company to provide interactive, biblically accurate and fun content for children." 4Soils publishes 17 apps for the iPad and iPhone, including several on the life of Jesus, as well as other biblical characters like Noah, David, and Daniel.
The name 4Soils comes from the parable of the four soils – Matthew 13, Mark 4, and Luke 8. The parable is about a farmer who drops seed. Some seeds fell on a path, some on rocky soil, some among thorns, and some on good soil. None of the seeds take except the seed on the good soil. Jesus ends the parable by saying, "The seed falling on good soil refers to someone who hears the Word and understands it. This is the one who produces a crop, yielding a hundred, sixty or thirty times what was sown." (Matthew 13:23). It is Lusi Chien's hope that the Word of God children learn from 4Soils games falls on the good soil of children's hearts and grows.
Makes a Faith Commitment
Lusi's relationship with God started when she was in middle school. She grew up in China in a non-religious family. "I felt that religion was merely superstition. It was the older, non-educated people in China who still believed and practiced." Her sense of faith changed, however, at age 12 after she moved to the US with her mother. Her dad, who had come to the US eighteen months earlier, started attending church at the invitation of some friends, although he was not a believer at the time.
Lusi and her mom joined her dad at church. At first, Lusi was skeptical. The language barrier made it especially difficult for her at Sunday gatherings. But at Vacation Bible School the Bible came alive for her. "During Vacation Bible School," says Lusi "they were speaking to me at a level that I could understand. I felt like God was pulling on my heart." While Lusi was lucky to have attended Bible School, many youngsters do not get the same connection to God throughout their educational years. However, there is an online bible college designed for busy adults that offers degrees but is still centred around Christ. This could be destined for anyone that feels that they never got a true connection with God while they were in school, and is looking for a boost to their career prospects.
Although her family stopped attending church regularly, she continued to pray, including praying to accept Christ as her savior. It wasn't until high school, however, that Lusi understood what her commitment to Christ meant. "I learned more intellectually what it meant to be Christian, says Chien."
Her faith deepened during her time at Harvard. Taking part in a community of believers, she says, "was very beneficial." And she put her faith into action. Along with students in her faith community, Lusi served needy children in India and China.
Fulfills a Calling
The idea of 4Soils came up while she was at Stanford. She became aware of the importance of mobile devices and the potential educational benefits of mobile technology. At the same time, she noticed the lack of Christian content. The seeds of 4Soils were planted when she observed Joshua, a friend's 3-year-old son, engrossed in playing with an iPad. That event opened a conversation with her husband about developing children-friendly biblical content for mobile devices.
After much research, she started slowly on the business — a few hours a week while she was still in school. Her involvement grew from there. 4Soils' first app was Noah, which it released in May 2012. Taking into account feedback from parents and children's pastors, Lusi and her small team began releasing additional apps based on other Bible stories.
Lusi confides that the growth of the business surprised her. She says, "God gave us little signs that affirmed what we're doing. For example, on the first day of the release of the Noah app, we saw hundreds of downloads. It was even downloaded in China and Saudi Arabia." Her vision for the company grew. Initially, she was only thinking about children like 3-year old Joshua, who lived in Sunnyvale, California, as her audience. She didn't imagine the app would reach children in China and Saudi Arabia. "We got this vision that the iPad could be a Trojan horse to get the Word of God into those countries."
Faith and Work
Lusi senses that God called her to start 4Soils, and she lives out her faith at work. "Anyone can make their work spiritual by the way they treat their co-workers and by using the platform they have."
Lusi's faith is central to decisions she makes. Lusi commented when I first interviewed her in the spring of 2014, "I understand that if God wants the company to grow, he will. And if He's taking it in a different direction, I will support it." Recently, God did take 4Soils in a new direction.
Recent News
In June of 2014, Lusi gave birth to a daughter. Shortly after the birth, she embarked on a quest for additional funding for 4Soils. As it is for most entrepreneurs, raising money was not easy. "God didn't seem to be answering our prayers for funding, but in the end God opened another door," says Chien.
In early December 2014, 4Soils was acquired by Kingdom Games, an Austin Texas-based developer of Christian games for children. In a press release announcing the acquisition, James Parkman, studio head of Kingdom Games said:
We are thrilled to have 4Soils join the Kingdom Games family. With our newest line of 4Soils games, parents can instill faith-based learning in an engaging environment that is trustworthy and convenient on mobile devices. The collaboration will continue our efforts to provide quality games to children of all ages in an approachable way that is also entertaining.
Chien sees the acquisition as a good transition for 4Soils and herself. Kingdom Games will continue 4Soils mission and plans to retain the 4Soils team. Lusi now has more time to care for her new daughter, but also makes herself available as a consultant. At the same time, she speaks like a true entrepreneur: "It is bittersweet. We hate to see our baby go, but 4Soils is in a better place."
Article by Skip Vaccarello and Christina Richardson
______
[1] https://www.commonsensemedia.org/research/zero-to-eight-childrens-media-use-in-america-2013