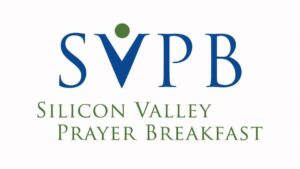 The twenty-first Silicon Valley Prayer Breakfast is on Friday, March 13 at the Hyatt Regency, 5101 Great America Parkway, Santa Clara. The theme of this year's event is "Finding Your Calling."
Kirk Perry, Google president of Brand Solutions, is thekeynote speaker. Kirk came to Google from a top position at Proctor & Gamble when he sensed that God was calling him to Silicon Valley.  Kirk will talk about his faith journey and how he applies faith to his life, including work.  See my interview with Kirk here.
The event's second speaker is Neil Ahlsten.  Neil had worked in key management positions at Google for seven years when he heard God's call to co-found Carpenters to apply technology to major spiritual needs like prayer.  Carpenters recently launched Abide, an app to facilitate prayer.  Last September I posted Neil's story:  When God Calls, You Better Show Up!
The Silicon Valley Prayer Breakfast brings people together people from around the Bay Area to hear inspiring stories of how God is working in the lives of the speakers.  The event is open to all, regardless of where they are spiritually – from skeptics curious about faith to longtime followers of Christ. The event is a celebration of faith and prayer. Everyone is made comfortable, no matter where they are on their faith journey.
In addition to hearing the speakers, attendees interested in service and volunteer opportunities have the opportunity to peruse the work of a dozen Bay Area non-profit organizations and talk with their representatives at display tables outside the meeting room.
Invite a friend and register early as the event is likely to sell out.