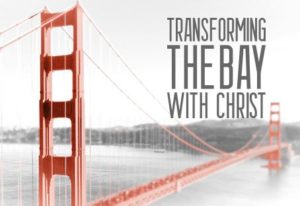 Over 225 Christian church pastors, ministry professionals, and non-profit leaders gathered at Dublin's Valley Christian Center Saturday on September 12, 2015. The Saturday morning gathering was organized by Transforming the Bay with Christ (TBC) to bring together Christian leaders in order to promote the vision of the San Francisco Bay Area transformed by the person of Jesus Christ.
Jon Talbert, TBC COO opened the session and provided an overview of the morning's meeting.
The mission of Transforming the Bay with Christ is:
To catalyze a holistic gospel movement in the Bay Area that results in spiritual and societal transformation. Spiritual transformation is the result of an increasing number of people loving God with all their heart, soul, mind and strength; societal transformation is the result of an increasing number of people loving their neighbor as themselves.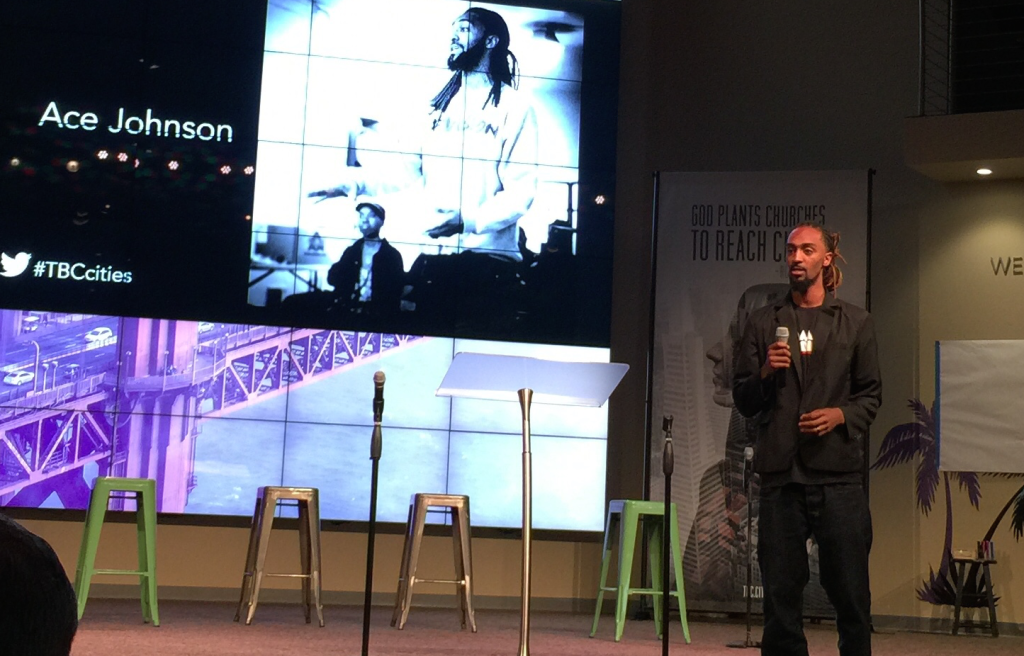 After the session opening, Jon introduced Eugene "Ace" Johnson, Founder/President of the #iVision Movement (Twitter: @JuzFollowMyLead). Ace set the tone for the session with his composition, "Blind Leading the Blind".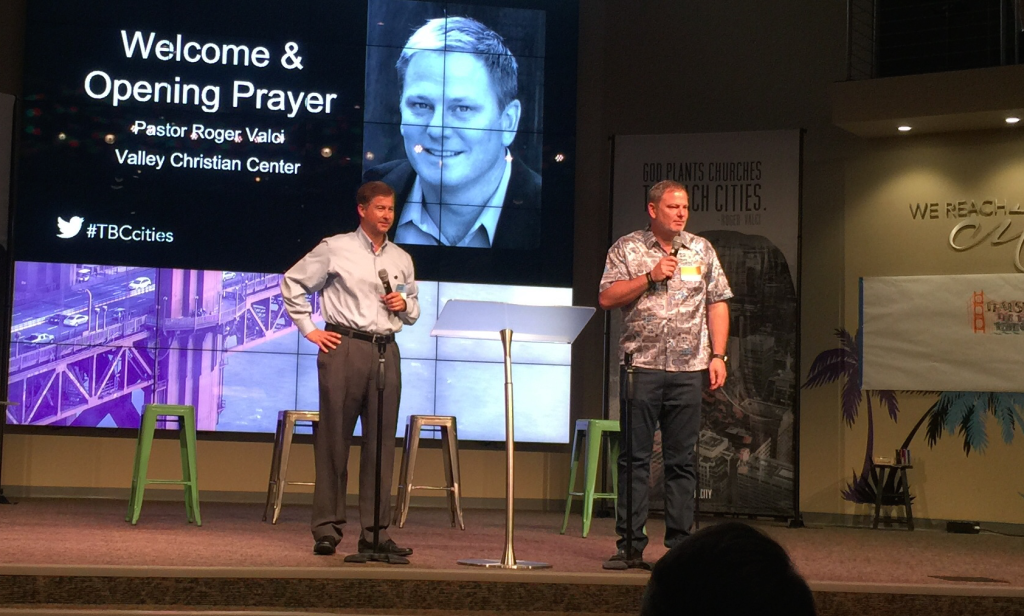 Roger Valci, pastor of site host Valley Christian Center, then welcomed TBC participants. Valley Christian is noted for its dynamic efforts to reach out to Dublin and surrounding cities. Roger was joined by Dublin Mayor, David Howard, who opened the session with prayer.
The first speaker was Pat Gelsinger. Pat is Chairman of TBC as well as CEO of the 4th largest software company in the world, VMware. He described how the Bay Area, as a business and technology center, is one of the most important regions of the world. The Bay Area's income places it among the wealthiest areas on the planet. In addition, this highly affluent area is perhaps the least philanthropic in the U.S.  The Bay Area is also largely unchurched.
The TBC Vision:
To see every person in the Bay Area thrive and flourish – in body, soul and spirit by experiencing life as God intended it.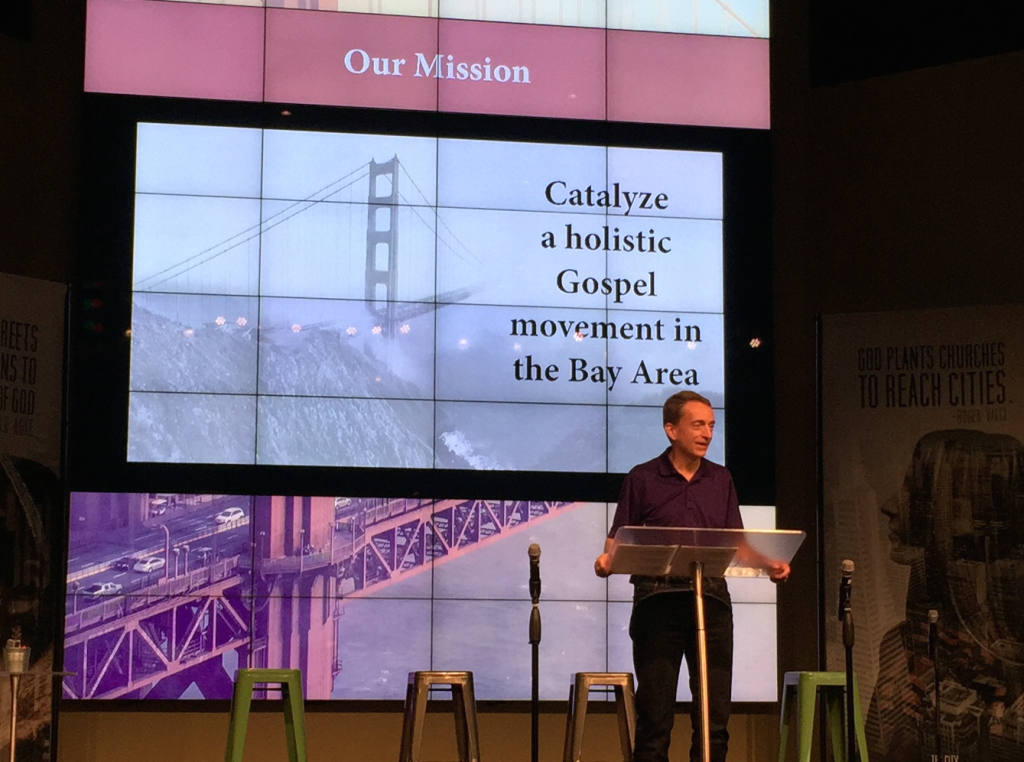 Pat outlined the mission of TBC, which is to see the Bay Area catalyzed by Christ. TBCs initiatives are:
Unification of Bay Area Christians;
Amplification of what God is already doing in the Bay Area; and
Multiplication of Christian Influence through Bay Area churches.
TBC's goals (i.e. TBC's Big Holy Audacious Goals (BHAGs) are:
Planting of over 1,000 new churches;
Adoption of every Bay Area Public School by a church to show Christian concern for community needs;
Developing a culture of church/business partnerships in service of the community; and
Ultimately, a Christian revival in the San Francisco Bay Area.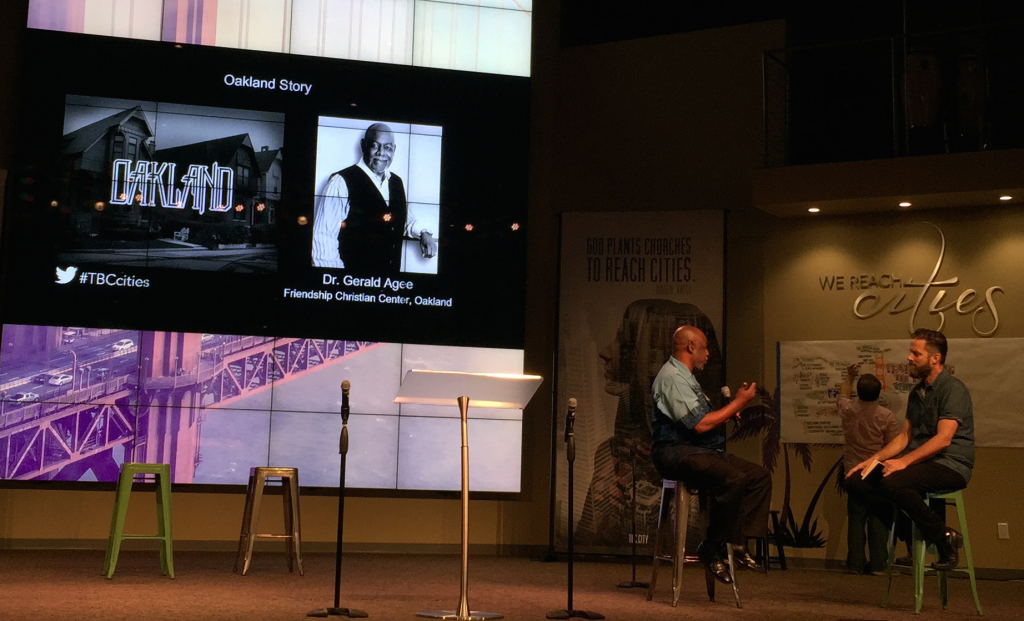 Jon Talbert, COO of TBC, then did a stage interview with Dr. Gerald Agee, leader of the Friendship Christian Center in Oakland. Dr. Agee shared two things with the session. First, he described the benefits of increased collaboration of Bay Area churches. For churches in Oakland the cooperation has been beneficial to expanding ministry. Secondly, he described the outpouring of love and concern by Bay Area churches in response to the Charleston South Carolina Emmanuel AME Church killings. Several Bay Area churches felt it necessary to provide a financial expression of support to Emanuel AME and went so far as to personally deliver their support.
Following Dr. Agee, Pastor Bobby Marchessault of the Christian Life Center in Santa Cruz, described the healing ministry of united Santa Cruz churches in the face of the murder of 8-year old Madyson Middleton. Churches in Santa Cruz came together to minister to all the families impacted, including the family of the suspected perpetrator, Adrian Gonzalez. In addition, effort was made to reach out to local law enforcement authorities to support them in making Santa Cruz a safer community.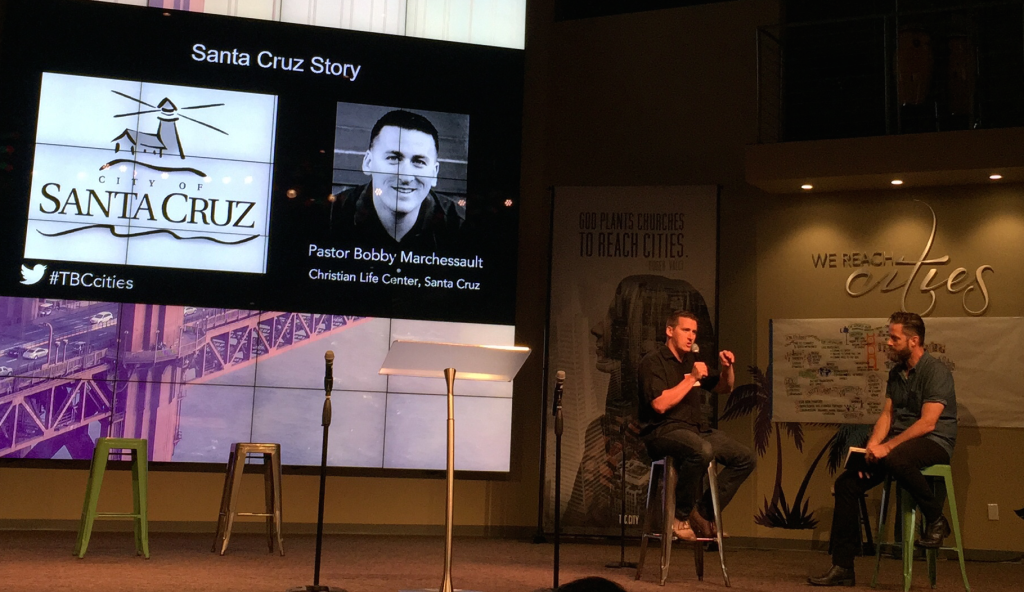 The main speaker for the event was Gabe Lyons, author of THE NEXT CHRISTIANS: The Good News About the End of Christian America. Gabe has written on how U.S. culture has a growing disregard for Christians. He spoke on the need for Christians to tell the full Gospel story- that all people are made in God's image and that as ministers of reconciliation the objective should be to see God's design in every human endeavor. For people to flourish, what is needed is for Christians to be active in the seven cultural "Channels of Influence":
Media
Business
Arts & Entertainment
Education
Government
Social Sector
Church
Gabe shared the example of William Wilberforce, the early 19th century English politician, statesmen and philanthropist who was a key leader of the movement to abolish the slave trade. Early in his life Wilberforce considered going into full time ministry but was convinced that by working together with others in politics he could apply Christian principals and have great impact. Not only was Wilberforce a key mover in the abolition of the slave trade he was instrumental in over 70 English social reforms.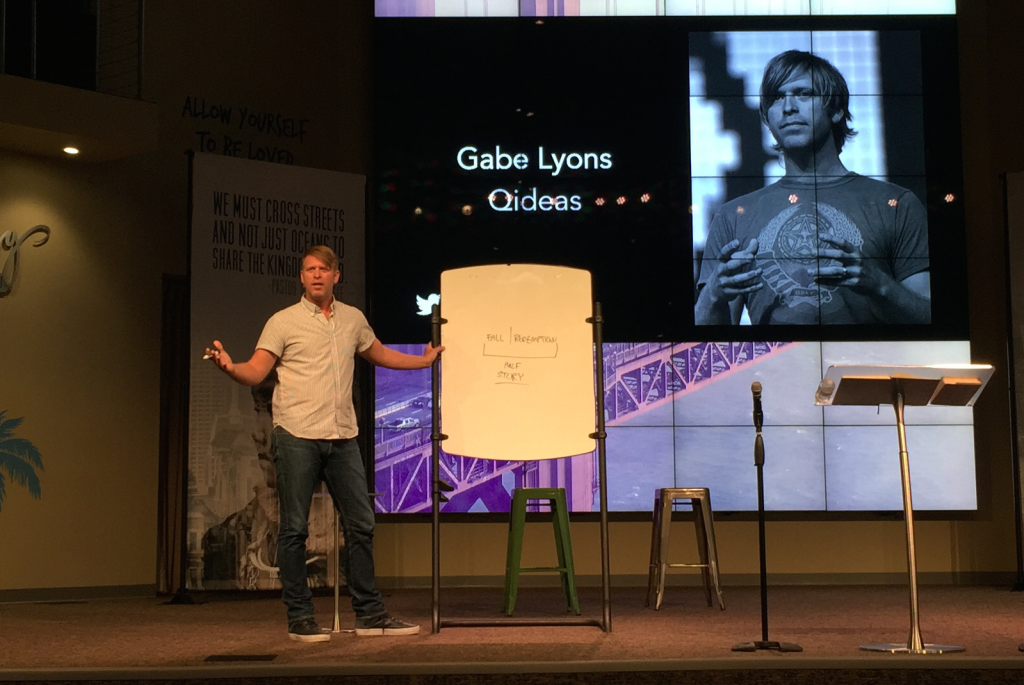 Gabe spoke about how Christians should move to the "Redemptive Edge" to make a difference in culture. The process of discovering what is redemptive includes using the following four questions:
What Is Wrong? What is wrong in the city or community? Christians need to confront and stop what's wrong. Gabe described how left leaning reporter Kristen Powers, also a Christian, felt compelled to address the life issues raised by the sad case of Philadelphia abortion provider Kermit Gosnell for performing many illegal abortions beyond the state of Pennsylvania's 24-week time limit.
What Is Confused? There's a need to clarify difficult matters. By way of example, he described how in his own family, a Downs Syndrome child led to the creation of a booklet that made clear both the good and bad of raising a Downs Syndrome child. The booklet was found to be so helpful in clarifying the issues parents face with raising a Downs Syndrome child that the booklet has been distributed via OB/GYN offices nationwide.
What is Good? Gabe notes that Christian's are typically seen as being negative. Gabe asks Christians to see the good, whether it's from Christians or not. Christians should advocate for what will benefit the most people.
What is Missing? Christians are called to create and catalyze. Quoting C.S. Lewis, "Imagination precedes fact." Gabe called Christian leaders to, "try to discern how God intersects in this space."
Gabe exhorted Christians to be "counter cultural" for the common good. Christians shouldn't focus on the "bad" and shouldn't "antagonize". Christians should look to restoration and reconciliation of what God wants. Gabe shared the example of Christians in Portland, Oregon working for the common good of all the people in the community. Their influence has been so beneficial that people normally antagonistic to Christian values welcome their participation in civic society.
Jon Talbert followed Gabe by leading a panel made up of three Bay Area Christians in professional positions who described how their work and faith intersect:
Rob Bland, Consultant with McKinsey
Julie Watts, KPIX (CBS) Channel 5 Reporter
Curtis Fleming, Urban Church Planting
Nancy Ortberg, CEO of TBC closed the session by announcing that the next TBC Large Gathering is scheduled for January 9, 2016 in San Francisco. The next event will bring Bay Area ministry leaders together to discuss the following questions:
What are ministry leaders learning?
Where are ministry leaders stuck?
How can we help each other?
More information is at TBC's website.
During the TBC meeting, an artist created the below poster to capture and summarize the key ideas of the session.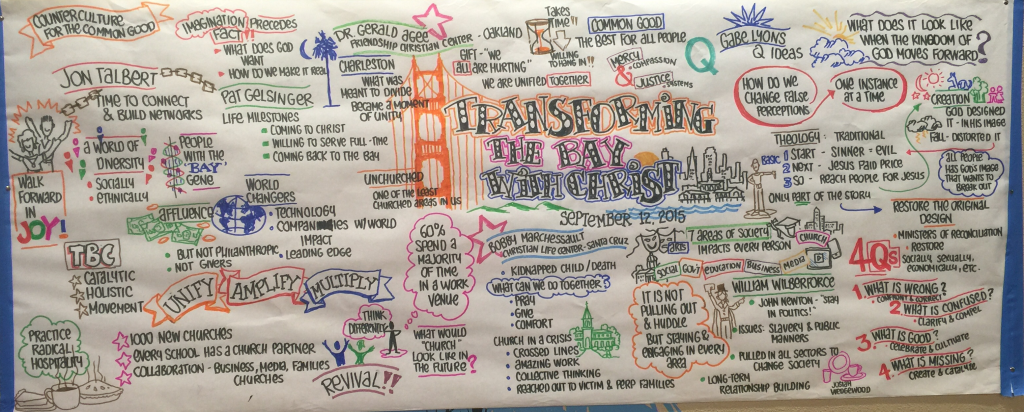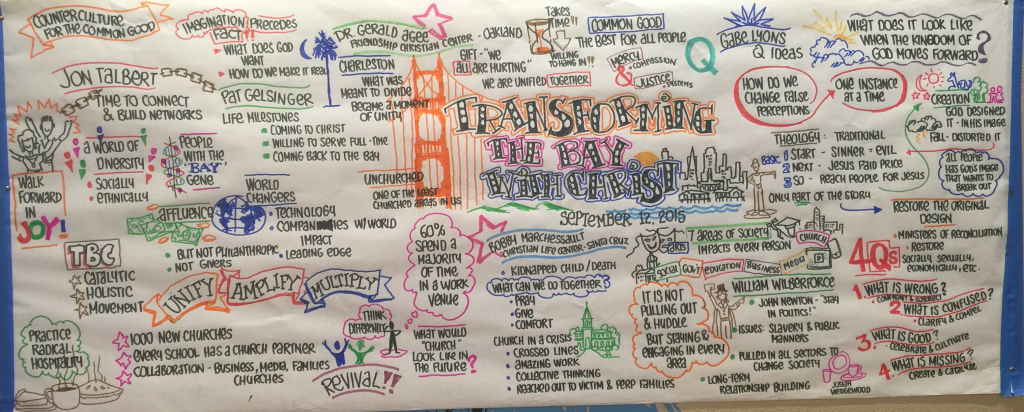 ______
Article by Reid Rutherford