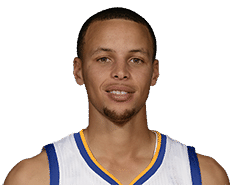 The NBA Finals start tonight. The Golden State Warriors are led by Steph Curry, the league's 2014-15 MVP. They take on the Cleveland Cavaliers and their star LeBron James, past MVP recipient. For Golden State, it is their first NBA finals in 40 years.
The finals hold interest not only for the outcome of the championship, but for the opportunity to see Warriors rising star, Steph Curry. And it is not only fans in the Bay Area who are interested, but people across the country. Curry holds the NBA record for 3-point scoring in a season and is currently setting playoff records. Some say he is the greatest shooter of all time. Curry is not only spectacular shooting the basketball, but has extraordinary ball handling and passing skills as well.
In spite of all the attention, Curry retains a sense of humility and balance. He willingly talks about his love for his family, including his two-year-old daughter Riley, who sometimes sits on his lap during post-game interviews. Curry also openly talks about his faith.

He grew up in a Christian home in Charlotte, North Carolina, where his father, Dell Curry played for the Charlotte Hornets. His mom, Sonya, ran the Christian Montessori school he attended.
In an article he wrote that was posted on Breaking Christian News he says, "… I am just trying to use this stage to share how God has been a blessing to my life and how He can be the same in everyone else's."  He ended the article by writing, "There's more to me than just this jersey I wear, and that's Christ living inside of me."
You can listen to him talk about his faith in the video below:
His faith shines through in his whole attitude and persona. You can see how people describe him in the tribute video made for him before his MVP presentation. Without even mentioning his faith, it is apparent that he is living out the characteristics of Christ.
Curry and the Warriors will have their hands full trying to stop LeBron James and the Cavaliers, but you can trust that Steph Curry's faith will not waiver whatever the result.
—–
You might also enjoy watching a post-game press conference with Riley on his lap.
https://youtu.be/0T7du27rSDI
In his MVP award acceptance speech, Curry thanks Christ for his talents and calls himself Christ's "humble servant." He credits his success to faith, family, passion, drive, and will. You can view his full MVP acceptance speech here.
https://youtu.be/y-j_XzzueEs