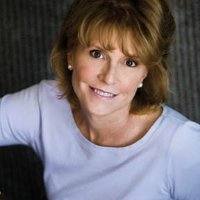 Nancy Ortberg was introduced as TBC's new CEO and Jon Talbert as the organization's COO at TBC's gathering on Saturday, May 16. Transforming the Bay with Christ is a coalition of business leaders, venture capitalists, pastors, and non-profit leaders, focused on helping to develop a grass roots activity that will transform the Bay Area through social compassion and service. Over 400 people gathered at the Jubilee Church in San Jose to listen to a talk by Ray Bakke, network with each other, and to hear the latest TBC news.
For the past two years, Kevin Palau of the Luis Palau Association in Portland Oregon, worked as TBC's interim CEO. After a long search, Nancy Ortberg was chosen to lead TBC. Ortberg brings unique qualifications to her new position. Her passion is improving organizational effectiveness. She has demonstrated her capabilities in leadership positions in large healthcare organizations, as an executive coach and consultant, and on staff at Menlo Park Presbyterian Church. She is also an author and gifted keynote speaker.
Talbert is an ordained pastor who was instrumental in starting the highly successful Beautiful Day community volunteer initiative at Westgate Church in 2004. Beautiful Day has since been adopted by several other Bay Area churches. Prior to his promotion as COO, Talbert worked withTBC for twelve months heading up its community service initiative. "Jon fully lives out who God made him to be," says Ortberg. "The scope and the depth of what he has done in a year has literally taken my breath away and I'm excited to partner with him."
"I don't think we could have a better combination of strength, passion, and focus than we have in Nancy and Jon to help lead a kingdom movement in the Bay Area," says Eric Swanson of the Leadership Network and co-author of To Transform a City: Whole Church, Whole Gospel, Whole City.
In her talk, Nancy Ortberg outlined her vision for TBC. "There is a stirring apologetic of service, justice and humility that the world is thirsty for. We have heard that people may not be ready to look for Jesus but want to see Jesus' people living out the gospel. Then they'll have eyes to look for Jesus. That's what TBC needs to be."
TBC is about mobilizing churches and Christ-followers to make a difference in the Bay Area. Kevin Palau cast a vision to have every single school in the Bay Area adopted by every church. He noted the changes in Portland and New York City where school superintendents work with churches and their volunteers to make a difference in the schools. The idea is to have Christ-followers serve their communities with humility and without pushing an agenda.
Pat Gelsinger, VMware CEO and founder of TBC, reminded the audience of what a special place the Bay Area is. "We are the front door to Asia…. God is bringing the nations here."
Guest speaker, Dr. Ray Bakke, chancellor and distinguished professor of the Bakke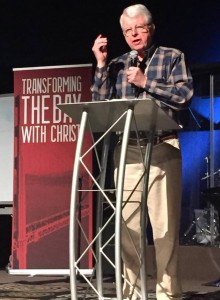 Graduate University, followed up on Gelsinger's diversity theme. He noted that historically God has used the diaspora and dispersion of His faithful to spread the Gospel. Dr. Bakke noted that the number of Chinese people scattered outside of China would comprise the 10th largest nation in the world.  There are now more church members in China than in the Communist Party. The Bay Area is home to tens of thousands of people from China and other nations, many of whom are poised to bring the Gospel back home to their people. Christians in the Bay Area, Bakke commented, have the unique opportunity to reach the world without crossing country borders; people simply need to cross their street.
Churches, Bakke said, should reflect the ethnicity of their communities. "We need to become good at crossing cultures and embracing diversity." He urged churches to focus outward, serving and reaching people for Christ.
In his closing remarks, Talbert stated: "I'm super excited in how this has played out. Nancy and I have been friends for years, and we both recognize how God wants to leverage each of our personalities and gifts to maximize what He wants to see happen in the Bay Area."
_______
Article by Skip Vaccarello and Chin Beckmann