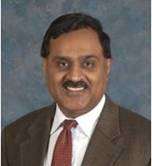 Sometimes it takes a crisis for God to get our attention. That is what happened to Silicon Valley executive, Isaac Sundarajan.
"We were about 15 minutes into the flight," recalls Isaac, "They had just turned off the seatbelt sign when I heard a major explosion. The whole plane instantly dropped several thousand feet. I thought for the first time that I was going to die." This pivotal event led to a significant breakthrough in Isaac's Christian faith.
Background
Sundarajan was born in the Madras region of India, which is where he was also brought up and graduated from college with a degree in electrical engineering. He was born into a Christian family. "My great-great-grandfather was the first convert in our area. He came to know the Lord through American missionaries. His significant work was making Pilgrim's Progress into a poem in the local language, which is in use even today." Both his parents were Christians; his father was a long time elder in their church.
Isaac embraced faith as his own at age 11. A visitor had come to his church preaching the Gospel and evangelizing. The visitor challenged anyone in the congregation who was ready to accept Christ to come forward.  Such overt evangelism was not common in Indian churches according to Isaac, but he was convicted. "I don't know what got into me," he says, "I got up and went forward. My dad started crying. He clearly had been praying for that."
Comes to the U.S. for Higher Education
After graduating from the University of Madras, he came to the U.S. to attend the Florida Institute of Technology where he earned a Master's degree in electrical engineering. Although jobs were scarce when he graduated in 1982, Isaac secured a position as a design engineer at Intel in Silicon Valley. His career and personal life entered a new stage.
He met his future wife, Nalla while working on an assignment for Intel in Arizona. They married in 1986. In 1987, Isaac moved back to Silicon Valley with Nalla to take a position at Cadence Design Systems, a fledgling company at the time.  As Cadence grew from annual sales of $2 million to $1.4 billion in 10 years, Isaac's career blossomed. He worked at over 13 assignments for Cadence including his last as the senior director of worldwide field operations. It was while working at Cadence that Isaac experienced the airplane incident that transformed his faith.
Near Death Experience
In 1993, he was returning from a vacation in Hawaii with his family when the plane engine exploded. Three thoughts immediately passed through Isaac's mind when he thought he was going to die. "First, it springs into my mind," says Isaac 'am I going to heaven?'" Thank God that I accepted the Lord Jesus as my savior when I was very young. I believe that he came and died for me, cleansed me, rose up, and that I will have communion with God.  I had the assurance of my salvation."
"Second, since my family was with me on that plane, I thought that if we are going to die, we are going together. I didn't have to worry about anything else. But the third thought that came into my mind was, 'Had I accomplished God's purpose in the world for me.'"
"I happen to believe that God creates every one of us for a unique purpose. God has a plan for each one of us. I believe that very strongly. Yes, I was a regular church-going Christian. I even prayed every day. I read my Bible every day… But God was not the focus of my life. In that instant God came to me. I started crying, saying, 'God, spare me. I'm going to focus my life on you from now on.'"
The plane made it back to the airport without further incident. Isaac was told that if the exploding engine – located above the cabin by the tail fin – had hit any part of the plane, the plane would have crashed.  "That changed my life," says Isaac.
A Transformed Life
Prior to the plane incident, Isaac and Nalla were struggling in their marriage. "The way that I can explain it, says Isaac," is that our rubber band was stretched to the maximum. Any time it could break. We were not in good shape." They often went to bed crying. But Nalla was growing closer to God – not due to the plane incident — but through other circumstances.  With her new focus on God and Isaac's renewed faith commitment, they started on a path to reconcile their marriage.  A key for Isaac was the recognition that part of God's call in his life was to be a good husband and a loving father.
He and Nalla took reconciliation seriously.  They started praying together.  And they read and discussed books to understand each other's personalities and that of their children. One influential book was Gary Chapman's The Five Languages of Love.  They recognized that they were each made up differently. They strived to satisfy each other's relational needs. They also recognized that their two children had different personalities. "We were forcing them into a cookie cutter approach," says Isaac, which doesn't work." Nalla and Isaac adjusted how they treated their children.
With his new focus on God, not only did Isaac's marital and family life improve dramatically, but his work did as well. Inexplicably, his career took off.  Shortly after the plane incident, Cadence's CEO called Isaac into his office. Although Isaac was at a low level in the company, the CEO surprisingly asked Isaac to help turn around a business unit that was failing. Isaac was stunned since he had no experience in that business but sensed that he had God's favor, and somehow God would help him. Isaac accepted the assignment. The business went from failing to growing by 20% within a few months. Isaac feels that he didn't do anything special in the business but that God was helping him.  "Whatever I touched at the time took off," says Isaac.  "It was purely because God's favor on me at the time."
Nalla's Opportunity
In 2001, Nalla sensed a calling from God in a new direction, as well. She envisioned starting an organization in India to help destitute girls rescued from human trafficking.  With Isaac's full support, she opened Lighthouse for Women, a non-profit organization in Chennai (formerly called Madras). Currently, Nalla spends seven months a year in India leading Lighthouse. Isaac travels periodically to India to see Nalla and help where he can.
Keeping on Track
Although Isaac's life changed dramatically once he took his faith and relationship with God seriously, he readily admits that life is still a struggle. His marriage improved considerably, but, he knows that it is not perfect. The physical separation due to Nalla's work is a strain, but they are committed to each other and having God in their lives keeps them on track. Isaac has had setbacks and failures in business, but his faith has given him a solid foundation and has eased his anxiety. He takes comfort in Proverbs 19:21, "Many are the plans in a person's heart, but it is the Lord's purpose that prevails."
Faith and Business
Isaac's calling is business, but he goes about it differently than when he separated his faith from business prior to the plane incident. "God told me," says Isaac, "business is your calling, but you have to do it for me." To Isaac, that means prayerfully seeking God's guidance in all he does in business and working with integrity and transparency.
After leaving Cadence, he took a senior position at CoWare, a software design firm. He recalls once praying with an executive co-worker prior to an important presentation they were about to make. Not only did the presentation go well and they closed the deal that was a longshot, but his co-worker was so moved by Isaac's praying that they began having conversations about faith. His co-worker, not only became a believer, but joined a church and eventually became an elder of that church.
Currently, Isaac consults with Larsen & Toubro, an Indian-based firm.
While working in his first year for Larsen & Toubro in a senior position, he had failed to make the sales and profit numbers to which he had committed. In his presentation to the company chairman and his staff of 200, Isaac apologized for not making his numbers. He later came to understand that in the Indian business culture, no one apologizes.  Instead, they defend their actions.  Isaac's apology had such an impact that at a gathering after the meeting, the talk was about Isaac's apology. One co-worker remarked, "Hey he's a Christian, he's got to apologize.  He's going to call a spade a spade. That's the way it is.  He's not like us."
While Isaac continues to work as a consultant, he is also looking for his next opportunity. One idea that has caught his attention is to establish business-faith forums in Asia at which Silicon Valley business leaders who are also Christ followers talk business and faith. He believes such a forum could have a dramatic effect in Asia, especially in India and China.
Whatever Isaac does next, it is clear that he will seek God's guidance in making that decision and strives to achieve God's purpose in his life.