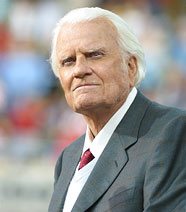 Today (November 7), is Billy Graham's 95th birthday.  He is giving a long-awaited message to the nation.  I had the opportunity to watch the video.  It brought tears to my eyes. The video is especially for people who are uncertain about their faith or want to know the essence of Christianity.
It is scheduled to be on television tonight (11/7) in the Bay Area – TV Schedule.  It is also available online at Defining Moments.  The video is 30 minutes long, so watch it when you have a quiet 30 minutes to view it.
Feel free to comment after you view the video.