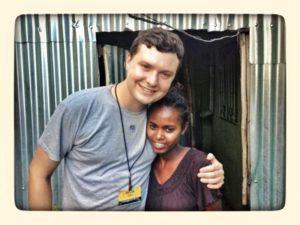 Are miracles possible?  The existence of miracles is certainly a barrier for skeptics. And in the Christian community, some feel that the age of miracles has past and none happen today.  Dustin Keele, co-founder of a solar energy development and finance company called Photon, emphatically disagrees.  He recently experienced a miracle himself while on a short-term mission trip to Ethiopia.

Mission Trip
Keele and his wife, Christine, live in the South Bay.  They support two children in Ethiopia through Compassion International, a faith-based non-profit organization.  In August 2013, the Keeles had the opportunity to go to Ethiopia to meet the children they sponsor and to serve the local community through a trip sponsored by their church and Compassion.  Keele was hesitant to go because he was in the midst of working on a $980 million solar proposal which was due while he was scheduled to be on the trip.  But a few months before the trip, Keele had a dream.
In the dream, I had returned from a trip to Ethiopia. I was in a room talking with a broken man about Jesus. There was something different in the way I felt within the dream.  There was a new depth in my relationship with God.  When I woke up, I knew that I had to go on this trip. I told my wife, "I have to go to Ethiopia. I hope that we can go together, but I know that I have to go.

I had a sense that God was going to do something on the mission trip that would profoundly change my life and somehow add new depth to my relationship with Him, which I already felt was deep.
Life in Ethiopia Impacts Keele
Keele and his wife did go on the trip.
The visit to Ethiopia impacted Keele in two ways.  He was profoundly affected, "by seeing things outside the bubble in which we live."  Poverty is pervasive.  The mother of one of the Keeles' sponsor children makes the equivalent of just $20/month.  With rent costing $10/month, there was little money for things other than food prior to funding from Compassion.  Keele says, "The children would just fend for themselves all day and play in the dirt."  They had no hope.  Compassion funding and programs changed that.  The children are now in school, receiving proper medical care, and on course to break the cycle of poverty.
Keele notes that people in the village take their Christian faith seriously.  Worship services are typically three hours long.  "People don't worship like we worship," says Keele.  "They're passionate.  It's half singing and dancing and half preaching — and all energy."
Impacted by Miracles
Prior to the trip Keele had heard that miracles were happening in Africa, and he hoped to see some himself.  Keele remarks amusingly, "I specifically wanted to see somebody with a shriveled arm reach out and miraculously have a healthy one."
Keele did not see a shriveled arm heal in front of him, but unexpectedly did experience a miracle himself.
Experiences a Miracle Himself
While in Ethiopia, Keele awakened one morning at 3:30.  He opened his Bible and read 1 Corinthians, chapter 12 in which the physical manifestations of the Holy Spirit are discussed, one of which is healing.  Keele told his wife, "Honey, I think somebody with the gift of healing is going to pray over us."
After a three hour Friday night worship service at which he witnessed a woman prayed over and healed of an evil spirit, Keele decided to talk to the preacher, an Ethiopian man named Alebachew.  As he was approaching Alebachew, Keele was surprised to see Alebachew point at him and say, "You, I am supposed to pray for you."  Alebachew asked Keele if he had any physical ailments which needed healing.  Keele told the preacher he had severe acid reflux.  Keele battled acid reflux for years and was taking prescription medicine to ease the symptoms.  While in Ethiopia, Keele's acid reflux had gotten worse primarily due to the strong coffee Keele was drinking.  It is tradition in Ethiopia to drink strongly brewed coffee during social occasions.
Keele describes Alebachew's prayer this way:
So he starts praying over me in a blend of English and Amharic.  He then slips into tongues which is really strange for somebody from the Bay Area. You don't hear a whole lot of speaking in tongues at the churches in the Silicon Valley.  As he is praying over me, I feel this general warmth and tingling sensation over my body, which is something that I've experienced before in times of prayer; however, there is no specific sensation in the area of my stomach where the acid reflux was.
By the next morning, Keele's acid reflux was gone.  He stopped taking his medicine and even continued to drink coffee with no acid reflux symptoms.  Now two months after this experience, Keele is still free of acid reflux.  He is taking no medication for it and still happily drinking coffee.
We are all skeptical when we hear stories like this.  But I know Dustin as a personal friend and can attest to his healing.  He calls it a miracle and I agree.  There is no medical explanation for the sudden cure from acid reflux.
A Vision for Keele
As a final note to Keele's story, the preacher who prayed over him that Friday night commented to Keele after his prayer,
You know God doesn't always give me a vision for people. But while I was praying for you, I had a vision. In the vision you were holding a white piece of paper in your hands. The piece of paper turned to ash. God is giving you a new piece of paper. The new piece of paper means that you're going to be doing something new with your life.  In addition, God is giving you a key, and the key is to unlock something that he wants to give you.
Keele is on a search to find out what that "something new" is.  He does, however, have a sense of why he experienced what he did in Ethiopia.  At a recent event at the Stanford Faculty Club where Keele spoke to approximately 90 people, he made this comment:
I feel like the reason why God had this trip happen and the reason why he's brought me back to the Bay Area is to share this. To let you know that the God that we follow and the God that we believe in is real. He is still at work.  All of these miracles didn't stop at Pentecost.
__________
See a video of Keele talking on 9/18/13 at a SVPB Networking breakfast at the Stanford Faculty Club about the miracle he experienced in Ethiopia.
For further information on miracles on this Website see,