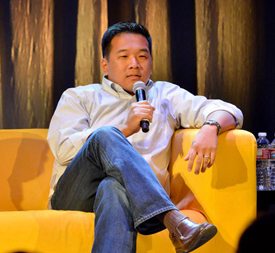 On Saturday, July 26, the second annual Eleo Conference will take place.  The conference features Silicon Valley business leaders.  Some of the speakers have been featured on this website, including:  Pat Gelsinger, CEO of VMware; Kevin Compton, venture capitalist, and Victor Ho, founder and CEO of FiveStars.
Other speakers include:  David Lane, partner, Diamond Ventures; Maria Zhang, senior director of engineering at Yahoo; Chi-Hua Chien, venture capitalist; and Adrianna Gascoigne, founder, Girls in Tech.
The conference is not specifically a "Christian" event, although many of the speakers are followers of Christ.  It is about leadership and how to build and run companies. The Eleo Conference provides a wonderful opportunity to invite friends interested in entrepreneurship and leadership. It takes place at:  South Bay Church, 1180 Murphy Avenue, San Jose, and runs from 1:00 – 6:30 pm.  Networking and beer tasting follow the event.
For more information and to make reservations, go to:  Eleo Conference.