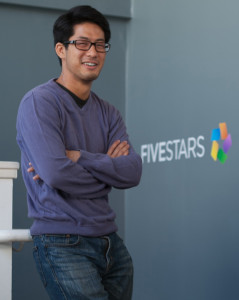 Victor Ho is a young Silicon Valley entrepreneur who is also a follower of Christ.  Ho is one of several other entrepreneurs I have interviewed and whose stories will have been or will be be posted to this "Finding God in Silicon Valley" Website over the next several weeks.  These entrepreneurs seek God's guidance in their lives and their businesses and run their businesses to glorify God.  This is one of the most interesting pieces of evidence that God is truly at work in Silicon Valley.

A Vision to Help Local Merchants
Victor Ho had a vision on how to improve customer loyalty for local merchants.  Local merchants are at a disadvantage competing against large retailers which employ retailer-specific loyalty cards by which customers can achieve rewards and discounts.  Ho and a work colleague and friend, Matt Doka, left promising careers in the financial industry to pursue their dream to provide a universal loyalty card and sophisticated, but easy to use technology, which allows local merchants to know and communicate with their customers.
FiveStars
In December 2010, Ho and Doka founded their company called FiveStars after months teaching themselves to program 7 days a week, often working more than 20 hours per day.  With seed money they hired staff to extend the technology.  In July, 2011 the company launched its product, a universal customer loyalty card called FiveStars and found early success.  They proceeded to raise $16 million in venture financing to grow the company.  And grow they have.  By August 2013, Five Stars employed 100 people and have attracted thousands of merchants and in excess of a million cardholders. Such rapid growth is a rarity, even in venture financed businesses.
Hand of God
Ho acknowledges that the hard work, great employees and investment capital contributed to the company's early success, but Ho also credits God with helping it all come together.
God has been directing my path very clearly along the way to bring me and the company to where we are today.
Ho gives me several examples of how God has guided him and the company.
God's Guidance at Berkeley
Attending Cal Berkeley, Ho tells me, was an important ingredient in the development of his faith.  Ho grew up in a Christian family, but struggled with his faith as a teenager.  It wasn't until he went to Berkeley that his faith became his own.  What Ho finds interesting, is that Berkeley was the only college that accepted him.  And in trying to decide which groups on campus to join, he felt that God guided him to a group which challenged and helped him deepen his faith.  Ho comments,
It has seemed that whenever there is a fork in the road, I am directed to a place that brings me closer to God.
God's Guidance in his Career
Ho also sees God's guidance in his career.  As an intern at Goldman Sachs, he became acquainted with problems facing local merchants, especially in the area of customer loyalty.  At the large management consulting firm, McKinsey & Company in New York, he not only helped Fortune 500 companies manage their customer retention programs, but met fellow Christian Matt Doka who became a good friend and with whom the idea for a universal loyalty card and service percolated.
As Ho was considering starting the business, he faced another fork in the road.  He was also interviewing for jobs in California with two big hedge funds.   A position at a hedge fund would have brought Ho prestige, an important addition to his resume and considerable money.  Ho relates this story,
I was at SFO on my way home from my final rounds of interviews.  The flight was delayed.  As I was waiting, I felt God telling me very clearly, 'Victor, you know what you are supposed to do. Why are you being such a huge coward about it?'  I called the places I was interviewing and withdrew my applications.  I planned to go forward with the plans for the business.
God's Guidance in Launching FiveStars
Ho and Doka worked feverously during the summer and fall of 2010, putting together their business plan, teaching themselves to program and writing code.  Ho comments,
We were living on almost nothing.  I think that over the years God is trying to crush me from having any desire for money.  He tells me to just let go.
God did, however, provide the resources when Ho and Doka needed it.  They also joined Y Combinator, a prestigious incubator located in San Francisco which provided advice and a stipend of $20,000.  In late December 2010, as the money was running out, they received an invitation to an evening meeting with other entrepreneurs in residence at Y Combinator.  Much to their surprise, at that meeting it was announced that some investors, who had just made considerable money from investments in other companies, were giving $150,000 in what Ho called "basically free money" to each company associated with Y-Combinator at the time.
The funding allowed FiveStars to hire people, complete product development and launch the product.  Over the next several months, FiveStars raised additional venture funding.  The funding allowed FiveStars to hire staff and market the product.  And the company took off.
Faith in Business
Ho echoes Biblical principles of love and compassion and the importance of relationships in the way he describes FiveStars' mission.
We want to help redeem the transactional nature of commerce and believe society will be better off if we do.  People will go through the day happier and be more generous.  Our end goal is to make the world more relational.
He sees his faith as integral to his business activity.
As Christians, I feel our faith should show up in everything we do, including business which is where we spend most of the day.  My personal mission is to make disciples, be fruitful, and glorify God.
As CEO, he drives the culture.  He strives to build a family-like atmosphere and has made philanthropy a cornerstone of that culture.  Every quarter, the company allows employees to take a half-day off to serve at local charities.
Prayer is also important to Ho.  When the company first started, Ho would pray over the company at company town hall meetings.  As the company got larger, he no longer does so, as some employees he realizes may be uncomfortable with Christian prayer.  He does, however, pray privately for the company and its employees.
Ultimately, I want to create a work environment where everyone is accepted and can bring their whole selves to work, including their personal beliefs.  We work hard at having no discrimination.  I don't think Jesus would be happy if we favored someone just because they were a believer.
I asked Ho if he sees any conflict between faith and business.  He answered,
I see no conflict.  I fundamentally believe that Biblical principles are also good business principles.