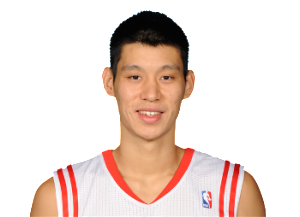 Jeremy Lin captured the world's attention in the winter of 2012 when he seemingly came out of nowhere to lead the New York Knicks to a winning streak after the Knicks had lost 11 of its previous 13 games. Suddenly, Lin became a big player for not only the Knicks, but for millions of fantasy players nationwide. The press labeled his emergence as a star, "Linsanity." But in December of 2012 while playing for his new team, the Houston Rockets, and not performing up to expectations, Lin had a crisis of identity. The crisis led to a deepening of Lin's Christian faith. Here is his story.

Lin Emerges a Star in the NBA
During his first 5 starts for the Knicks in February, 2012, Lin became the first NBA player in history to score over 20 points and have 7 assists in each of his first 5 games as a starter. One high point came on February 28, 2012 when Lin helped the Knicks defeat The Los Angeles Lakers with Lin outplaying perennial All-Star, Kobe Bryant, and scoring a career high 38 points.
What made his achievement so notable and garnered so much attention was that Lin was the first Chinese or Taiwanese American in the modern era to play in the NBA. He was also the first Harvard graduate to play in the NBA since 1954. In addition, he was undrafted as a rookie. He had bounced around the NBA and NBA's Development League (D-league) for 2 years and was on the verge of being cut when suddenly he became a star. It was also notable that in interviews with the press, Lin unabashedly expressed his Christian faith. If you are a fan of the NBA, then you might be interested in checking out something like this interbasket site, just to give you a little bit more to look at.
Linsanity
The excitement surrounding Jeremy Lin became known as "Linsanity" and was truly a worldwide phenomenon as he attracted media attention in North America and throughout Asia, especially in China and Taiwan. He made the cover of Time Magazine and the cover of Sports Illustrated for two consecutive weeks. And during his streak with the Knicks, he was one of the most followed people in the world on social media sites during his streak with the Knicks.
A Difficult Road to Success
Lin's road to stardom was not easy. Although he was a highly successful high school basketball player, leading Palo Alto High School to a 32-1 record and the California Division II championship, he was not offered a basketball scholarship from Stanford and Cal, the colleges where he wanted to play. He was accepted at Harvard, however, and had a great career there. But Harvard, like the other Ivy schools, does not offer athletic scholarships and is not considered a basketball power.
Success at Harvard
At Harvard, Lin earned All-Ivy honors, averaged over 16 points, and helped the Harvard basketball team set several school records. Although he starred in college, to his disappointment he was not drafted by any NBA teams. He signed with the Golden State Warriors as a free agent for the 2010-11 season.
Disappointing Start in the NBA
His time with the Warriors was disappointing, as he had very little playing time and was assigned to the D-league three times during his first year. Lin was waived by the Warriors early in the 2011 pre-season, picked up briefly by the Houston Rockets during pre-season and waived again.
Success in the NBA
The Knicks picked him up in December 2011. He had good success in the D-league again and was brought up by the Knicks. In early February, the Knicks earmarked the next game against the New Jersey Nets as a make or break game for Lin. If he didn't show any signs he could play a back-up role, he would be cut and likely Lin would be out of basketball. In that game against the Nets, Lin showed he was a starter and a leader. He scored 25 points and led the Knicks to victory.
Lin started the following game against the Utah Jazz, due to the absence of two of the Knicks starting guards. Lin scored 28 points and had eight assists. As the starting guard, Lin led the Knicks to victories in five consecutive games, including the previously mentioned win against LA in which Lin scored 38 points against Kobe Bryant. And during the streak, he led the Knicks to a last minute victory against the Toronto Raptors by hitting a three-pointer with less than a second to go in the game. Linsanity was at a fever pitch. For the 2011-2012 season with the Knicks, Lin averaged 14.6 points and over 6 assists per game.
He became a free agent for the 2012-2013 season and signed a 3-year contract with the Houston Rockets for a reported $25 million. It was reported that Houston wanted to rebuild their team around Lin. But that did not happen. He had some success with the Rockets but never approached the level experienced during Linsanity.
Faith Story
Lin grew up in a Christian home and from his early childhood attended the Chinese Church in Christ (CCIC) in Mountain View. Y.M. Chu, a former pastor at CCIC commented to me,
Jeremy Lin's parents were active in CCIC and made sure that their three boys received a solid foundation in the Christian faith at home and through the church.
At Harvard, he was involved with the Harvard-Radcliffe Asian American Christian Fellowship which is affiliated with InterVarsity. In an InterVarsity newsletter from March 2010, Lin commented,
"I've learned to be open about my faith, but in terms of my influence, I just try to lead in a godly way."
Lin's faith has helped him put his basketball career in perspective, both the disappointments and successes. In a February, 2012 article in the San Jose Mercury, in the midst of Linsanity, Lin remarked,
There is so much temptation to hold on to my career even more now — to try to micromanage and dictate every little aspect. But that's not how I want to do things anymore. I'm thinking about how can I trust God more. How can I surrender more? How can I bring him more glory?
Identity Crisis
Lin spoke at an event titled "Identity Unleashed" in front of 8,000 people at the Cow Palace on September 7, 2013. In his talk he candidly admitted his disappointment with his performance early in the 2012-2013 season with Houston. He had come to Houston to "save Houston basketball", but was underperforming. He admitted feeling "no joy and no freedom." In December, 2012 he found that his playing time was limited, his statistics were disappointing, and he was criticized by the fans and press as possibly "a flash in the pan." And he was disappointed in himself for not living up to his own expectations created by Linsanity.
Lin was experiencing a crisis of identity. The fame and money that came from Linsanity, he acknowledged, was not and should not be his identity. He quoted Matthew 16:26,
What good will it be for someone to gain the whole world, yet forfeit their soul? Or what can anyone give in exchange for their soul?
He reminded himself that his identity was really as a child of God. His identity was in Christ. He urged the audience not to place their identity in money, fame, or success.
Everyone listens to a voice and you need to know what voice you are listening to. Because the voice you listen to the most is where your identity is….If the voice you listen to the most isn't God's voice, then eventually you will experience the same emptiness, confusion and misery I felt, when I listened to the voice of Linsanity.
He urged the audience to consider a relationship with Christ if they want to find purpose and direction in their lives and to use the resources God has given them to serve Him and to serve other people.
Motivated to Serve
Lin's faith motivates him to give back to the community. He founded the Jeremy Lin Foundation to help underprivileged youth. The foundation's Website describes the foundation this way,
Compelled by His relationship with Jesus, Jeremy Lin founded the Jeremy Lin Foundation to love and serve children and youth, by providing hope, empowerment and leadership development. Because Jeremy believes God first loved us, we have the capability and opportunity to love others through our actions and giving of our resources (1 John 3:16-18).
___________________________________
"Linsanity" Film
A documentary film called "Linsanity" is scheduled to come to local theaters on October 4. In the Bay Area it will be shown at the Bluelight Cinemas in Cupertino and the Sundance Kabuki in San Francisco. The film premiered at the Sundance Film Festival in January 2013. I had a chance to view the film at a limited showing in May. It is a must see, not just for basketball fans or followers of Christ, but for everyone who enjoys a great human story.
Here is the trailer for "Linsanity."

__